ユーキューホルダー! Manga Review
UQ Holder Chapter 116
SPOILER Summary/Synopsis: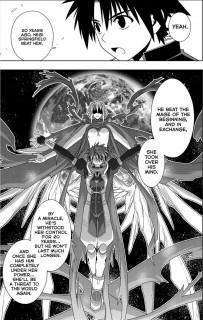 Touta is excited about Kirie's Time Freeze powers. Touta kisses Kirie on the head, then on the cheek, but nothing happens. Kirie is embarrassed as she explains that they need to kiss on the lips. Touta gives a brief explanation that this power would allow him to solve a problem with a final boss character. When Kirie learns that Touta's motivation is Yukihime, she decides to help him with his experiment. However, she's not going to do it in the open.
Finding someplace secluded, Touta gives Kirie a lengthy kiss, causing time to stop. Touta is very excited about this, so he kisses her again to get time going. He repeats this several times until Kirie blasts him with a spell to get him to stop.
Having proven Kirie's Time Freeze powers are real when Touta kisses her, the two return to the public areas where Kirie wants to know the whole story. After summoning Santa, Kuroumaru, Ikkuu, and Karin, Touta tells them about the Mage of the Beginning and how she took over Negi's mind 20 years ago after he defeated her. He tells of Yukihime's plan to kill Negi, at Negi's request, and Fate's plane to do whatever to save Negi.
Having laid out the facts, he rejects the two choices, opting for a third option. Acknowledging his lack of knowledge when it comes to magic, he bows and asks the group, as his friends, to help him.
Thoughts/Review:
I get the feeling that this chapter is the one that completes the reboot of UQ Holder, allowing the team we've gotten to know to work for this goal of saving Negi.
I admit I found Touta's thoughtless desire to test the Time Freeze by kissing Kirie to be amusing, including where he's repeatedly kissing her to stop and resume time. Touta's innocence comes off here because he's not kissing Kirie for any reason other than, "Ooo! We stopped time! Now we've resumed it! Ha!ha!"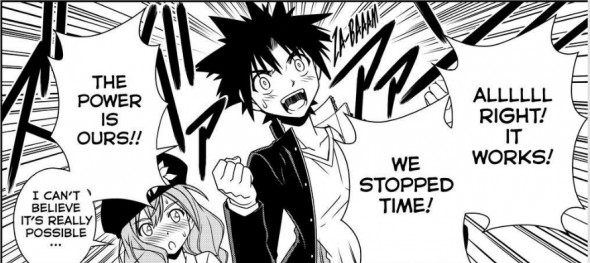 Of course Touta has the same effect Negi had on girls when kissing them. Kirie's reaction reminded me of what happened to Asuna when Negi deep kissed her during the Mahora Festival.
So now that we've firmly established that when Touta kisses Kirie, they stop time, I like how Touta brought together his comrades in arms and bowed to them to receive their help. We didn't get any new information about MotB or Negi, but I did find the symbolic imagery of the mental possession of Negi to be interesting.
I've no idea how the others can help Touta if only he and Kirie are able to move about in time. Kirie may be able to include the others, as she did during her time reset abilities. (Which reminds me, I wonder if she still has that ability.)
That aside, I feel that this chapter is what brings UQH to a point so that the group around Touta are working for the rescue of Negi and the defeat of MotB. To that end, is Akamatsu-sensei laying out a game plan to run the manga for a long while, or is he steering things to go ahead and bring about the final confrontation between Touta and MotB sooner rather than later?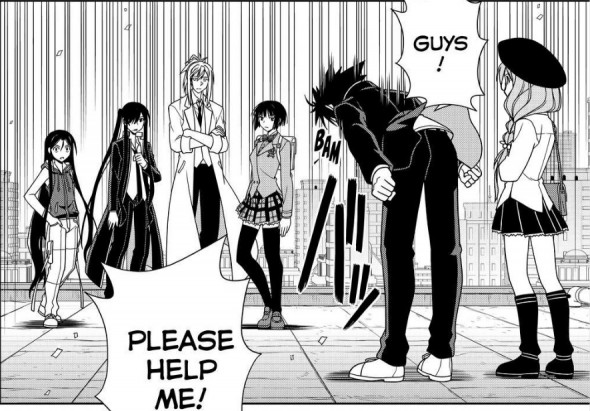 I am amused to a degree at how Akamatsu-sensei loses Kurobo, Touta's Gravity Blade. Others have recently remarked on this phenomenon, so I looked for it in this chapter. Sure enough, it disappears at times after having just been on Touta's back.
Finally, Crunchyroll decided to pass on the ecchi Eva color splash page. This is by far the furthest I've seen Akamatsu-sensei push his naked chick art, and this art is what is to be on the back of the limited edition t-shirts they are giving away (so it appears that naked Eva is embracing you from behind). It is a shame that this is the route being taken to try to boost UQ Holder's ratings and sell a few more copies of Weekly Shounen Magazine.
(And yes, I saw that CR screwed up a text bubble again. 😐 )
In the end, UQ Holder chapter 116 is merely setting the table so that Touta and company can work as a team to rescue Negi and defeat the MotB.