ハヤテのごとく!/Hayate no Gotoku Manga
Hayate the Combat Butler Chapter 522 Review
SPOILER Summary/Synopsis: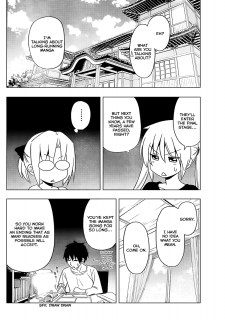 Nagi visits Chiharu at Yukari-chan House to discuss how the gag manga Ika-chan is ending after nine years. Nagi goes on to speak of how tough it is to run a manga for such a long time, but how it is even tougher to end a long running manga, figuring that even when entering the final phase of the manga, it still takes a few years to wrap everything up with an ending the readers will like. This task is further hampered if there are lots of characters in the story. As such, the ideal way to end a long running manga would be to do it like Urusei Yatsura did in the final volume, which is not easy to do. Plus, while trying to wrap up the manga, the manga could get canceled.
Chiharu asks Nagi if she's been drawing a manga since she'd promised to submit one to Sunday magazine. Having forgotten this, Nagi stumbles around the topic, so Chiharu suggests submitting one before the year ends in three months, reminding Nagi that she has to face Ruka in ten years.
At Cafe Donguri, Nagi informs Hayate and Ayumu of her plans to write a manga through the month of October to win the manga prize by her birthday. She decides her manga will be based on her recent school trip experiences, but as she describes things, her story has almost nothing to do with the school trip. Nagi sees on her own how the story doesn't use her experiences, and since she can only write 32 pages, she decides to scrap the extraneous stuff.
A few days later, she shows Hayate her manga's storyboard, which she's titles Almighty Butler Hayata-kun. With Hayate as the model for Hayata, and Nagi the model for the rich heroine, who after a great crisis which threatened to tear them apart, they overcame it and and got married, having realized their love for each other. When prompted, Hayate says the manga is quite good. Nagi says that the emotions are real when it is based on one's experiences, so she goes off to draw the manuscript. Hayate wonders about the ending of the manga, which has the main characters loving each other.
Thoughts/Review:
Heh! Well, Hata-sensei does love injecting personal commentary into his manga at times, and this chapter has that.
The first half of this chapter spells out quite well the dilemma Hata-sensei is in. He clearly wants to end the manga, but with so many characters to deal with, in order to tie up all of the loose ends, including the unrequited love stories of Ayumu and Hina for Hayate, it will take time, possibly years. He also has to consider an ending that fans would accept.
In my mind, the chapter reiterates what I believe is Hata-sensei's original intent, which was to have Hayate and Nagi fall in love with each other by the end of the manga and live happily ever after. To date, Nagi's romantic love for Hayate has been unrequited and while Hayate cares deeply for Nagi, he doesn't love her. I think he still loves Athena.
While there are fans of the Nagi x Hayate ship, fans of the Ayumu x Hayate ship, and fans of the Hina x Hayate ship, I think the highest percentage of fans want an Athena x Hayate ship. So how does Hata-sensei come up with an ending that fans will accept, but will also be the ending he wants, assuming that's the way he goes?
I've still to read the Urusei Yatsura manga (I've obviously watched all of the anime incarnations), but Hata-sensei's referencing it makes me very interested to see how Takahashi-sensei did end that manga series.
Going into the actual story itself, there were three things I liked in this chapter. First, Nagi heads to Yukari-chan House to visit Chiharu. I like this because it shows Nagi is still a landlord and Chiharu is still a resident there. Further, it shows that Nagi is willing to go out and visit her friends without Hayate being around, continuing to show her growing maturity.
Second, the plot thread of Nagi drawing a manga and the vow she made to meet Ruka again on the field of battle in ten years was a nice element. While Ruka's story was wrapped up, it is a shame that the manga pretty much has ignored her ever since. I wouldn't mind seeing a Ruka poster at Wataru's shop (or in that area), or it being referenced that Ruka is still seeing Chiharu as a friend. Just something to indicate she's alive without her actually being present in the manga.
Third, I loved the progress of Nagi's manga. Her first instinct was to do something wild and wacky, but she shows her maturity by realizing she's not going down the right path and makes a correction. Instead of having a terribly drawn, terrible story, she has a nicely drawn, interesting story, based on how she's seen her life with Hayate.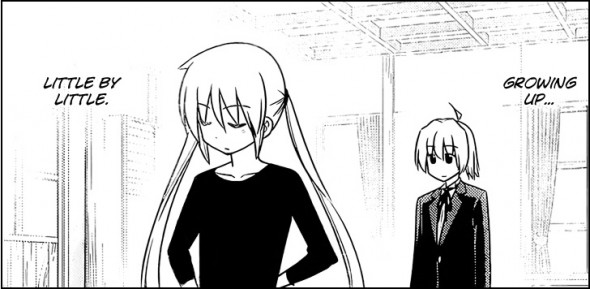 Now it seems that Hayate will come to understand that Nagi has been in love with him all this time. We'll see what Hata-sensei does with this. As I said earlier, how will Hata-sensei juggle fan expectation with his own desired ending?
In the end, Hayate the Combat Butler chapter 522 was quite good, half of it being an interesting commentary on the problems Hata-sensei faces as he tries to end Hayate the Combat Butler, and the other half being dedicated to picking up a couple of plot threads, one from the beginning of the manga.