ユーキューホルダー! Manga Review
UQ Holder Chapter 117
SPOILER Summary/Synopsis: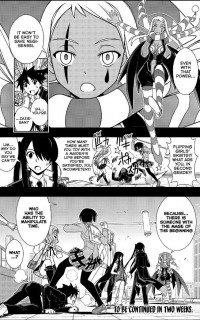 Kuroumaru and Touta easily defeat their opponents in the tournament, causing folks to wonder how Touta became so strong in eight months.
Sometime in the past, Touta lays out his plan to Karin, Kuroumaru, Ikkuu, and Santa that they will use Kirie's time stop ability so that Touta can almost kill Negi, forcing MotB to release Negi and come after him. However, they will then stop time, heal Negi, and then seal MotB. Although Kirie's new powers are hard to believe, the group does think it might be possible, though Karin has doubts.
To address Karin's concerns over who could trigger a time stoppage with Kirie, she, Kuroumaru, and Ikkuu (Santa passes). No one is able to trigger this, but because there are doubts as to whether Kirie can stop time, Touta kisses her, then flips Karin's skirt. When he kisses Kirie again to resume time, Karin finds herself suddenly exposed. When she realizes what happened, she starts beating Touta along with Kirie.
Zazie floats down, explaining that Touta's plan won't be so easy since MotB has a time manipulator (person) with her.
Thoughts/Review:
While we got a bit more tournament than I expected, I was not surprised to see only a few pages dedicated to it. I didn't like that we've jumped ahead in time and then were getting Touta's plan and Zazie's caution as a flashback.
I suspect that Touta may end up using the tournament to try out time stopping, though his battle with the bone demon Morborgran didn't indicate anything. That doesn't mean anything though.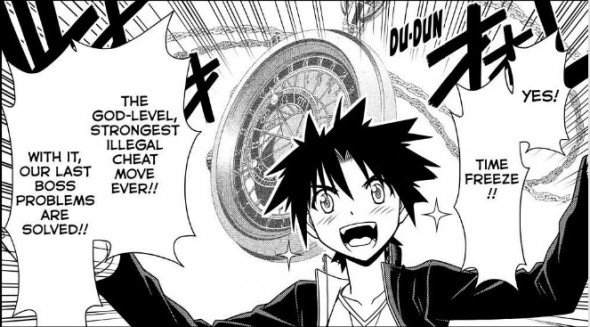 It isn't surprising that Touta is the only one who can activate Kirie's time stop power. However, I guess Akamatsu-sensei wanted and excuse to get some additional snogging going on.
I am wondering whom MotB's associate is who can manipulate time. Will it be someone new or someone we've seen from Negima?
Anyway, we have two weeks to wait before we possibly get any more answers.
In the end, this was not a bad chapter as the main plot continues to move forward, and the tournament story is rapidly pushed ahead.