境界のRINNE ep 26
Kyoukai no RINNE 26

SPOILER Summary/Synopsis: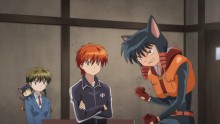 As Ageha goofs off in Rinne's shabby dwelling, Sakura finds Rinne catching snake spirits. Returning to Rinne's home, they find Ageha has been attacked and his room full of snake spirits. Rinne captures the culprit, a teenage black cat named Oboro. He's angry with his master, Ageha, for abandoning him and generally abusing him over the years. As such, he wants revenge and to be freed from his contract. Ageha has no intentions of freeing Oboro and is determined to make Oboro pay according to the terms of the contract. That night, Oboro tells Rokumon the story of his past with Ageha, going back to when both were kids.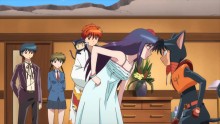 The following day, Rinne is in pursuit if a giant mongoose spirit as Ageha lays a trap for Oboro. The trap snags both Oboro and the mongoose, the later becoming enraged as the trap is on the mongoose's nose. Ageha has Oboro follow her to get the mongoose where it eventually eats Ageha. She sends two message tubes, one to Rinne asking for help and one to Oboro, containing his contract and setting him free. Oboro thinks this is a setup and goes after Ageha as does Rinne, who finds her in an expensive emergency shelter. Oboro arrives, breaking into the shelter along with Tsubasa and Sakura. Ageha's "honeymoon" plans with Rinne foiled, she apologizes to Oboro, but refuses to do it again, causing the two to fight as Ageha will never release Oboro. The two get punished by Tamako for the problems they caused.
Thoughts/Review:
And so Kyoukai no RINNE returns. I'm actually surprised this didn't get a new name. For the last number of years now, a lengthy break saw the return of a series given a new name, usually something small, but nevertheless different. I'm OK with us continuing on with the same name, only different OP/ED music and animation.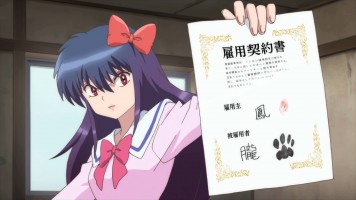 While I may not have cared for the original manga that much, I have to say that I rather enjoyed returning to the anime world of RINNE.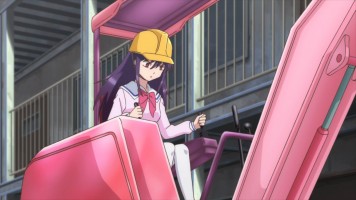 The slapstick comedy battles between Oboro and Ageha amused me quite a bit more than I expected they would, considering I don't remember finding their bickering that funny in the manga. But this is what happens when a company makes a good anime adaptation of a manga series.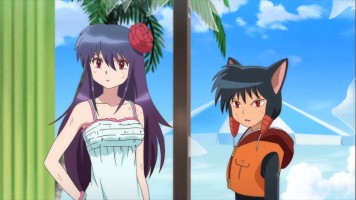 Sakura and Tsubasa didn't have much to do this episode beyond hang and follow all of the action. Of course, they provided the comedy element when they found the dazed Rinne on top of the happy Ageha in her destroyed shelter.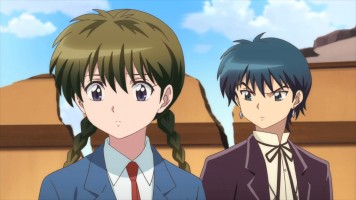 The money jokes continued, but here too, I found them amusing when they could easily have been tired and boring. I think it was the fact that Rinne and Rokumon discovered how much Ageha was paying Oboro (¥500,000).\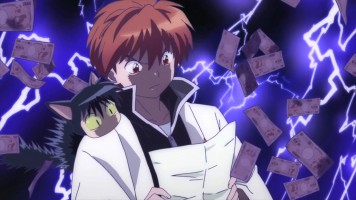 Meanwhile, Rinne and Rokumon have to make ends meet somehow. 😉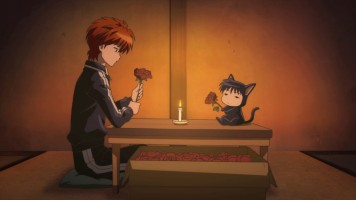 In the end, Kyoukai no RINNE 26 was a humorous episode that had me laughing more than once and smiling a lot more. A good start to ramp up the new season of the series.