Macross Delta 01
Macross Δ 01
マクロスΔ 01
SPOILER Summary/Synopsis: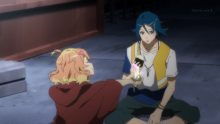 On board a freighter bound for the planet Al Shahal, a young, bishounen male named Hayate gets fired for being lazy, but is told to make his last day a good one. He finds a stowaway girl named Freyja Wion, who's running away from a marriage and wants to join the female idol group called Walküre (Valkyrie), whom are protected by Delta Platoon, as the group uses their singing to counter a new disease called Var Syndrome, which seems to strike at random, causing folks to go insane and rage war on others. Hayate decides to help Freyja escape.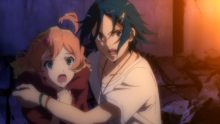 The pair are caught by Lt. Mirage Farina Jenmius of Delta Platoon, who mistakes Hayate as the stowaway from the ship. The three hear a song, which is targeted at a nearby Zentradi base, causing a squad of them to get Var Syndrome and start rampaging. The members of Walküre, whom are on the planet undercover to counter Var Syndrome after it had been predicted to be the next site of the breakout, transform to start a concert to calm the rampaging Zentradi. In orbit, the fleet is attacked by a Shinigami squad who hate the Walküre. Freyja joins in the singing, causing Walküre to react to this as Hayate jumps in a crashed fighter-mecha to get into the fight and help Freyja, both of them empowered by the song.
Thoughts/Review:
You know, I wasn't sure I wanted to watch another Macross title. After watching this episode, I'm not sure I'll be able to tolerate much of this.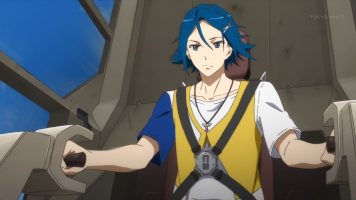 Frankly, I'm tired of the whole, "Singing solves everything 'cause it sells CD's, y'all!" The first song I was subjected to in this episode was not my cup of tea and frankly, just annoying.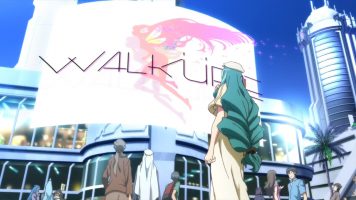 I was also annoyed that the writers needed a way to make the Zentradi enemy for a bit so these idiot idol girls could sing their tedious song. Ugh.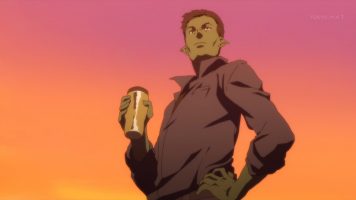 There really should be no need for a military since songs solve all problems, but then I forget, there are Macross toys, models, and such to sell. So we need action sequences as well.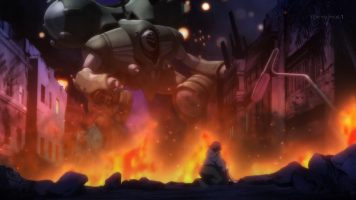 Basically, this episode sets up that there's some new enemy, they apparently hate the Walküre as much as I do, and there's some kind of singer that can activate the Var Syndrome for more bad guys, and an idol group can sing their song while carrying on a conversation as well. Oh yeah, and the guy wearing a hair barrette (gotta have a bishounen element, as happened in Macross Frontier) can pilot a pilot mecha awesomely as the stowaway girl he's with can awesomely sing the Walküre song(s) for magical results.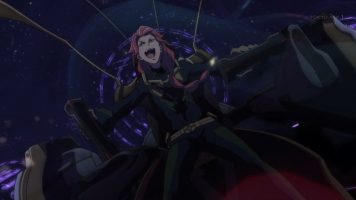 While I'm ranting, what the heck is up with the Walküre and their magic girl transformation sequence? I was thinking, "Seriously? We are going full out mahou shoujo here, complete with naked henshin sequences? Instead of spells and attacks, these magic girls are going to use music?"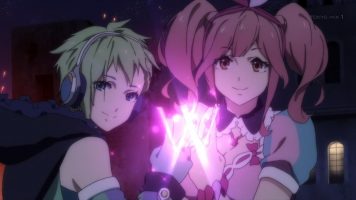 Maybe I'm just getting too old for this. I love the original Macross (there is no Robotech, only Macross), and I didn't mind the singing there because it wasn't magical in nature. In Macross, you had the warlike, segregated, giant humanoid Zentradi who were not familiar with music, hearing it and becoming curious about things to the point to where some questioned if what they were doing was right. That works and makes sense. Making music some magical cure (or cause) of some disease is just way too over the top.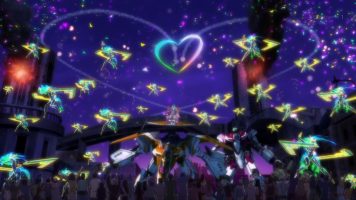 Planet Ragna. Was that established in Macross Frontier? I can't remember.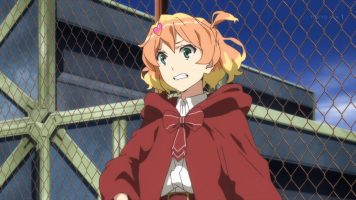 In the end, I was highly unimpressed with Macross Delta. I didn't care for the songs, the battles weren't that impressive to me, and I didn't like any of the characters. However, I'm afraid I'm going to be in a minority with this opinion, based on things I've seen on the web.