Macross Delta 02
Macross Δ 02
マクロスΔ 02
SPOILER Summary/Synopsis: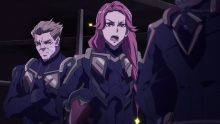 The bishounen enemy is ordered to retreat from Al Shahal after the squad leader has the data he wants, though they are not happy with it. Mirage rescues Hayate and Freyja in his damaged battroid, then gives him a beating for his rash actions as a civilian in the battle. As Walküre get ready to board their transport and leave the ruins of the city, Freyja tells them she's coming to audition next week. They acknowledge her as the voice who's singing touched them, pleasing Freyja. Kaname from the group shows Delta Platoon Commander Arad Molders images and intel on Freyja and Hayate.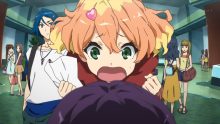 Meanwhile, Freyja and take a trip to Barrette City on Planet Ragna, where the giant Macross Elysion stands in mecha form. This is where Freyja is to have her Walküre audition. Hayate escorts her there, where Freyja is horrified to learn that because she wasn't in the preliminaries, she can't audition. However, they are seen by Kaname and Arad, who send word down to clear Freyja for the audition. At the same time, Hayate is told that Commander Arad wants to speak with him. Hayate and Freyja part company, but Hayate doesn't go to see Arad, but instead heads to the flight deck to examine the battroid units in their fighter mode on the deck.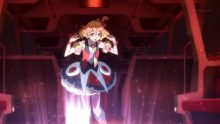 At the start of the audition, Kaname and Zentradi Captain Ernest Johnson, in command of the Macross Elysion, introduce themselves to the girls. The auditions continue, but while Freyja has an OK fold score, it isn't what Mikumo from Walküre expected. Meanwhile, Arad and ace pilot Messer Ihlefeld pay Hayate a visit to have him join Delta Platoon, where he proves something to them by jumping off the flight deck and riding the air currents to safety.  However, Hayate has terms to do his own thing, which Arad agrees to. Elsewhere, Freyja fails to become a Walküre, but on the sky tram from Macross Elysion, a case of Var Syndrome breaks out. Freyja remembers to sing, which causes her to have a high fold score. The members of Walküre drop the illusion and welcome their new member in, as this was a final audition test for Freyja.
Thoughts/Review:
Well, this episode wasn't as tedious as the first, but it still isn't all that. And I still find it laughable about this combat idol group with their magical songs, but oh well.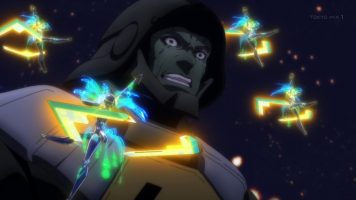 So after the rampant destruction caused by the battle, the fact that Delta Platoon and the Walküre just bugged off like they did made me laugh out loud. It was if they were saying, "Yeah, we were involved in the fight to make a chunk of the city into ruins, but to hell with helping you to clean up the mess. And we don't care one wit about looking for survivors. Bye-bye! Come to our next magical concert!"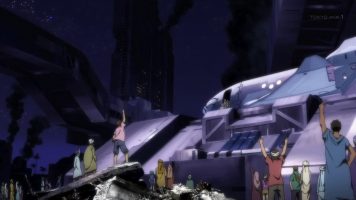 I didn't say anything in my review of the first episode, but with this episode, I'm convinced that Freyja is the Ranka (Macross Frontier) of Macross Delta. I don't know what her being a Windermerean means specifically, but it is clearly something special that will tie in with the greater story, whatever that is.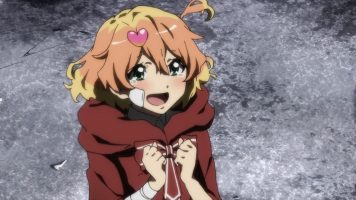 I did feel sorry for Freyja when she thought she wasn't going to be a member of Walküre, even though I didn't believe for a moment she wasn't going to be a member. I will admit that the illusionary final test for Freyja surprised me a little since the story was progressing so that in the heat of battle, Freyja would prove herself and win a slot after all. However, I like the fact that the final test was a staged event. This reminded me of the Star Trek: The Next Generation episode "Coming of Age."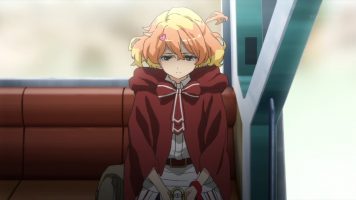 As to Hayate, I don't like him as a character. I realize Delta Platoon is a paramilitary unit, and I understand Arad's interest in Hayate after seeing him in action on Al Shahal. But even in a paramilitary unit, orders need to be followed, so it boggles my mind that Arad is fine with Hayate's elitist, "I don't follow orders and I do my own thing" statement and attitude. That kind of attitude is a sure way to die, except that in Macross Delta, he's are oh so awesome bishounen hero, so it won't matter.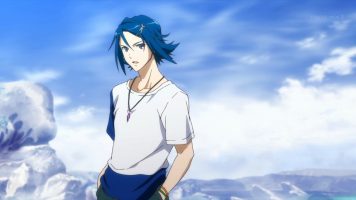 Speaking of bishounen characters, the villains here are annoying. I guess we are returning to the early 90s with the rise of bishounen characters. 😉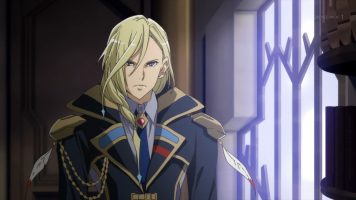 I do like the character of Mirage after she gives Hayate a beating. It is unfortunate that she's clearly being set up as the love-triangle interest for Hayate.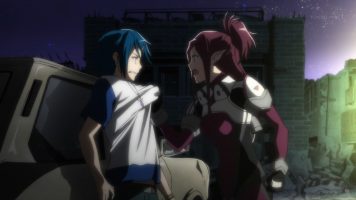 Finally, I will say that while it makes no sense to me for Macross Elysion to be in mecha form, I do get the symbolism here for the original Macross as well as Macross Frontier. (And as an aside, I would guess that's why so many elements of Macross Delta feel like it draws from older series.) And I will say that I would have a, "Whoa! That's cool!" if I saw Macross Elysion in mecha form.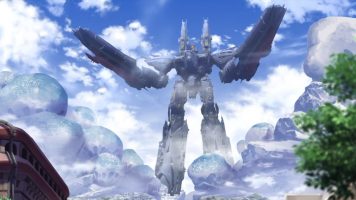 In the end, Macross Delta 02 was an improvement over the first episode, but I'm still not sold on the series. Nevertheless, I plan to watch it all.