Here is some SPOILER info for the upcoming UQ Holder Chapter 119, courtesy of 2ch.  (My review of UQ Holder Chapter 119 should come out late Tuesday night or Wednesday, U.S. time, depending on when Crunchyroll publishes the chapter.)
UQ HOLDER Chapter 119 SPOILERS
The UQ Holder Chapter 119 goodness begins. This looks to be the chapter's spoilers. ^_^
20年もの苦痛を耐えながら、宇宙空間に現れたネギ
その傍らには……ネギとは結ばれず一般人として生を終えたとされる
のどか&夕映の姿があった……それとラカン&アル

Stage.119 刀太とキリヱはどっちなの?

地上ではみぞれとしのぶが
バイクレースのタンデム権(→刀太の嫁権)を賭け戦うも同着
一方ナンバーズはというと…賛成多数(一空・夏凜・九郎丸)で
キリヱを刀太に嫁がせようとする……と、みぞれが黙っていない
かくてバイクレースで決着をつけることにする
3人出場するというのに、刀太がタンデムするのには体が足りない
そこで帆之香が「三分身」と書かれた霊幻道士の札を刀太の額に貼る

■次号Cカラー!キリヱvs.しのぶvs.みぞれのハイスピードバトル開始!!キャラ人気投票もやるよ!!
And from Der Gilga:
while enduring the pain of 20 whole years, Negi appeared in outer space
at his side…. who appeared to have finished life/died as ordinary people who didn't bind with him
the figures of Nodoka & Yue appeared ….. and Rakan & Al(ARU)

Stage.119 Touta & Kiriwe, who of the two?

on the surface Mizore and Shinobu
arrive at the same time when they have a gambling contest for the right to ride with him in the motorcycle race (→right to marry Touta)
speaking about the other numbers… with a majority decision (Ikkuu・Karin・Kuroumaru)
they are trying to marry Kiriwe to Touta…..to which Mizore doesn't remain silent
thus it is decided to settle it with a bike race
even though the three a taking part (in a race), Touta's body is laking for riding together on a bike
thus Honoka sticks a ticket, with a profile picture drawn/written on it, for "Mr. Vampire" to Touta's forehead
■Next Issue, Colour! Kiriwe vs Shinobu vs Mizore, the commencement of a high speed battle!! Also a character popularity pool will take place!!
More harem hijinks, eh? And that prelude stuff. Hmmmm.
More updates as warranted.
Update #1: MK's images.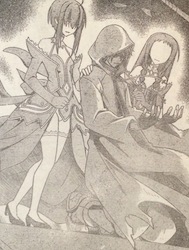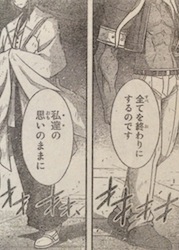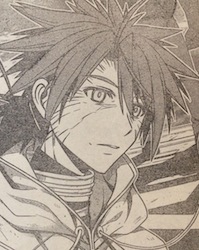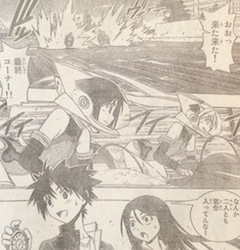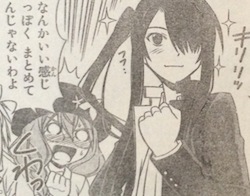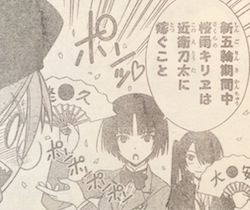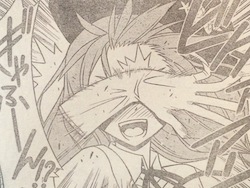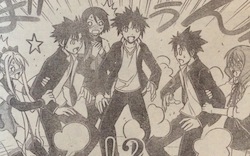 Review later this evening, assuming CR doesn't jack things up.