ハヤテのごとく!/Hayate no Gotoku Manga
Hayate the Combat Butler Chapter 524 Review
SPOILER Summary/Synopsis: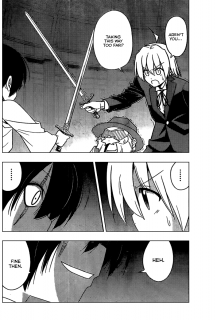 Hayate becomes aware that HATSUSHIBA Hisui is the girl he's heard about who's in competition with Nagi for the Sanzenin inheritance and is conscious of the scar on her face.
Hisui wants to know why Nagi is back in the lead for the inheritance when she had been previously removed. She attempts a pity maneuver, but Mikado isn't having it, citing Hisui's greed as the reason he won't let her inherit anything. Hisui responds by grabbing a sword and attacking Mikado, but she's blocked by Hayate. Since Hisui needs the key to be able to sign her name to the will, she and Yozora decide to leave to pursue said key.
Hayate's sword is still vibrating from Hisui's attack, letting him know just how serious Hisui was about killing Mikado. Mikado advises Hayate to be careful since Hisui is so dangerous. He ranks Hisui on a level of greed along with his parents.
When Hayate returns home, Nagi is excited about her manga progress. Hayate decides he will do whatever to protect Nagi's future, even if it costs him his life.
Thoughts/Review:
Did Hayate just set a death flag for himself? He may well have. Technically, he did die in the CTMEOY anime, so something similar could happen in the manga.
That aside, Hisui has now been established as a final boss-type character. We already know how Yozora is, based on Hayate's earlier battles with her and how she was able to thwart Isumi. It will take a lot of effort for Hayate to battle these two, and he's going to need Isumi, Hina, and who knows whomever else to win.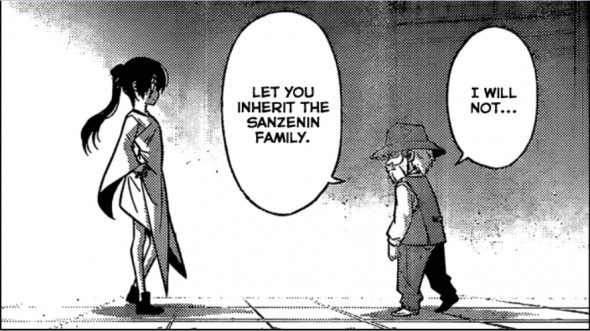 I still wish we knew why Mikado didn't just outright give the inheritance to Nagi. There has to be some catch there, but Hata-sensei is keeping this information from us for the time being.
It is interesting to see Mikado in a more serious mode when he gave Hayate advise regarding Hisui. I think he knows that if Nagi is going to inherit the Sanzenin fortune and such, Hayate is going to be the one to do it.
The manga's return to plot has certainly been interesting to be sure. I'm glad this has been the case and hope to continue to see plot for a while to come.