境界のRINNE ep 29
Kyoukai no RINNE 29

SPOILER Summary/Synopsis: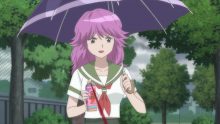 Student council president YUUKI Naomi starts getting a bad reputation after a yankee (yanki) girl who looks very much like Naomi, only with longer, pink hair, starts terrorizing the area. Sakura recognizes the yankee girl is a ghost, but one whom can be seen, so she brings this to Rinne. Rinne says the spirit doesn't know she's dead, which is what makes her visible to everyone. The two, with Rokumon, confront the ghost, who's name is Ranko, whom Rinne determines came from the Shōwa era. When Ranko shows up near school, the students see Ranko and Naomi, the later who confronts the ghost. Ranko leaves her umbrella behind after fleeing the area, so Rinne decides to consult with Tamako.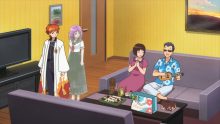 Rinne manages to meet with Ranko while Sakura meets with Naomi to learn more. Eventually, they learn that Ranko is the deceased twin sister of Naomi's mother Rinko. They are eventually able to learn that despite Ranko's gruff, abrasive personality, what's keeping her on earth is her desire to apologize to Rinko. Ranko had fallen in love with Yuuki-kun, who was in love with Rinko (and eventually married her), so Ranko would disguise herself as her sister to be with him. On the day she was killed, Ranko was going to see Yuuki-kun as Rinko. Unfortunately, Naomi's parents are in Hawaii, so Naomi stands as substitute for Rinko, allowing Ranko to finally have peace. Before Ranko departs to the afterlife, Rinne shows her Rinko and her husband, whom Ranko doesn't recognize as they are now middle aged.
Thoughts/Review:
This was a story I remember from the manga (volume 6, now that I've checked), but it didn't make much of an impression on me.
*sigh* I realize that an anime episode filled with Japanese slang is hard to translate to English, but this episode had my eyeballs hurting at the Americanization in the subtitles. Some of this stuff was a REAL stretch because it takes me out of the environment.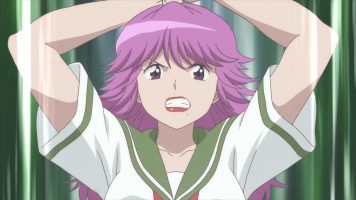 The Shōwa era ended in 1989, so presumably, Naomi's mother Rinko was a child of the 80s. So why would her twin Ranko, who died in the 80s, be using 90s and more modern slang? And worse, this adaptation was more about using hip-hip slang, probably because of the rise of gansta rap in the 90s. However, gangsta rap was considered hip by most teens, whereas Ranko's slang (from a Japanese perspective) is considered not only rude, but outdated (and certainly never hip). To me, it didn't fit and doesn't work.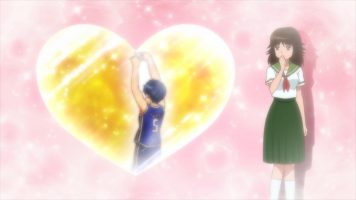 (As an aside, I don't remember the manga's adaptation using this kind of terrible, American slang for Ranko's speech. However, I don't have the Viz manga any more, so I can't verify this.)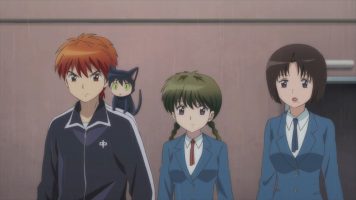 This also carried over to Tamako providing translations for Rinne. Ranko uses the term "baarou" (バーロー) instead of saying "bakayarou" (ばか野郎), which Tamako provides the translation for Rinne (and the audience).  The adaptation decided that baarou meant "scrub" (90s slang which basically means a guy who's broke, has no job, girl, etc., but acts like he's got money, a girl, etc.) when in fact, baarou is just a shortened (denoting the anger of the person saying it) way of saying bakayarou. Bakayarou does mean idiot, but it has much harsher tone than that in Japan.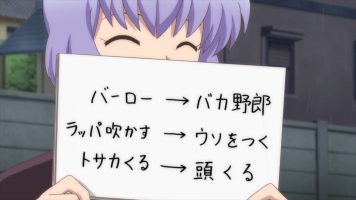 Using the well known term "baka" for idiot is an insult. Using "bakayarou" is the equivalent of calling someone a dumb-ass, or possibly even asshole (if you'll pardon my lesson in profanity here) from what my old Japanese sensei tells me, and is much worse than just referring to someone as "baka." Saying "baarou" is "scrub" just does NOT work for me, even if you want to tone things down for "bakayarou." I'd have to think about how to work this without using profanity (which I assume is Crunchyroll's goal here), but using terms like scrub, chinny, or dank just made my skin craw and my eyes hurt. *_*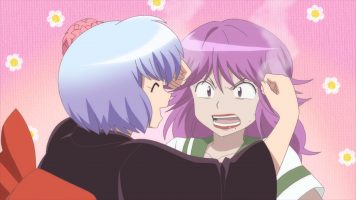 Now that I've finished blathering about that, onto the story.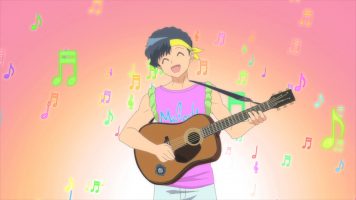 I don't remember being that taken with the story in the manga. However, Brain's Base made what was a "meh" story and gave it a bit of zest, mainly by having Tamako having to play the part of interpreter since she understood the 80's Japanese slang. I found that to be amusing (hideous, 90's + American slang inserts not withstanding).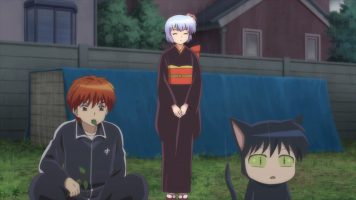 I also cracked up by Rinne eating weeds and such in the empty lot.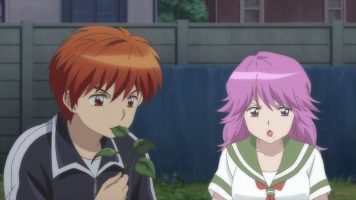 One thing about this episode that Brain's Base couldn't overcome is how Ranko, who's been a ghost for 20 years or so, is only just now noticed by folks. Realistically, Ranko should have been doing her Japanese punk shtick for years and years, not knowing she was a ghost, but not realizing the passage of time either. Well, that's the problem with so many of Takahashi-sensei's stories in RINNE. There are tons of ghosts all around, but some only show up for a new story. 😉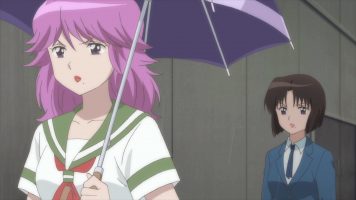 In the end, this was an OK episode that had what I consider bad adaptation choices for 80s, Japanese, yankee slang.