ハヤテのごとく!/Hayate no Gotoku Manga
Hayate the Combat Butler Chapter 528 Review
SPOILER Summary/Synopsis: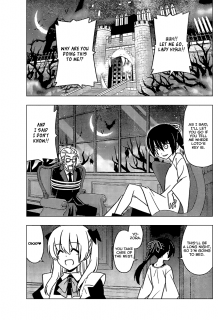 Nagi reports that Klaus is kidnapped by Hisui, so she contacts Sakuya to go after Klaus while she, Hayate, Hina, Risa, and Rika head to the library to do research on the key.
At Hisui's castle mansion, Klaus says he knows nothing about the Loto key, so Hisui leaves the matter in Yozora's hands. Yozora uses a feather to tickle Klaus's bare feet to try to force him to reveal what he knows about the key.
In the library, the group pulls up the blueprints of the tower, were they discover traps were set in the tower, such as the rope room. The forgotten Izumi, who's trying to get out of the tower, enters said rope room and pulls a rope, where she gets doused with water. Izumi moves forward where she finds a change of clothing. This is also marked on the blueprints, where it is noted that after the person changes, the get doused with water again. This happens to Izumi as well.
As the group discusses the mean tricks in the tower, Nagi sees something in the blueprints where on the first floor, the "ka" (カ) symbol can be traced out in the maze floor. On the second floor, the "gi" (ギ) symbol can be traced out in the maze floor. This spells "kagi," the Japanese for "key."
Thoughts/Review:
Sadly, there wasn't much here in this chapter, though at least the plot pushed forward a tiny bit more.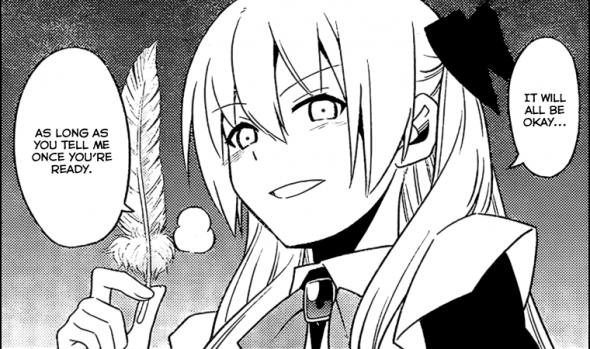 Yeah, I'm long over Izumi being the butt of Hata-sensei's jokes. I guess she's easy to beat up and dumping water on her for fan service is just so funny, I forgot to laugh.
Hisui's castle of evil made me chuckle though. I'm sure this is based on some castle in a video game. With all the bats outside, I couldn't help but think of Castlevania (even though I've never played it).
Nagi seeing the katakana for "kagi" in those maze-like floor plans for the tower came off as awful convenient. That being said, the maze floor plans reminded me of old school RPG games on the computer (The Bard's Tale from 1985 springs to mind) when one had to use graph paper to map out dungeon levels.
Well, we'll have to see what the new chapter has in store. Sadly, Hayate the Combat Butler chapter 528 didn't do that much for me. 🙁