境界のRINNE ep 30
Kyoukai no RINNE 30

SPOILER Summary/Synopsis: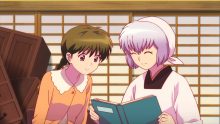 Sakura, Rinne, and Rokumon head to Tamako's mansion in the spirit world, where they find her cleaning a part of the home that hasn't been touched in fifty years. She tells Rinne that he can have all of the human possessions that had been owned by his grandfather, which means he has things he can sell. When some photo albums pop out of a stuffed closet, along with other things, Tamako has fun showing Rinne as a child. Another photo album shows Sabato in middle school, acting like a punk. Sabato arrives and attempts to take all of his father's things, but Tamako sends him packing. After they finish cleaning, a noise from the closet reveals the elderly black cat Kuroboshi, who's been locked up there for years by accident, but who now resumes his duties for Tamako.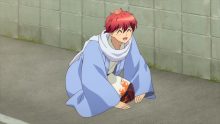 Sakura finds a beaten Sabato on the street, where he begs her for money. She tries to get away, so he claims he needs the money for Rinne's birthday. Rinne shows up to put an end to the lie. Sabato flees just as Kain arrives and attacks. Sabato goes to see Ageha with a story about Rinne in order to get money from her, but Rinne showing up ends that lie. After he flees yet again, the group meets at Rinne's abode. Ageha's sister shows up and reveals that debt collectors came and took Sabato's stuff, leading Sabato to desperately try to find a specific item. The group find him in the repossessed items room, where Sakura discovers a photo of Sabato with a young Rinne, which is what Sabato wanted. She lends him ¥1000 to buy the picture and is stunned when he later pays her back. However, he only wanted the photo because he'd stashed ¥50,000 in it.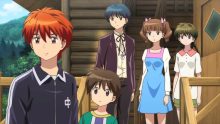 Tsubasa, Sakura, Rinne, and Rokumon head to a holiday camp to stay with their classmate and friend of Sakura, Kana, as well as her family. Kana reports that her little brother found some ofuda tags, which Tsubasa confirms are demon summoning spells. Since the boy has been going out nightly for the ritual, Tsubasa explains the danger he's in. Masato shows up as the resident of the next cabin, allowing Rinne and the others to know what's up. Rinne decides that they should go through with the ritual so they can beat up the summoned devil (Masato), but in the meantime, they crash at Masato's cabin to have a BBQ. Masato decides to finish the ceremony and take the boy's soul, but the demon army he tries to summon are on vacation and don't come. As such, the group sponge off of Masato as the boy is told that Masato is the summoned devil.
Thoughts/Review:
Interesting that the anime decided to do three stories to cover a holiday weekend rather than attempt to stretch a story across an entire episode (assuming these were adapted from the manga).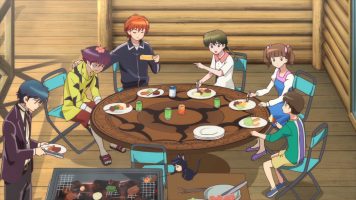 The first story is mildly amusing with Rinne seeing his grandfather's furniture and stuff as something to sell and make a little bit of cash for. I especially enjoyed seeing Tamako send Sabato running.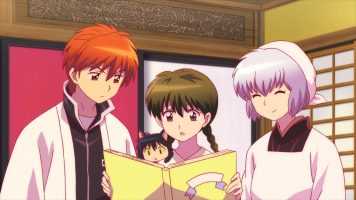 There's a mild bit of character development for Rinne, which was nice. It was interesting to learn that Rinne had gone both the human school and a shinigami school as a child. That's a lot of work.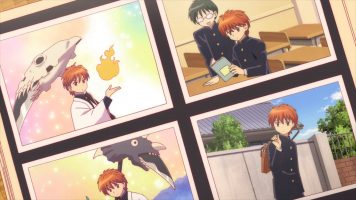 What troubled me about the first story is that the issue of Kuroboshi being locked in a closet for years is supposed to be funny. I just couldn't find that funny. It just bothered me to think of how little Tamako thought of Kuroboshi so as not to even miss him. (Of course, assuming this story is from the manga, it just shows how retconning characters in causes unexpected negative consequences to characters and their development.)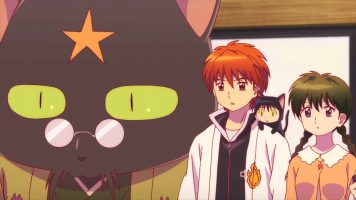 The second story dealing with Sabato was rather amusing. Sabato is such a despicable character that any time he takes a beating, it is a good thing. Plus, I found it amusing that he'd actually repay Sakura the ¥1000 he borrowed just to get the ¥50,000 he had hidden in the photo frame.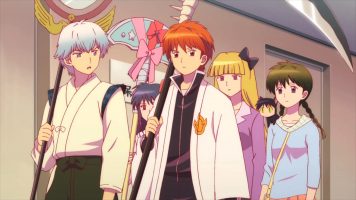 I think I enjoyed the third story the most. I found it highly amusing that after Tsubasa's dire warning about the summoning ofuda slips being used, he and Rinne realized that Masato would be the one summoned.  After that, things became rather comical in how Masato became used so that Rinne and the others could eat quite well.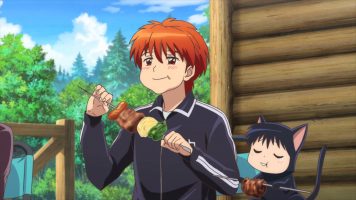 In the end, this was a fun episode.