Macross Delta 06
Macross Δ 06
マクロスΔ 06
SPOILER Summary/Synopsis: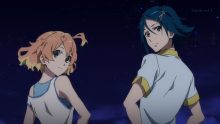 Messer evaluates Delta Squad's recent training, revealing Mirage's weakness in following the book to the letter and Hayate's multiple weaknesses, despite a strength of being unpredictable. That evening, Hayate reflects on this alongside Freyja, who reflects on Mikumo's negative words to her. Both decide not to be defeated. With Windermere having taken over multiple planets, they sent their eyes on their next target on Planet Ionideth. The Aether is dispatched along with Walküre (and other carriers?), where the Spacy forces are falling to Var. Walküre start their concert, projecting themselves onto asteroids, allowing Delta Squad to disable Spacy fighters.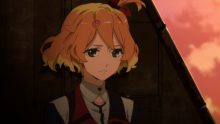 Windermere's Aerial Knights are in the fray and none too happy to see Hayate's fighter "dancing with the wind" after he sees Freyja's image. The Aether is targeted by Brogue to stop Walküre's concert, so Hayate goes to prevent one of the fighters from landing a killing blow. Aerial Knight Uroh manages to get the best of Mirage in combat, but before he can kill her, Hayate ends up killing him at the cost of his own fighter being disabled along with Mirage's. The Arial Knights are ordered to retreat, irritating Kieth since the order comes from his little brother, Heinz. After the battle, Mirage consoles Hayate over his first kill, Mikumo shows disdain for Freyja, and Keith shows Heinz some planetary damage in the mountains, which radiates energy. Delta Squad is sent to infiltrate planets occupied by Windermere.
Thoughts/Review:
Whelp, time for some more idol singing in combat 'cause you need to buy the CDs and everything else. If you don't, you're a loser, 'cause anime idols are cool and they know it.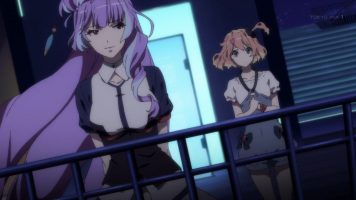 You know, the whole idol concert in battle really does detract from the battle itself. Yes, I know, their idiotic music is supposed to magically reverse the magical affects of the magical Var Syndrome, but that requires a magical concert to accomplish this?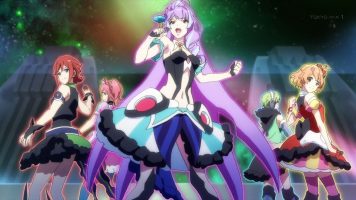 Seriously, if the five members of Walküre are the ONLY thing that can stop the Var Syndrom, then you keep them far, far from the combat zone. Further, they don't need to put on some hideous, flashy idol concert to accomplish this. All they need to do is sing and have said song projected.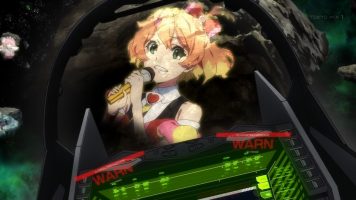 Besides, it is laughable to the least when the Walküre are attacked and clearly interrupted when it looks like they are going to be killed, but naturally, the music and the singing keep on somehow, even if the girls say things not in the song.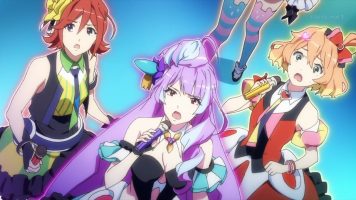 Mikumo gets to continue playing her smug bitch role (pardon the expression) in this episode. I get that her role is to push Freyja to the next level, but her methods leave a lot to be desired.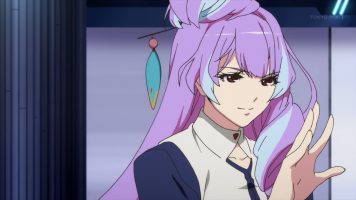 On the other hand, I love how Messer has disdain for Hayate, to the point that he doesn't feel Hayate is not worth talking to. Well, that's certainly true. I was certainly hoping that Hayate's continued refusal to wear the helmet in the space battle would have resulted in him nearly dying as a result.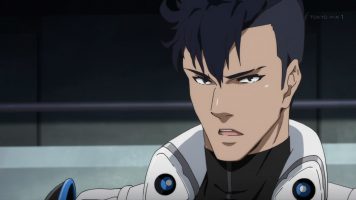 The only thing I can remotely sympathize with Hayate on is his having killed someone for the first time in his life.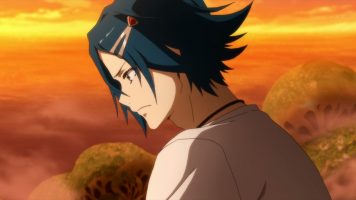 I felt bad for Mirage and her getting mildly spanked for being too predictable with her textbook flying. However, one would have thought this problem would have come up a lot sooner. Otherwise, how did she become a Spacy pilot in the beginning before transferring to Chaos.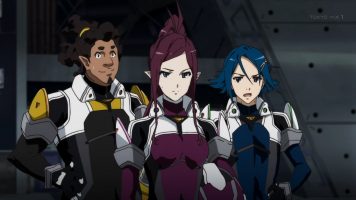 Unfortunately, I'm sensing that this episode is where the romance flag for Hayate x Mirage was set. Mirage could learn ever so much from Hayate's unpredictable and idiotic fighter dancing and Hayate could learn ever so much from Mirage's discipline and dedication. Add to this Mirage consoling Hayate after he was depressed over having taken a life and it was barf city for sure.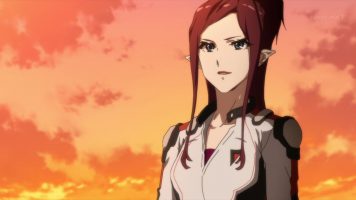 Finally, there are the bishounen losers and their whatever. So, the young Heinz has qualms about causing too much death and destruction. Obviously his older brother, Keith, is not happy at being restrained, causing him to take Heinz (who's apparently superior to Keith since everyone addresses him as Heinz-sama and he gives orders) to that whatever on Windermere's surface. Cliche rules of storytelling state that this horrific thing, whatever it is, will shake the young Heinz enough to unleash the hounds, as it were.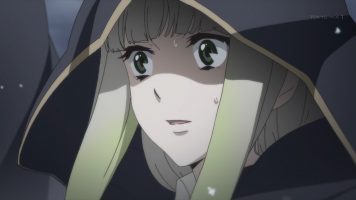 In the end, I could do without the pretentious idol concert in a battle zone. And I could do without the irritating Hayate and Mikumo as well. In fact, why don't those two just get together?