ユーキューホルダー! Manga Review
UQ Holder Chapter 123
SPOILER Summary/Synopsis: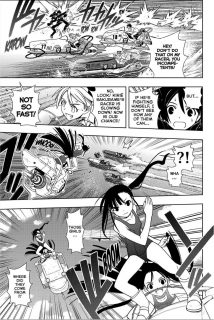 Mizore, Kirie, and Shinobu are neck and neck with their respective Touta partner as the three Touta's attack each other, each giving  a reason they want to support their specific partner.
Meanwhile, Santa analyzes the race and figures Kirie has no chance against Shinobu's skills and Mizore's powerful machine, but somehow, Kirie stays just in front. Mizore decides to use a ramming technique, but Kirie eludes her, causing Mizore's Touta to suspect something is up. Kirie's Touta realizes that she used her time reset skill. Mizore doesn't understand what happened, but acknowledges Kirie has a skill and forms an alliance with Shinobu to strip Kirie.
After Kirie's Touta gets her to promise not to use the time reset again, Mizore's and Shinobu's two Touta's attack Kirie's Touta, who defends against them. As Shinobu and Mizore start to make their move, Honoka races to them with Isana on the hood, where Honoka uses a Shinmeiryuu attack to strip all three girls. As she races past, Isana teases Touta about not being able to choose a girl. She encourages him to make a good choice if he wants to catch them, Yukihime, Fate, or Negi.
Thoughts/Review:
This is one of those chapters that doesn't have much to discuss about it.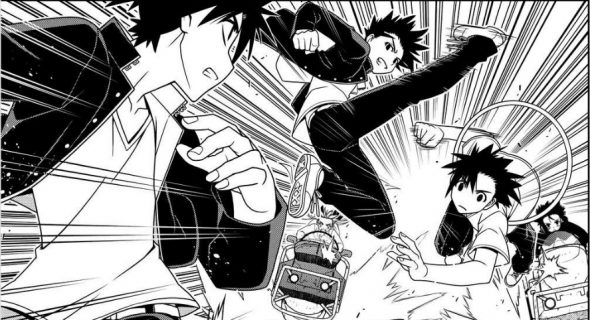 I suppose a "fair fight" is one like this race, which is just a competition with nothing life threatening or destructive on the line. There's a part of me that rolls my eyes when I hear Touta ask Kirie not to use her reset skill in a fair fight. After all, Kirie's reset skill is the only reason he's alive (multiple times).
Since Isana and Honoka had been MIA for the race until now, it isn't surprising that this is where they'd make their move. Honoka shows her massive racing skills and Isana shows her impressive Shinmeiryuu skills by stripping the other girls without using a sword.
This pretty much has to end in a harem ending with each girl providing something to Touta's cause. If that's the case, then the story ropes in Isana, Honoka, and then forces Kuroumaru's and Karin's hand to be firmly in the harem. 😉
Rumor says next chapter concludes the race. We'll see. Otherwise, not much to say about this chapter.