境界のRINNE ep 35
Kyoukai no RINNE 35

SPOILER Summary/Synopsis: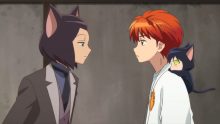 Rokumon is asking for the day off to attend the reincarnation party for Kuroida-sensei when a Binbo (poverty) Moth arrives. This means bad news for Rinne, however, it gets worse which Shouma arrives with his butler black cat, Kurosu. Shouma has to catch it as part of his homework, but keeps failing. Rinne has had enough and attempts to put an end to the moth, but Kurosu stops him, since anyone other than Shouma catching the bug means Shouma doesn't get credit. At exactly 5pm, Kurosu goes home, as per his contract. Rinne kicks Shouma out of his room, whereupon Shouma accidentally catches the moth.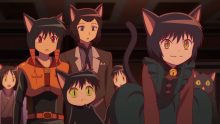 Kurosu gets permission to have the day off and joins fellow black cats Oboro, Suzu, and Rokumon at the party. Everyone is shocked when the 700 year old Kuroida is introduced and he turns out to be pure white. A group of humanoid cats bring out a giant birthday cake with 700 candles on it. Rokumon worries the candles will get wax on the cake, but to his and Suzu's chagrin, Kuroida catches on fire and puts himself out by rolling around on the cake. Kuroida then announces that he will leave his estate to someone. With that, he has a stack of premium cat food unveiled. The party participants aren't impressed, but Rokumon goes out to catch an Envy Cat Spirit to win the prize.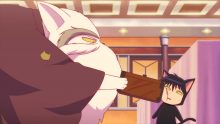 Because Kurosu is also attempting to capture the spirit, Rokumon's conflict with the other black cat eventually leads them to involve Sakura and Rinne. Eventually with Rinne's help, Rokumon is able to capture the spirit. However, he's denied his prize since Rinne technically captured the cat spirit. Rokumon then learns that the cat food is actually not the prize. Kuroida produces a cash box, not filled with cash, but rather his legacy of 700 years. All of the black cats attempt to score the prize, but fail. The cash box comes Rokumon's way, but he immediately rejects it. As such, Kuroida attempts to award Rokumon the prize, but Rokumon refuses. As it turns out, it is filled with bills the old black cat has accumulated over his life.
Thoughts/Review:
I'm here to tell you that this episode had the scent of Ranma 1/2 and Inuyasha all in it.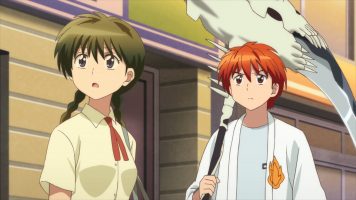 I don't know whom the seiyuu for Kuroida is. However, he sounds very much like a voice from either Ranma 1/2 or Inuyasha, or even both. However, I just can't identify it, and I didn't see the seiyuu's name anywhere for the character. If someone knows, let me know please.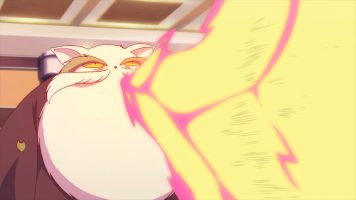 Kuroida also reminded me of certain youkai characters in Inuyasha, who would piss off Inuyasha, but who always eluded Inuyasha's wrath with their weird abilities.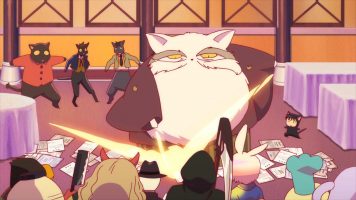 Going back to the subject of voices, I was delighted to hear ISHIDA Akira doing the voice of Kurosu. I first became aware of Akira-san way back in my early fandom days while watching Slayers NEXT. He is the voice for the mazoku character Xellos. Negima fans will know him as the voice of Fate. (As an aside, he did voice small characters in both Ranma 1/2 and Inuyasha.)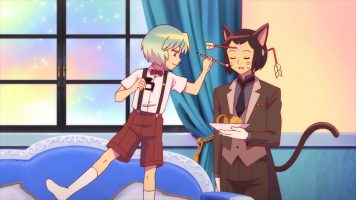 As for the character of Kurosu, it seems fitting for another one of Takahashi-sensei's irritating characters to be forced to serve as butler to another of her irritating characters.  The anime had two things going for the character. First, he was voiced by Akira-san. Second, despite the fact that Kurosu is almost as grating as Sabato, he does have a redeeming side, as seen when he gave Rokumon a bunch of the fancy cat food.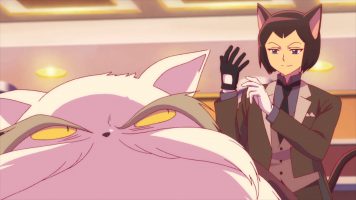 Fortunately, the episode didn't have much Shouma in it.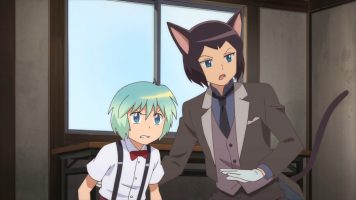 The episode could have used a little more Suzu though. I can't help but like her for some reason.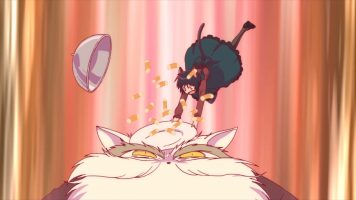 In the end, despite the irritating characters, Kyoukai no RINNE 35 ended up being pretty fun for what it was.