境界のRINNE ep 37
Kyoukai no RINNE 37

SPOILER Summary/Synopsis: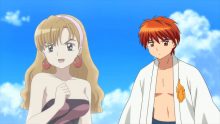 Sakura goes to the beach with Miho and Rika when Sakura runs into Rinne, Rokumon, and Ageha, whom are there on business. She hears a life saver (life guard) tell of the ghost in a rubber boat who gets one of them to come out to save her, but when they arrive, she's not there. Rinne discovers an umibouza chasing the girl ghost, so he dispatches it. The girl ghost is pleased, then discusses how she died by trying to attract the attention of a tanned life saver. A tanned Tsubasa shows up, so the girl goes with him, but she doesn't pass on.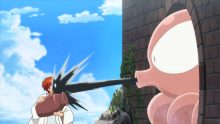 Sakura, Miho, and Rika are at a beach restaurant when they hear his tale of an issue at a nearby street tunnel. They go there, where they find Tsubasa on the other side. He tries to come through and gets attacked before being expelled. He has ink all over his face. Rinne and Rokumon show up to catch this octopus spirit, but it gets angry at the jar trap as it finds the tunnel to be suited to its taste. Rokumon manages to get the giant octopus spirit out of the tunnel, where it attacks him, Tsubasa, and Rinne. Sakura finds the dried up carcass of the octopus and picks it up. The octopus spirit moves on, so they return the carcass to the water. There, it revives and spews out more ink at Rinne in irritation.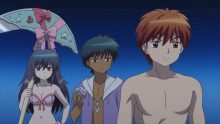 Miho and Rika are discussing the existence of Spirit Beach, but when Tsubasa shows up and reveals this is Spirit Beach, Miho and Rika flee. Tsubasa and Sakura discover this is where Rinne, Ageha, and Rokumon have set up shop in order to give a large number of young ghosts a good day at the beach before passing on. They meet a male teen ghost who'd been into karate to get chicks, but died before he could do anything. He asks Sakura out, but Sakura only agrees to a group date. The girl ghost from the rubber boat shows up for Tsubasa, so with Rinne and Ageha also in tow, they have fun for the day. That night after the fireworks, the ghosts depart. Karate dude wants to go steady with Sakura, but she rejects him, citing she has someone else. Ghost girl has taken a liking to Karate dude, so the two start going out and immediately pass on.
Thoughts/Review:
I gotta say, this episode seemed to be geared solely on showing Sakura (followed by Ageha, Rika, and Miho) in bikinis. But, they serviced Tsubasa by making him tanned and shirtless, then Rinne when he was shirtless.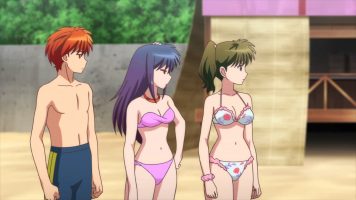 Even if I hadn't read one of the stories from the original manga, I would be able to tell that this episode wasn't constructed from a single story source. That's not a bad thing, but it does go to show the difficulties in merging stories.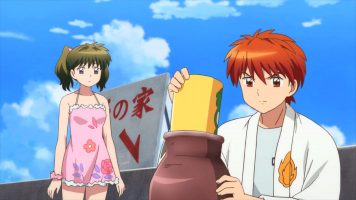 For example, if this beach was Spirit Beach from the start, then Sakura should have been seeing the ghost crowds from the start, not the lone ghost. But hey, that's a minor quibble as the episode was enjoyable and even pretty funny at times.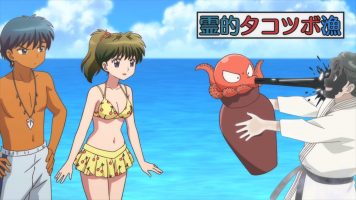 I loved the shout out to Urusei Yatsura with one of Sakura's friends screaming out Fujinami-san's catchphrase, "Umi ga suki!"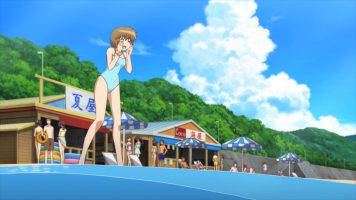 Actually, one could argue that this episode had two shout outs to Urusei Yatsura. The second story focusing on the annoyed octopus spewing out ink was a strong reminder to Shuutaro. I know there was an episode in that series dealing with a giant octopus.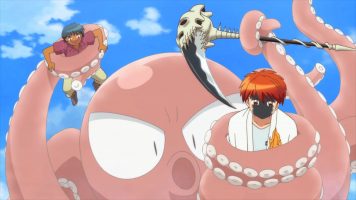 Regardless, this story with the octopus had me laughing out loud, partially because of the reminder to Urusei Yatsura, and partially because an angry octopus spewing ink is funny for some reason.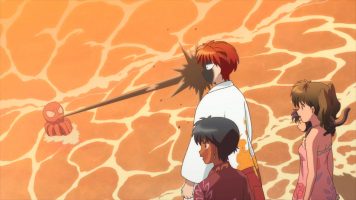 I also laughed out loud at the ghost girl's tale of pretending to be stranded, only to have a middle aged fisherman try to save her, causing her to flee until she apparently drowned to death.
While I appreciate that the subtitles use Japanese honorifics, I do get annoyed by some of the "hip" adaptation choices. This time, YOLO was the irritating choice for the English text at some point. I couldn't remember what that meant, so I looked it up. I get the feeling this term has had its fad lifespan expire shortly after it began in 2012. So I looked it up and found this.
"The only people who use yolo and swag," Chloe said, "are either going through a midlife crisis or are a 12-year-old boy on Instagram." Avoid this slang at all costs — that is, if you want to be cool.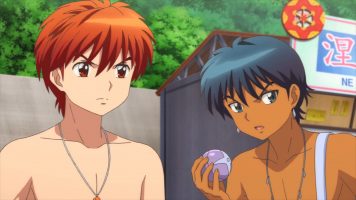 Ha!ha! I thought so. No offense to the translator of RINNE, but stop it already with the "hip" stuff, especially when it comes to trying to relate 80s stuff to today.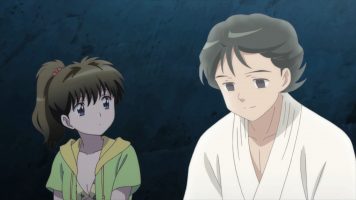 In the end, Kyoukai no RINNE 37 was a pretty fun and funny episode.