Macross Delta 13
Macross Δ 13
マクロスΔ 13
SPOILER Summary/Synopsis: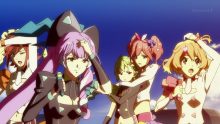 As Macross Elysion arrives at Al Shahal, Sigur Valens and the Windermere fleet begin to fold out. Macross Elysion manages to land a shot on Sigur Valens, damaging its sound system. As such, Heinz cannot use his song until repairs are made. The Aether is dispatched back to Ragna with Delta Squad and Walküre since it will take some time for Macross Elysion to fold again. Major Valan has his NUNS troops destroy the Protoculture ruins, which then cause a Protoculture structure to emerge. Sigur Valens hovers above the structure as Heinz sings, negating Walküre's concert on the Aether.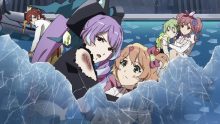 Vars Syndrome spreads as CHAOS attempts to evacuate folks to the artificial island for extraction. With Hayate having lost his fighter in the bomb explosion and saved by Mirage, Hayate gets Messer's fighter to rejoin the fight. The artificial island lifts off as Walküre resumes their concert. Bogue stops that by attacking their concert pyramid, destroying it. Sigur Valens attempts to destroy the Aether, but Macross Elysion literally falls out of the sky, taking the shot and falling into the ocean. Freyja sees Hayate in trouble, so she reacts, singing as her rune glows, and she leaps from the Aether.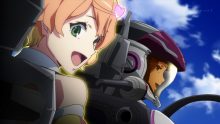 Hayate reacts to her song as Walküre backs her up. Freyja is caught by Mirage as Macross Elysion emerges from the ocean, shifting to Storm Attacker mecha mode to get the better of an exchange of fire with Sigur Valens. Thanks to Freyja's singing, Hayate shoots down Keith. The Aether docks with the ship-mode Macross Elysion, before it and some other escaping ships escort the artificial island away in an emergency fold. Meanwhile on Sigur Valens, King Gramia dies and Roid takes over leadership of Windermere's forces.
Thoughts/Review:
So far, Macross Delta has failed to impress me. However, I will say that outside of the hideous, magical idol concert stuff, I found this episode to actually be the most interesting of the lot.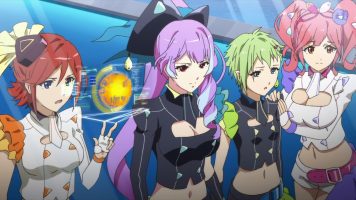 NUNS got to play the jerks in this episode when they set off their bomb. However, considering how Gramia knew what was going to happen, I think he and NUNS are actually working together. Or at the very least, Gramia is working with Major Valan. After all, Valan was not surprised when the destruction of the ruins ended up restoring some kind of Protoculture structure above the waterline, right in time for Sigur Valens to dock with it.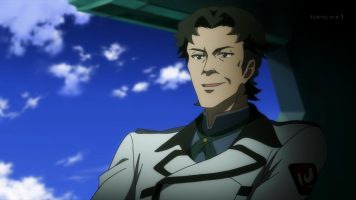 Macross Elysion falling out of the sky seemed to be a nod to the Battlestar Galactica remake TV series, where the Galactica did the same thing as part of a rescue effort. I do call BS on how it could conveniently manage to get between the mega blast from the Sigur Valens and the Aether in time. (It still looks cool though.)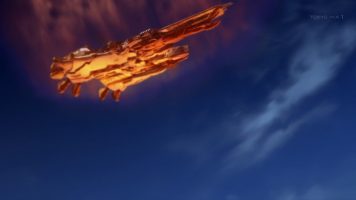 We got our battle between Macross Elysion and Sigur Valens — well, sort of. Macross Elysion gets a shot at Sigur Valens as it folds out. It takes a shot from Sigur Valens when it drops from the sky. Then when it emerges from the water to take a second shot from Sigur Valens as it fires a shot in Storm Attacker mode. Not the massive ship vs. ship battle I expected.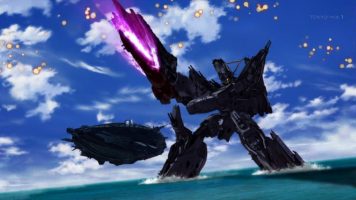 I guess our battle babe (Mirage) and our magical idol babe (Freyja) have come to an understanding over Hayate. They'll take turns every other day, then share him on Sundays. I'm expecting the jealousy aspect to rear its head and cause ugliness though 'cause sharing is not always caring.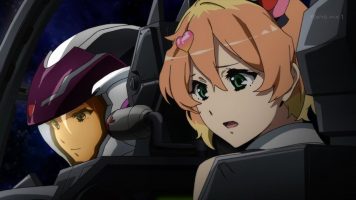 I did have to grin at Mikumo's proud oneesan moment at witnessing Freyja jumping off of a perfectly good starship deck in the atmosphere. The series has been hinting that there's some greater connection between the two and that Mikumo might know more than she lets on. She's still a smug "you know what" as far as I'm concerned. 😛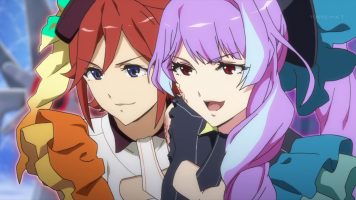 In the end, Macross Delta 13 managed to make me somewhat interested in the story, even if I had to mute the mind-numbing, nearly non-stop music from our magical idol babes.