げんしけん: 二代目Chapter 124 Manga Review
Genshiken Nidaime chapter 124 Manga Review
SPOILER Summary/Synopsis: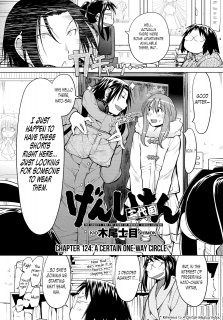 Risa comes with Rika to the Genshiken club room, now an official student at the Shiou University. When Hato shows up, Risa hits on him, giving him a pair of short shorts to wear.
After Risa departs, Rika suggests that she, Hato, and Yajima celebrate at Yajima's house. In addition to Risa being in college now, it is also a year since the trio had their initial party at Yajima's house. Yajima agrees to this, so Rika puts her plan into motion to get Hato and Yajima together as a couple.
With food and drink flowing, Rika opens up the discussion with underage drinking. Once Rika sees Hato and Yajima getting tipsy, she starts talking about their initial party from a year ago. Rika confesses to  lifting up Hato's skirt, but Yajima punched her. She rats out Yajima as having seen under Hato's skirt upon punching Rika. To Rika's surprise, Yajima confesses that before that incident, she'd tried to look under Hato's skirt.
Upon hearing this, Hato expresses happiness that Yajima took an interest in him. He asks if Yajima saw him. After a lengthy silence, Rika goes off on Yajima, having suspected Yajima looked all along. Hato confesses it is more embarrassing to have been seen in panties than having his manhood exposed.
Yajima apologizes, so Rika pounces. She proclaims that this is when Yajima saw Hato as a man. Since the distance between Yajima and Hato has shrunk, she states that it is time for a new beginning. Yajima stops Rika before she can recommend Yajima date Hato. Yajima confesses to having feelings for Hato, but knows Hato doesn't feel the same. Yajima feels there are things she needs to do to make Hato fall for her. Yajima won't say what this thing is, only that it will take time.
Yajima is thinking of her manga drawing, which is inferior to Hato. Rika asks if Yajima's going on a diet, which she denies. She does concede that losing weight would be nice.
Yajima rejects Rika's idea of spending the night again as a dangerous thing. Rika presses the point, stating Hato could wear a pair of Yajima's sweat pants or bloomers. This causes Hato to pull out the short shorts Risa had given him. Rika and Yajima tell Hato he doesn't have to go that far.
Thoughts/Review:
And so we get a chapter dealing with the three new characters of Genshiken Nidaime, celebrating a year of college under their belts.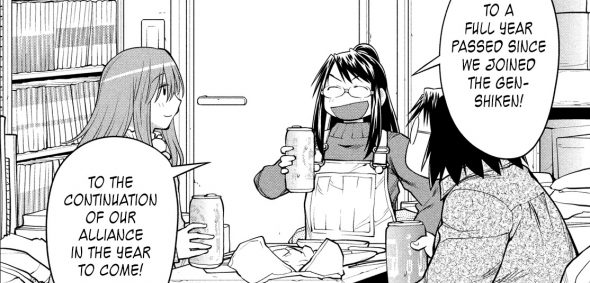 While I've never really related to Rika, Yajima, or Hato, I did like this chapter. For starters, it is a nice look back to Genshiken Nidaime's start. It is also a nice look at how far things have come.
It also reminds me of how Kio-sensei has improved in writing. A large part of this is due to Kio-sensei changing his approach to the Genshiken chapters. For most of the original Genshiken manga run, each chapter took place in the month the chapter was published. That limits the kind of storytelling one can do if you cover a year's time in twelve chapters.
With Genshiken Nidaime, it has been well over five years (close to six) and sixty-eight chapters to cover a year's time in the story. Granted, the harem arc seemed to drag a bit (it reads better in book form), but on the whole, Kio-sensei can properly write what he wants.
As to the specifics of Genshiken Nidaime chapter 124, it does appear that the Hato x Yajima ship has set sail. I'm still in the camp that says Spotted Flower will be canon.  (I looked at chapter 125 and know the developments there, which I'm EAGER to write about, once we see an unofficial release). As such, I'm eager to see Yajima and Hato get together.
Risa didn't get much time in this chapter, other than to set up the final joke. However, I'm hoping we see more of her in the future. I don't want her to become a one trick wonder horse though. I hope Kio-sensei gives her character some work. In addition, she can be an amusing element of a Risa-Hato-Yajima love triangle.
In the end, Genshiken Nidaime chapter 124 is an enjoyable chapter. I think this may be the best chapter to feature Yajima, Hato, and Rika.