Fate/kaleid liner PRISMA☆ILLYA 3rei!! Episode 02 REVIEW
Fate/kaleid liner プリズマ☆イリヤ 3rei!!
Fate/kaleid liner Prisma Illya 3rei!! 02

SPOILER Summary/Synopsis: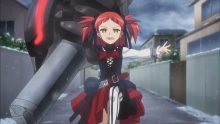 The short, red hair girl who'd helped kidnap Miyu prepares to attack Tanaka and Ilya. Ilya gets Tanaka to flee, so the girl, who has loaded the Berserker card, throws a card in their path. She introduced herself as Beatrice Flowerchild of the Ainsworth, but is called away before she can kill Ilya and Tanaka. The two make their way into town and stop at a ramen shop, where Ilya is forced to eat mapo tofu against her will. She has no money, but is saved with Gil shows up to eat. Gil is amused by Ilya's plan to rescue Miyu and Tanaka's goal of destroying the Ainsworth. As such, he agrees to help him since he has his own business with the Ainsworth.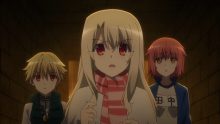 Gil's stash isn't as vast as it once was, but he produces the artifact Vimana, a large cloth. As long as they hold it, they will be invisible, but loud noises they make will still be heard as well as any smells they produce. The trio make their way to the giant crater, where they pass through a barrier in the center. The barren, snowy crater becomes a nice, green place with a large castle. They see the tall girl who'd attacked Ilya before emerge from a side door. They get inside undetected, where they find a prison cell. Inside is Miyu's older brother, who's sad because Miyu has been captured. Ilya speaks of Ilya, giving him some relief. Ilya wants to rescue him, but the tall girl returns in her Gilgamesh armor. As such, Gil has to respond to her challenge.
Thoughts/Review:
And so we come to Fate/kaleid liner Prisma Illya 3rei!! 02, which had a lot more comedy in it than I had expected while pushing the plot forward.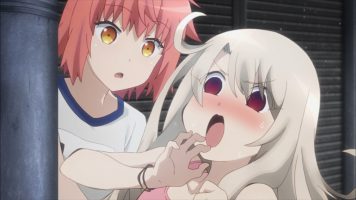 As I had previously stated, Tanaka is taking on all of the comedy stuff with Ilya doing the comebacks to whatever thing Tanaka says. I like Tanaka and her ignorant but brilliant stupidity.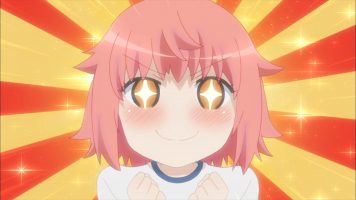 I keep expecting Tanaka to do something incredible to show herself to be ultra powerful. Or rather, give me some sign that she's powerful. That did not happen. Now that I think about it, I'm OK with her the way she is for now. However, I do hope that we start seeing some character development for Tanaka in the near future.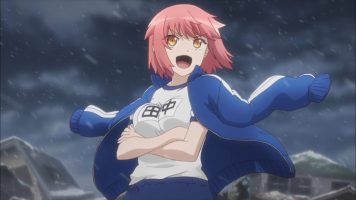 In this episode, Tanaka wasn't the only comedic element. I laughed out loud when I saw Kirei (or what looked like Kirei, and was voiced by Kirei's seiyuu) running the ramen restaurant. The fact that his ramen shop only makes mapo tofu is even funnier. The fact that he charges outrageous rates is funny. And the fact that he demanded Ilya pay the bill is funny. I hope he shows up again.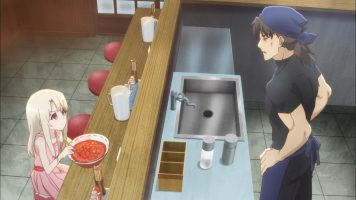 Having Gil show up was unexpected. However, it gives the defenseless Ilya and the brilliantly stupid Tanaka some needed protection. I like how Gil's reasons for helping Ilya and Tanaka fit with the Gilgamesh persona. Plus, he called Ilya "oneechan," which she loved. 😉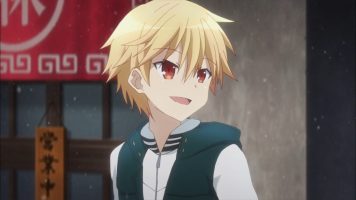 I still don't know whom the Asuna-looking chick is, but I think I understand why she has armor that looks like Gilgamesh's. As such, I'm rather interested in her upcoming fight with Gil. I get the feeling that it could turn out to be quite humorous.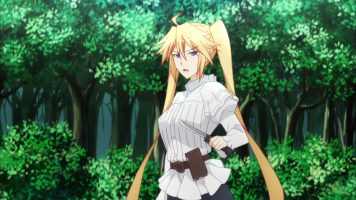 Then there's Beatrice Flowerchild. Her use of a Berserker card is different in that she's not making full use of it. Considering Beatrice's personality, Berserker kinda makes sense. However, she still appears to wield Thor's hammer, Mjölnir. I don't know why she only has a giant arm though. Is the Heroic Spirit of Beatrice's Class Card actually Thor? That would be interesting, especially since Fate/Zero had Hercules.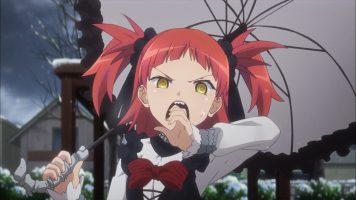 I hope that Ilya gets Ruby back soon, or at the least, the ability to tap into her magic girl powers. So far, things have been OK with Ilya just being helpless and such, but I want Ilya to have some powers and abilities to be able to defend herself.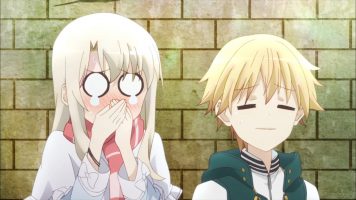 Finally, looks like we now know why Miyu called Shirou "oniichan." Shirou of the alternate world does appear to be Shirou. And Miyu is the Holy Grail, which fits with some of my feelings about her.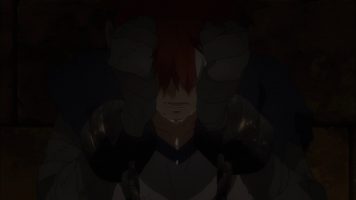 In the end, Fate/kaleid liner Prisma Illya 3rei!! 02 was a funny episode that also helped push plot forward some. So far, a good start to this new series.