げんしけん: 二代目Chapter 125 Manga Review
Genshiken Nidaime chapter 125 Manga Review
SPOILER Summary/Synopsis: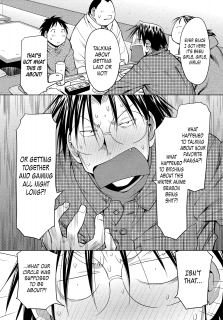 Madarame joins Tanaka and Kugayama at a small restaurant. He reveals he'll be moving nearby soon. Tanaka and Kugayama tease Madarame about finally graduating and not picking a girl. This leads to Kugayama revealing that he's been returning to the cabaret club to see Rino-san, the cute otaku girl. When Kugayama gets Tanaka to work on a cosplay outfit for Rino-san, Madarame gets irritated.
Sasahara arrives, leading Madarame to take out some frustration on him. After Madarame apologizes for having Sasahara's doujinshi, the others tell Sasahara about the situation. Sasahara informs Madarame of Ogiue's displeasure in the matter. Further, she believes that Madarame should have slept with Sue. Madarame is unhappy when the others agree with this statement. Sasahara presses further, stating that because Sue is always at Ogiue's place, he can't sleep with his girlfriend.
Madarame demands to know when Genshiken became about discussing girls. He wants to discuss anime, gaming, and the like. As such, Madarame vows to return to his old ways. As such, Madarame produces some hentai doujinshi manga he's just purchased.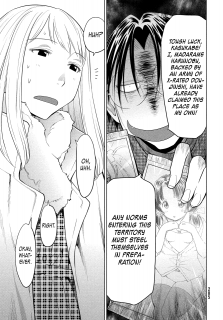 Even though this is illegal, he gains the interest of the others.
Kousaka arrives, identifying the doujinshi immediately. To the other's surprise, Saki is with him. Madarame decides to go for broke and reveals his doujinshi purchases to Saki. She disappoints him by not having much of a reaction to his actions. Kousaka reveals Saki is pregnant, shocking everyone. Madarame freaks out, regretting not having made a decision in the harem.
Kousaka's confirms his theory that Madarame isn't over Saki. Saki reveals she's not pregnant. She'd already heard about what happened from Ogiue and Ohno. Since Kousaka said news of her pregnancy would shake up Madarame, she agreed. With that, Saki tells Madarame he should date Sue. Saki rejects Madarame's reasons for rejecting Sue. With that, Saki tells Sasahara to call Ogiue so they can talk to Sue.
Thoughts/Review:
I heard about this chapter a while back and took a look at the raws then. Since then, I've been waiting for this in English. I'm glad to finally be able to read this in English.
Initially, I presumed this chapter just set up the next phase of Madarame's life. Unfortunately, the news of Genshiken Nidaime ending has changed my mind. Now I see this as a replay of the final, omake chapter from Genshiken's final volume. The only people missing from this gathering are Kuchiki, Ogiue, and Ohno.
The thing about this chapter is that it is pure, classic Genshiken. That is why it is so good. I love seeing how the guys are now, even though we are learning nothing new.
It is hilarious, in a non-laughing way, to see how Madarame is still jealous of Sasahara and Tanaka. Tanaka only gets to see Ohno on weekends. Sasahara may get to see Ogiue more often, but only gets quality time with her once a month. He brands them all as normal people, but in reality, none of the guys have abandoned being an otaku. Madarame proved that by producing his hentai doujinshi. However, Sasahara has a girlfriend and Tanaka has a girlfriend. Kugayama has a fake girlfriend. Madarame has nothing.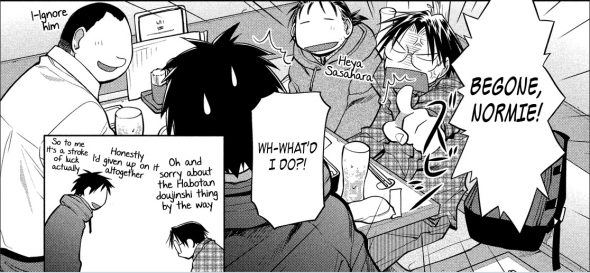 Still, I got a chuckle out of seeing Madarame go through his old tricks. Not only is he pulling out hentai doujinshi in public, which is apparently illegal, but he's showing them to Saki as well. While Madarame is desperately attempting to cling to the past, even Saki has moved beyond Madarame's actions negatively affecting her.
Speaking of Saki, the trick she and Kousaka pulled is ingenious. Kousaka shows his normal insightfulness in knowing the true reason Madarame rejected the harem members. Saki shows how much she cares about Madarame's welfare by taking charge of the situation and telling Madarame to date Sue.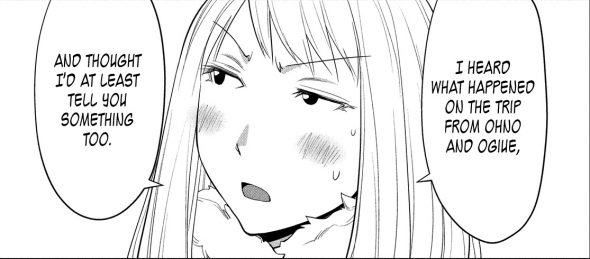 It is moments like this that make me see why Saki would be good for Madarame.  I'm not sure what Madarame offers Saki. If Genshiken Nidaime weren't ending, I'd say that things were being set up to get Madarame to a point to where he could be good for Saki. Unfortunately, the manga is ending, so unless Kio-sensei plans a Sandaime manga, we'll never know if that was his plan.
I've long been a Sue shipper, so I'm cool with this push for Sue. I can't wait to blog on the next chapter.
Chapter 126 info
I know Sue ends up with Madarame, so I'm really cool with things.
[collapse]
Another reason I'm disappointed that Genshiken Nidaime is ending is that we never really got to follow Ogiue's relationship with Sasahara, nor Ohno's relationship with Tanaka. Kio-sensei got so wrapped up in Hato's foolishness that he neglected the other members of Genshiken outside Hato, Rika, and Yajima. Yet the best chapters of Genshiken Nidaime incorporated the other members. I'll write more on this in my manga wrap up review.
Finally, there's Kugayama and his fake girlfriend Rino-san. This too would be a very interesting thing for Kio-sensei to explore. As an obese otaku, Kugayama isn't going to get the interest of a babe. Clearly, he's interested in babes, otherwise why go to a cabaret/hostess club? Then he meets a girl who knows about anime and manga, and "WHAM!" — he's hooked.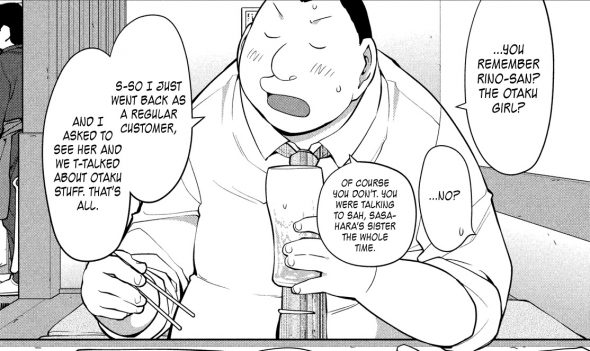 It made me feel badly for Kugayama. He's bought into the fantasy provided by Rino-san. In reality, were she not being paid to be with him, she wouldn't be with him. While it is true that on occasion, hot babes hook up with ugly or fat guys, it is the very rare exception. I'd love for Kio-sensei to make this happen, but with Genshiken Nidaime ending, I guess we'll never know. If Kio-sensei keeps Spotted Flower going, maybe we'll get a hint there.
In the end, Genshiken Nidaime chapter 125 is a good chapter, bringing the focus back to the original Genshiken crew.