ハヤテのごとく!/Hayate no Gotoku Manga
Hayate the Combat Butler Chapter 536 Review
SPOILER Summary/Synopsis: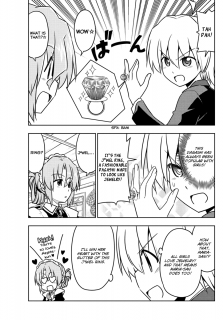 Nagi throws a fit because she claims to need chocolate to draw her manga. Since she won't shut up about it, Hayate produces a Choco Monaka Jumbo bar. She throws the wafer snack back at him, but then eats it anyway because it tastes good. However, she still wants chocolate, and not just any chocolate. She wants the good chocolate.
Hayate reports Nagi's demands to find her the ultimate chocolate, so Maria agrees to go along. Hayate decides to enact his plan to seduce and betray Maria for Nagi's sake, though he can't imagine Maria falling for him.
The two head into town where Maria wants to stop at a cheap candy (dagashi) shop. Maria's actions in the store are making Hayate's heart pound in a bad way. He decides to thrill her by putting on a candy jewel ring, but she doesn't succumb as he thought. Maria throws Hayate off his game again by taking a lick on his candy ring, causing his heart to pound again.
Thoughts/Review:
Heh! Choco Monaka Jumbo is a real thing. Looks rather tasty.
We haven't seen Nagi act like a brat recently. As such, it amused me to see her demand chocolate. Naturally, I laughed when she rejected the Choco Monaka Jumbo bar, then ate it anyway.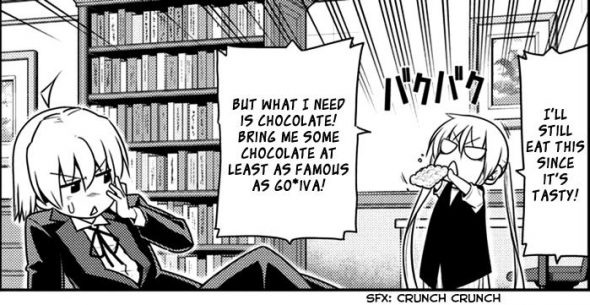 It is laughable seeing Hayate trying to put his Maria plan in action. We've seen him on a fake date with Maria before. She trumped him then and she'll do so again here.
I'm surprised candy jewel rings are a thing in Japan. I remember them from my youth, though they are known as Ring Pops. They did not interest me then for a number of reasons. Now that I think about it, I'm surprised they are still a thing in the U.S.
In the end, Hayate the Combat Butler chapter 536 is an amusing chapter with a few laughs. It also shows the mountain named Maria that Hayate has to conquer for his plan to succeed.