境界のRINNE ep 41
Kyoukai no RINNE 41

SPOILER Summary/Synopsis: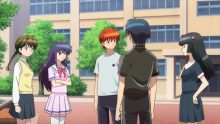 Ageha buys a Break-Up Kit to try to remove Sakura as a romantic rival. Her first attempt using the kit fails. Renge mocks Ageha for this, revealing to Tsubasa, Rinne, and Sakura her history of disaster with Ageha. Ageha accidentally leaves the kit behind, allowing Renge to possess it. Renge knows that improper use of the kit causes disaster on the owner, she she arranges for Ageha to get the kit back. Then she stages things to look like she and Rinne are in a relationship.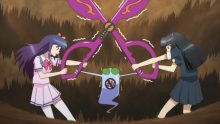 Ageha tries four times to break up Renge and Rinne, resulting in Ageha getting punished. However, on the fifth time, both girls, Sakura, Rinne, Rokumon, and Tsubasa are caught up in things when a sand trap opens. At the bottom of the pit is Enkirigami, acting like an ant lion, with scissors to cause ultimate romantic tragedy. Ageha blasts the god out of the trap to take the scissors, forcing Renge to remove them from Ageha. Enkirigami gets the scissors back, but with Renge and Ageha in tow. After the kit and scissors disappear in to the sand, Renge and Ageha continue their battle.
Thoughts/Review:
I had been worried that Renge could become a boring character. However, thanks to a long history with Ageha, she became part of some fun comedy.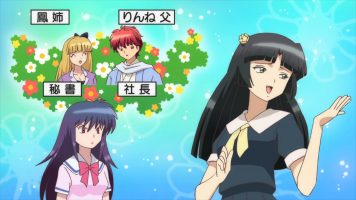 I half expected Ageha to do the cliched, "OH!Ho!ho!ho!" laugh, complete with hand jester when she slammed Renge's failure as a shinigami. Although that didn't happen, the moment is still humorous.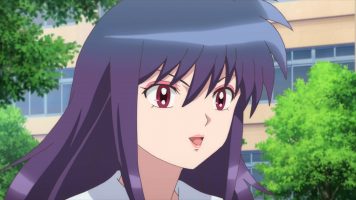 Ageha's and Renge's rivalry reminded me a great deal of the rivalry between Ataru and and Shuutaro in Urusei Yatsura. When Ageha brought that sword down on Renge, who caught it, I couldn't help but remember all of the times that Shuutaro did that to Ataru. Good times.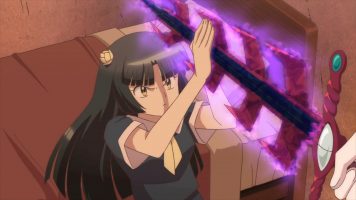 I won't go into all of the comedy aspects of the episode. However, I will say that I wore a large grin on my face every time Ageha got hit with a slapstick moment.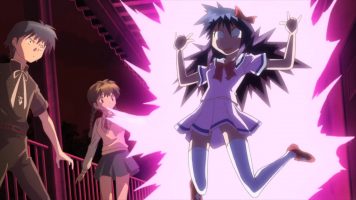 Having Ageha and Renge as rivals also provides a weakness for Renge. I'll admit, I would be OK with another episode of these two in conflict.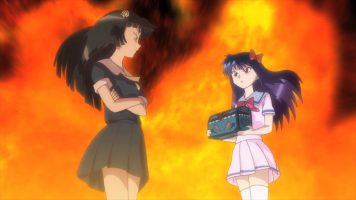 Clearly, this episode needed some filler to make run time. Although out of place, I still found it amusing that Tamako and Kuroboshi had a fake product advertisement in the middle of the episode. Since Ageha had the Break-Up Kit, why not have Tamako sell a Romance Kit? 😀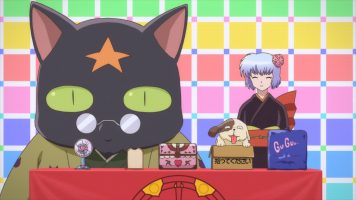 In the end, Kyoukai no RINNE 41 is an enjoyable, humorous, slapstick comedy episode.