Sweetness and Lightning 04
Amaama to Inazuma episode 04
SPOILER Summary/Synopsis: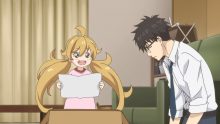 Kouhei receives a bag of fresh vegetables from the P.E. teacher at work. Then he receives a package of fresh vegetables from Tsumugi's grandma. As such, Kouhei makes a stuffed green bell pepper meal that Tsumugi doesn't like. At school, Kouhei discusses this with Kotori. Kotori recalls how her mom made her eat vegetables, so she can eat them now. That evening, Kouhei consults with the mothers of Tsumugi's classmates to get more advice on getting Tsumugi to eat vegetables. When they get home, Kouhei makes a meal, cutting up the green bell peppers into tiny pieces, but Tsumugi still turns her nose up at them.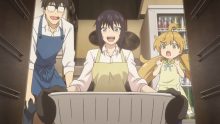 Some evening later, Kouhei and Tsumugi are at Kotori's mother's restaurant, where Kotori wants to make a gratin dish. She figures that if Kotori can be made to be excited by things, she'll be OK with peppers. They get Tsumugi to wash the vegetables, though she's not pleased to see green bell peppers. Kotori gets Tsumugi to drink grapefruit juice from an emptied red bell pepper to make her less worried about them. Kotori and Kouhei make the chicken and vegetable gratin, complete with bechamel sauce. Tsumugi liked the dish, but isn't pleased with the bite that has green bell pepper in it. She tricks her dad into eating some of her peppers, hidden under cheese.
Thoughts/Review:
Welp, another excellent journey into wholesome goodness that is Sweetness and Lightning, or if you prefer, Amaama to Inazuma.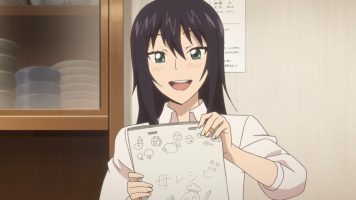 I don't know what it is about the Japanese and green bell peppers. I've seen this theme of Japanese kids hating eating them and parents using them for lots of dishes. So I did a bit of reading on the subject, which is pretty interesting.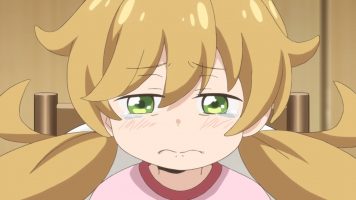 For the purposes of this episode, since Kouhei had been given so many bell peppers for free, he had no choice but to use them. In that regard, I am OK with the fact that he kept trying to serve them to Tsumugi.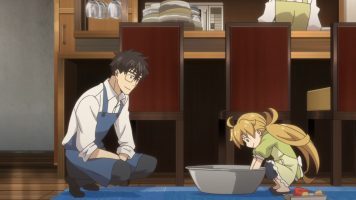 As to Tsumugi's response to this bell pepper barrage, I couldn't help but laugh. She made a ton of great faces about it all. It made me thankful that as a kid, I rarely had to eat bell peppers.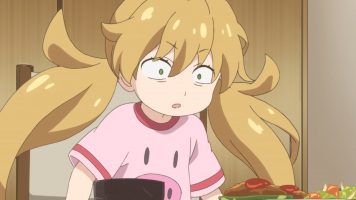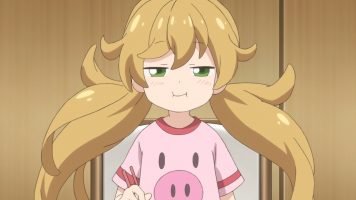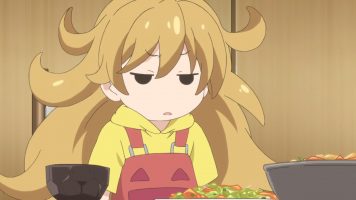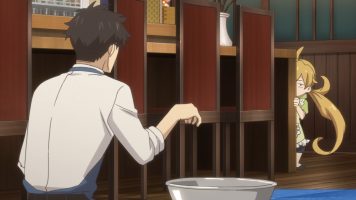 And score one to Tsumugi for conning her dad into eating her some of her bell peppers.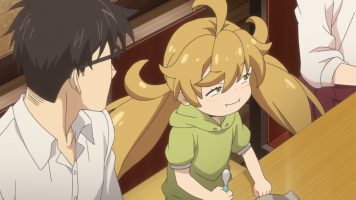 Then there is Tsumugi's cute chant and dance during Kouhei and Kotori making the bechamel sauce.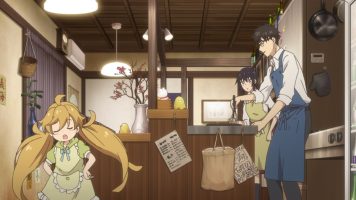 I love Kotori's and Kouhei's clandestine but innocent meetings during school hours. This is part of the element that makes them such a good couple, even though there's not a romantic element between them. It is more of a hint of romance, and I'm good with that.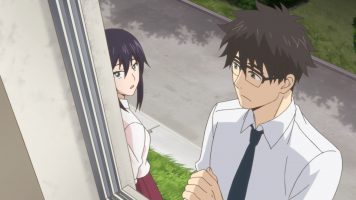 Seeing how well Kotori and Kouhei work together in the kitchen as well as how well Kotori handles Tsumugi is the other element that makes Kotori and Kouhei a good couple. I don't know if the story will introduce more of a romantic element to the story or not. I kinda hope it does though.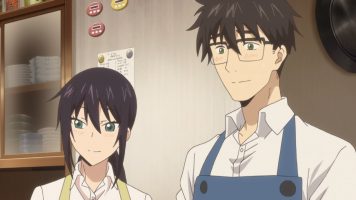 Finally, we are introduced to Kotori's twintail friend. Naturally, we don't get a name, but at least she's here now. It seems almost odd that Kotori has a friend other than Kouhei. I can see her discovering Kotori and Kouhei talking covertly at school and making an issue of it.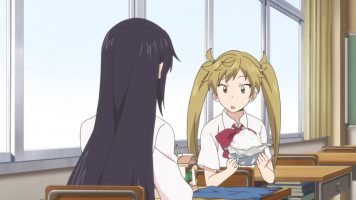 In the end, Sweetness and Lightning 04 is another adventure into cuteness, sweetness, wholesomeness, and food. Man, am I hungry now!