Spotted Flower Chapter 18.5 (Manga)
Spotted Flower manga chapter 18.5 review

SPOILER Summary/Synopsis:
NOTE: For the purposes of this and future reviews, until the characters are given names, since these characters are obviously from Genshiken (or Genshiken Nidaime), I will call the "not-Saki" character !Saki, the "not Madarame" character !Madarame, and so forth for all other unnamed Genshiken characters.
!Hato and !Yajima are taking time off during the week to relax at an onsen, taking a bath together. They discuss how lucky they are to be able to do this in the middle of the week. They then discuss their upcoming manga projects. This causes !Hato to imagine a yaoi scenario of six brothers. Naturally, !Hato has to get this down that night, so while he creates a copy-bon, !Yajima heads to a single person bath.
Thoughts/Review:
It is always disappointing when we get these 2 page stories from Spotted Flower. I do find it amusing that Kio-sensei uses these to follow the relationship of !Hato and !Yajima.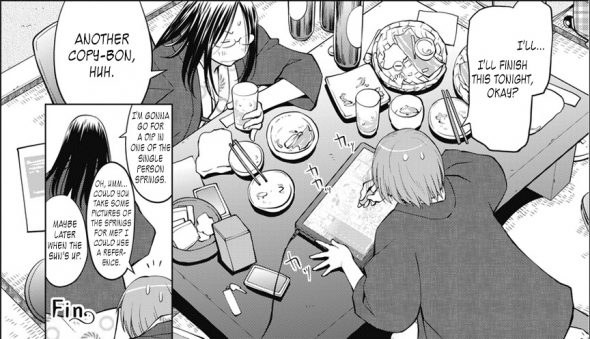 Still, with only two pages of manga, there's not a lot to discuss. Basically, he see that !Hato got the implants, which we were already told about.
!Hato and !Yajima are comfortable in a two person, mixed onsen tub. However, that too is not a surprise, considering it has been heavily implied that the two are in a sexual relationship.
I suppose that the real interest here stems mainly from Genshiken Nidaime 124. I say this because in that chapter, Yajima had a specific goal in mind that she had to achieve before she felt she could be in a relationship with Hato. Here, !Yajima talks to !Hato about manga as a partner. !Hato may be the manga-ka, but !Yajima is the power behind the throne, so to speak.
In the end, Spotted Flower chapter 18.5 is just another nice peek into the lives of !Yajima and !Hato.