Sweetness and Lightning 03
Amaama to Inazuma episode 03
SPOILER Summary/Synopsis: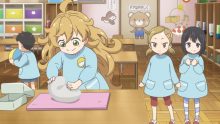 Kotori gets up to find her mother gone, but her mother has prepared a large breakfast for Kotori. She also leaves a note for Kotori, telling her she'll be on live TV at 7:15. Kotori turns on the TV on her phone and is horrified to see her mother in a sailor outfit. At school, she complains to Kouhei-sensei about this. She then discusses Kouhei's not so great attempt at making breakfast for Tsumugi. Elsewhere, Tsumugi is attempting to make hamburg steak out of clay for her father. The other girls in the class give her their clay, causing the boy Mikio to become jealous and raise a stink. Kouhei is called to the kindergarten because of this.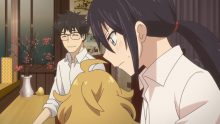 Tsumugi won't be consoled, even when Mikio's mother gets the boy to apologize. Kouhei takes Tsumugi home, where he tells his depressed daughter he knows she's not a thief. The next day, he takes Tsumugi to Kotori's restaurant so they can make hamburg steak, but Tsumugi is still depressed. Kotori encourages Kouhei to listen to Tsumugi, so he goes to her. Tsumugi is still depressed at being thought of as a thief. Kouhei manages to cheer her and tells her he loves her. Tsumugi helps make the meal, but as they start to eat, she starts crying again. After being hugged by her dad, Tsumugi is cheered again and eats. When Kotori asks, Tsumugi says she was making a present for her dad's birthday, which is today. This horrifies Kotori, who offers some of her food to Kouhei as a present.
Thoughts/Review:
OK, this series is awesomeness and a half. Maybe it shouldn't be, but it is somehow.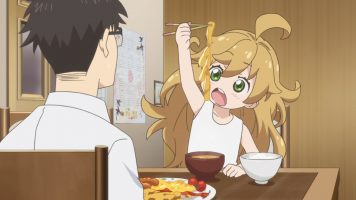 The three episodes have been pretty much the same deal. Something happens with Tsumugi and Kouhei, then they end up preparing and eating a meal with Kotori. On the surface, this really sounds boring, so credit to the writing for making it so good. "Hanyaan!"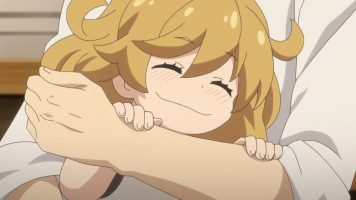 We finally get to see Kotori's mother. I laughed out loud because I didn't expect what I saw. Kotori's mother has to be in her thirties, but she's wearing a sailor seifuku.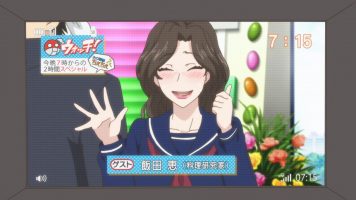 So yeah, if my mom had done something like that, this would be my expression as well. 😆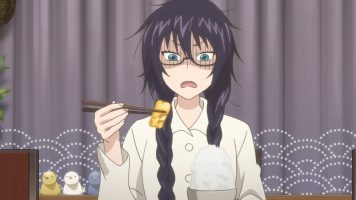 On the not funny side, a depressed Tsumugi tore me up something fierce. She's always so positive and cheerful. So when that little bastard Mikio decided to be a punk on Tsumugi, I'm thinking, "someone needs a paddlin'!"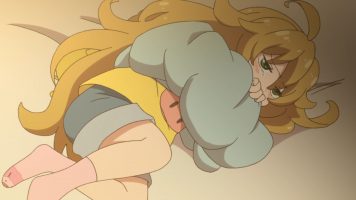 I like how Tsumugi's depression affected Kotori so that she's able to give Kouhei some advice. I don't know how long she's been alone and in need of someone to be there for her, but she clearly understood what Tsumugi needed. That lead to a sweet moment between father and daughter.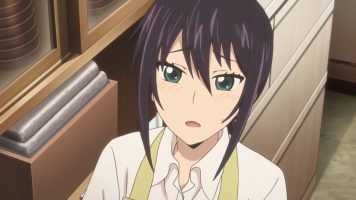 At the same time, it also made me start to want Kotori and Kouhei to eventually become a couple. Not only do they work together well in the kitchen, but Kotori seems like she'd be a good mom.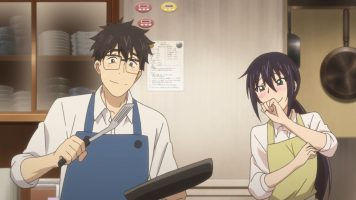 And speaking of Kotori's and Kouhei's relationship, it amuses me to see how they have personal talks at school. Actually, it does more than amuse me. By having Kotori outside the window in a place no one goes with Kouhei casually standing there looking the other way, they avoid any rumors. Further, I like how it represents that just being in each other's company is good for both of them.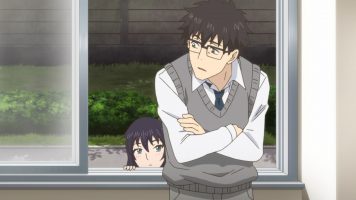 You know, this really doesn't feel much like a seinen series, does it? Seinen titles are allowed to be more adult, but this one isn't risque at all, which makes me happy. In that regard, I guess it is somewhat like Yotsuba&. In some ways, this feels like a shoujo or josei cooking manga with a hint of romance, mixed with some slice of life. I'm OK with that.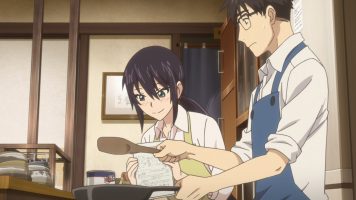 Finally, there's the food. I swear, after every episode that I watch, I feel hungry as can be. 😆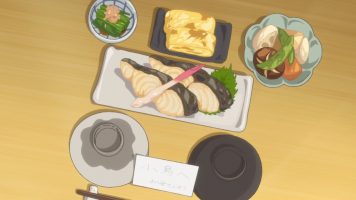 In the end, Sweetness and Lightning 03 is another really enjoyable romp into a world that I like being in.