ハヤテのごとく!/Hayate no Gotoku Manga
Hayate the Combat Butler Chapter 537 Review
SPOILER Summary/Synopsis: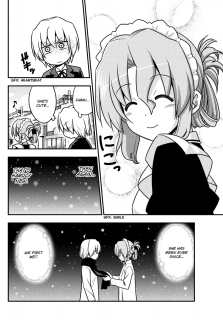 Hayate is at a loss on how to seduce Maria. His plans are complicated by how attractive and cute Maria is. Hayate considers holding Maria's hand, but is surprised when she grabs his hand to take him to another candy shop. At the candy shop, Maria still has the upper hand.
As evening comes, Hayate recalls the last ten months and his time with Maria. On the walk home, they arrive at the part where Hayate first met Nagi and Maria. Hayate thinks he can get Maria on nostalgia, but Maria's memories aren't quite so positive. However, she does confess that thanks to Hayate, the time has been a lot of fun.
Maria decides to tell Hayate something she's been wanting to say for a while. Hayate is excited that this might be a love confession. However, Maria confesses that she's thinking about quitting being a maid.
Thoughts/Review:
Well, this chapter had the surprise ending. Seriously, I had no clue that Maria was going to say she's planning on quitting.
It reminded me of the time when Nagi confessed to Hayate that she knew that eventually Maria would move on. Since Nagi has been sleeping without Maria and becoming more independent, I suppose this is the time for Maria to leave.
That is assuming Maria isn't playing a joke on Hayate. Knowing Hata-sensei, this could be a giant gag.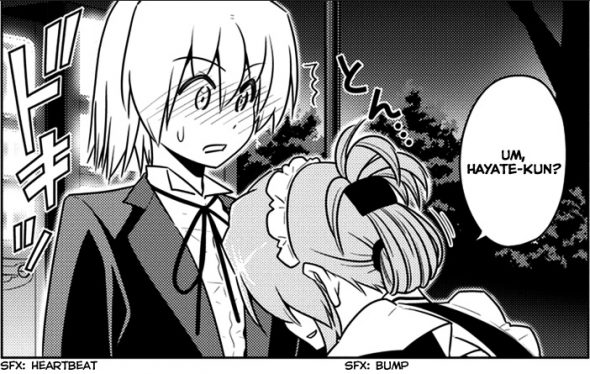 However, assuming this is legitimate, I can see the combination of Maria turning in her resignation combined with Nagi learning the truth of Hayate's feelings for Nagi could be the one-two punch to open up the path to the Royal Garden.
One thing this chapter did is make me sad that Hayate the Combat Butler all but failed in the U.S.  The flashbacks of Maria from earlier chapters of the manga made me wish the U.S. version of the printed manga wasn't so deathly far behind as it is. Maybe I'll reread what Viz has as bedtime reading in the future.
Finally, did Maria and Hayate actually get chocolate for Nagi? I mean, that was the whole purpose of the trip, with the side purpose of Hayate attempting to win Maria's heart.
In the end, Hayate the Combat Butler chapter 537 is a mildly amusing chapter with the shocking development of Maria's announcement.