Fate/kaleid liner PRISMA☆ILLYA 3rei!! Episode 05 REVIEW
Fate/kaleid liner プリズマ☆イリヤ 3rei!!
Fate/kaleid liner Prisma Illya 3rei!! 05

SPOILER Summary/Synopsis: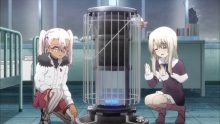 Kuro and Ilya get a portable heater/stove to work since the school is cold and drafty. Bazett has wards up on the walls around the school grounds. Tanaka falls off the roof of the school, but despite pain, has no injury. Ilya discovers a little girl named Erika (Erica) who can't get down from the top of one of the wall. She refuses help, but Ilya comes to realize Erika's refusal is just the reverse. Erika then needs to go to the bathroom, but Tanaka decides to tease the girl. Erika's refusal to be beaten by Tanaka causes Tanaka to bite the girl. Eventually, Erika has an accident.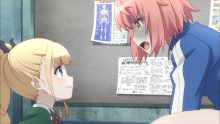 Ilya takes Erika into the nurse's station to get her clothing dried and introduce her to Kuro and Bazett. Gil is not around, but he has created an onsen on the roof of the school with a Noble Phantasm. While they relax in the bath, Ilya attempts to get Tanaka to remember, but the girl's first memories are encountering Ilya, something she views in a positive light. The only thing she's sure of is that she must destroy the Ainsworth. After their bath, a shabby man that Erika identifies as her father comes to the gate. Ilya lets him in as Sapphire contacts Ruby with a warning about the head of the Ainsworth coming to them. Ilya repairs one of Bazett's wards, which immediately starts an alarm. This causes Erika's father to change his attitude as Ilya realizes this is Darius Ainsworth.
Thoughts/Review:
I have to say that this wasn't nearly as ecchi as I feared it would be. Very glad for that, though it still has lots of ecchi in it.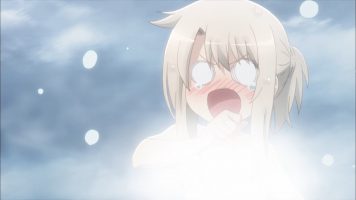 Gil-kun proves to be amusing without doing much at all. Kuro gets annoyed with him for not given them information about the crater. However, it is understandable that if the event that caused the crater happened well before Gilgamesh was summoned, then I can see how he wouldn't have the info.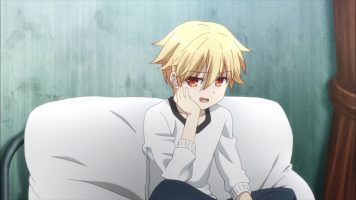 The Noble Phantasm onsen Gil-kun has for use just made me laugh out loud. Sure, it is a convenient way to have an onsen episode.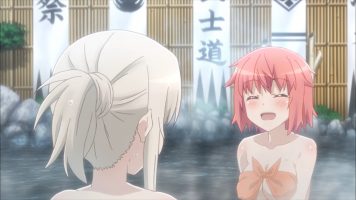 Shifting to Tanaka, we still don't know anything about her. I think her scribble on the wall is a clue of some sort. Initially, I thought it might be a face. It does look like it might be someone in a sombrero. Then I thought about her reaction to seeing the crater from the roof of the school. I think that Tanaka is actually the cause of the crater. I think the picture she drew is her going nuclear on the Ainsworth.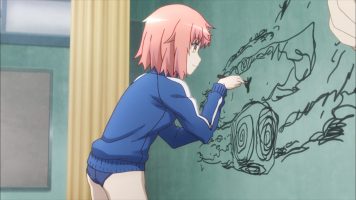 While Tanaka's teasing and bickering with Erika (or Erica as the official subs call her) generated much of the humor for this episode, I liked how that humor couched a nice little clue about Erika's identity. No wonder Tanaka hated Erika so.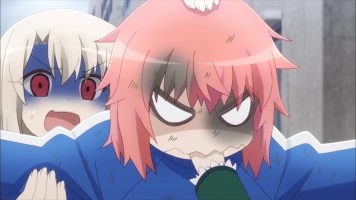 Man, Erika is the most massive tsundere I've ever seen in anime or manga. She's also adorable as all get out, though not as adorable as Tsumugi from Amaama to Inazuma (Sweetness and Lightning). 😉 Her constant denial of the need for help even though it is actually a plea for help makes her a bit more adorable.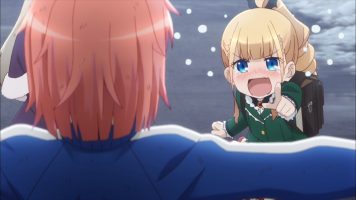 As such, learning that Erika is Ainsworth shocked me greatly, but worked perfectly. Does she reveal herself to be something as nasty and powerful as Beatrice or Angelica? That cute, tsundere act was just to get passed Bazett's defenses. I have to imagine that she had something to do with the one ward starting to come off the wall.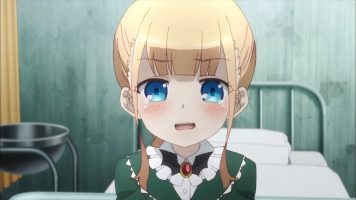 Darius Ainsworth showing up and looking almost like a hobo is another surprise to me. I suspect he'll be insanely powerful, but he may not actually move on Ilya and company. I base this on the fact that he let Ilya, Tanaka, and Gil-kun go when Angelica and Beatrice could have finished them off. Well, maybe not Gil-kun. 😉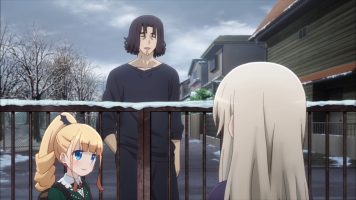 I'm glad we heard from Sapphire. That just leaves Rin and Luvia.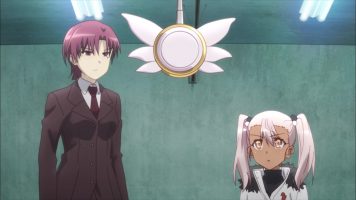 Finally, I had to laugh at how cheap Ilya is. Just call her "Onee-chan" and she's yours for life. 😆 I'm so thankful the official subtitles use the Onee-chan honorific.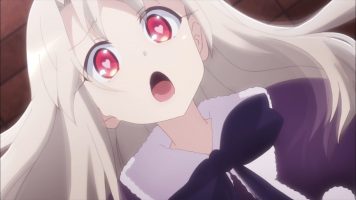 In the end, while there is some ecchi content that I didn't discuss, Fate/kaleid liner Prisma Illya 3rei!! 05 focuses more on comedy and setting up the encounter with the head of the Ainsworth. Good times.