Fate/kaleid liner PRISMA☆ILLYA 3rei!! Episode 09 REVIEW
Fate/kaleid liner プリズマ☆イリヤ 3rei!!
Fate/kaleid liner Prisma Illya 3rei!! 09

SPOILER Summary/Synopsis: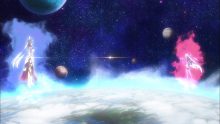 Since Ilya won't make a choice between the world and Miyu, Angelica uses a special kind of projector to create an illusion to further explain the loss of mana and its negative impact on the world. To counter Ilya's objection that the Holy Grail can't be used to create more mana, Angelica says they will use it so that humanity can adapt to the new world. With all of this explanation, Ilya still can't choose, so Angelica attacks. Ilya installs the Assassin Card to make a hasty escape, but Angelica tracks her, laying waste to an entire forest in the process. Before Angelica can make a killing blow, Kuro shows up to defend her.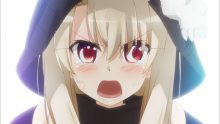 Back in the castle, Darius learns of Erika's actions regarding Ilya and spanks her in rage. Miyu comes to her defense and backs down when Erika shows bravery. Darius allows Miyu to witness the battle as Kuro desperately attempts to battle Angelica. Ilya explains the situation with Rin and Luvia. Kuro chooses Miyu over this world, but Ilya can't choose. Miyu doesn't want to lose her friends and is resigned to her fate. Kuro is defeated, but before Angelica kills her, Ilya-Assassin takes the blow. However, Ilya is unharmed, having used Assassin's Zabaniya Noble Phantasm to create a body clone. Ilya tells Angelica that she will save both this world and Miyu, which shocks Miyu and frees her mind.
Thoughts/Review:
Man, Fate/kaleid liner Prisma Illya 3rei!! 09 went to some ugly places. But there's no denying that this episode had me gripped completely.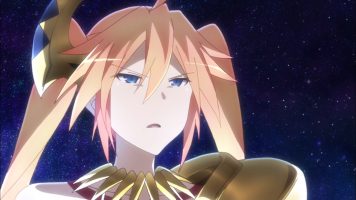 This episode featured Angelica, which caused me to become fascinated by her. As one of the Ainsworth warriors with the Gilgamesh Class Card, she's a force to be reckoned with. She's both calculated and indiscriminate when it comes to her methods of attack. While I'm used to seeing Gilgamesh's Gate of Babylon attack, whereby swords are used as projectile weapons, Angelica brought out something new this episode.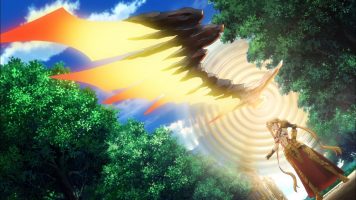 The Sul-sagana is just another massive Noble Phantasm weapon in Gilgamesh's Treasury. However, the way it is used to destroy huge areas with a beam that causes fire to boot is just incredible. That makes it even more deadly than the giant rock sword that Angelica produced, which was still damaged from then Gilgamesh used it in the previous series against Ilya.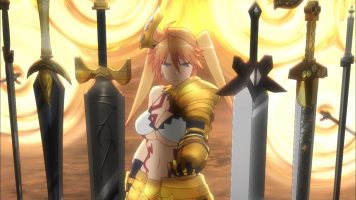 Still, Angelica didn't go all out against Ilya, nor against Kuro. I found this to be interesting. For Ilya, I can see Angelica not wanting to kill her since Ilya is another Holy Grail. And yet, when Ilya won't make a decision on whether to save Miyu or this world, Angelica, with Rin and Luvia, attack with a force that would have killed Ilya.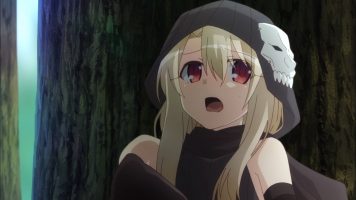 Angelica flushes Ilya out. Ilya won't choose. Angelica literally drops that giant stone sword on her. If it hadn't been for Kuro's deus ex machina save, Ilya should be dead. So clearly, Angelica isn't being restrained by a commandment from Darius to not slay Ilya. Indeed, Darius wondered what he'd do if Angelica did kill Ilya.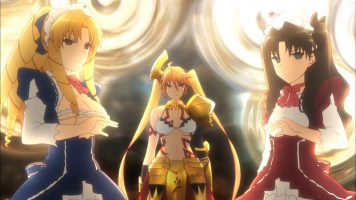 While Angelica battled both Ilya and Kuro, she never went all out. She has two pawns in the form of Rin and Luvia. From time to time if Kuro got too close, they'd step in and defend her. But overall, they did very little fighting. They mostly just stood there and waited for orders from Angelica.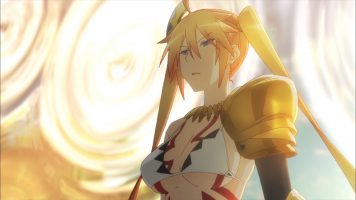 Considering how Angelica kept questioning the motives of both Kuro and Ilya, I think I understand why she didn't go all out. I don't think she's using the cliched, "I won't get any satisfaction if I use my full strength." Instead, I think she's following this line of thought from Gul Dukat of Star Trek: Deep Space Nine.
A true victory is to make your enemy see they were wrong to oppose you in the first place. To force them to acknowledge your greatness.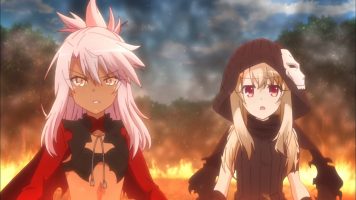 In this case, Angelica wants Ilya and Kuro to admit that the Ainsworth plan for Miyu is the correct path. She wants them to say it is the only logical path. "The needs of the many outweigh the needs of the few, or the one," to quote another famous Star Trek line. As such, she takes her time in her calculated but devastating attacks.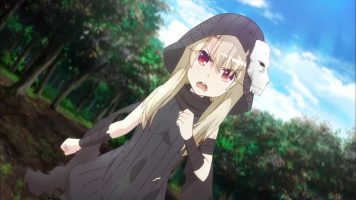 What's amazing is how Angelica keeps her cool. She can't understand why Ilya and Kuro are being so obstinate, but she doesn't fly off the handle. She doesn't get angry when Kuro lands an early (and only) blow on her. She doesn't react in surprise when Kuro shows up to rescue Ilya. Even though she's surprised that Ilya had the Assassin card hidden somewhere, Angelica never shows it and just calmly reacquires her target for destruction.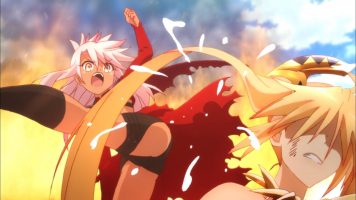 Now that I think about it, she's the opposite of Beatrice. Beatrice is keen to go berserker while Angelica isn't. No wonder the two of them are the biggest servants of the Ainsworth family. (And where is Beatrice while Angelica is causing all of this loud destruction?)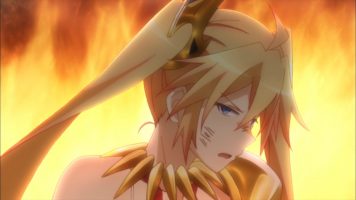 As for Ilya, I really don't know where she could have had the Assassin Card hidden. There was no need for her to hide it before she was kidnapped. Apparently, when Angelica kidnapped Ilya, the other Class Cards were left behind. (I wonder why they weren't taken by the Ainsworth.) But I'm guessing some things aren't worth asking.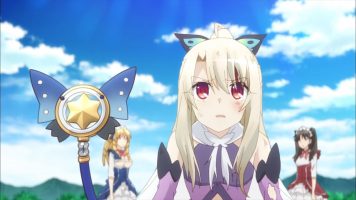 Which reminds me, where are Ruby, Bazett and Gil-kun? I kept expecting them to show up, especially since Angelica getting weapon happy would mean Gil-kun would get a lot of his weapons back. They have to be doing something to get Miyu back that we weren't privy to.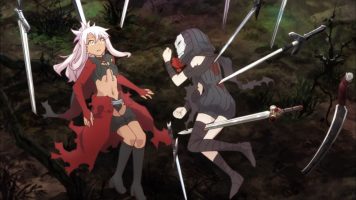 Thinking back to Ilya using the Assassin Class Card, I wonder if Angelica knew the card's identity because she knew what cards Ilya has access to. I'm guessing that's the likely choice, but I found it interesting that Angelica addressed the hidden Ilya as Hassan-i Sabbah. I wonder if Angelica was attempting to gain some control over the Assassin Class Card.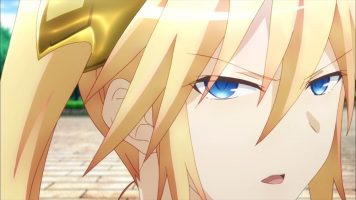 The ugly part of this episode came from the arse whooping that Erika took at the hands of her father. I'm not opposed to a child being spanked. However, Darius clearly became enraged as he beat his daughter on the behind. It is interesting though that what calmed him down was not Miyu, but rather Erika tearfully telling "Miyu-oneechan" that the punishment didn't hurt. That seemed to please him.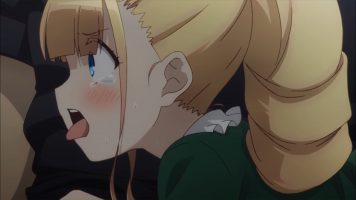 Man, Darius is so jacked up. Correction; he is insane and evil to boot. That's a dangerous combination. Add to that the fact that he has this young daughter who's an innocent soul that is being corrupted by the darkness of the Ainsworth. I really hope Ilya and company can save Erika from this darkness.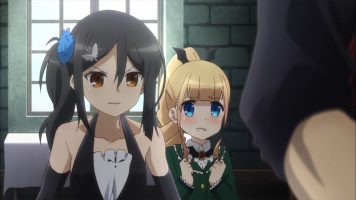 Finally, there's Miyu and her suffering at the hands of Darius and the Ainsworth. Darius clearly wanted to sap Miyu of any hope, which is what I believe the chains symbolized on the astral Miyu. However, her hearing Ilya insisting on saving her and Miyu's world freed Miyu. So what does this ultimately mean? As powerful as Darius is, I can't imagine she'd be able to free herself. I guess I'll just have to wait and see.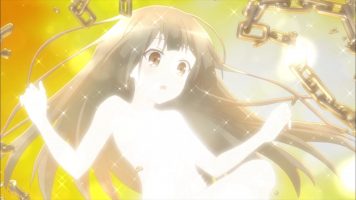 In the end, Fate/kaleid liner Prisma Illya 3rei!! 09 is a very good episode, combining combat, exposition, and some uncomfortable moments of Erika getting her arse blistered in punishment.