ハヤテのごとく!/Hayate no Gotoku Manga
Hayate the Combat Butler Chapter 542 Review
SPOILER Summary/Synopsis: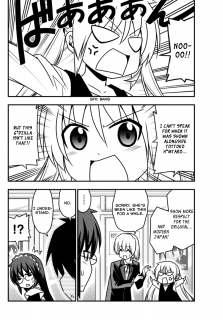 Nagi is shocked that Hayate hasn't watched the new Shin Godzilla (Godzilla Resurgence in the U.S.) movie. Since she's desperate to discuss the movie, she decides to go see Wataru.
At Wataru's doujinshi shop, Wataru is stocking up on Shin Godzilla stuff. Saki wonders if the movie is really that good. She thinks Godzilla is a kids movie, frustrating Wataru. Nagi bursts in, ranting that the new Godzilla movie isn't a kids movie. Wataru, upon hearing Nagi speak, agrees with her and the two discuss the movie.
Saki decides to leave the shop with Hayate so she can watch Shin Godzilla and discuss it with Wataru. After she watches it, she doesn't understand what she saw. It wasn't her image of the kaiju monster films she recalls.
When she returns to the shop, Nagi and Wataru are still discussing the movie. They are excited when they learn Saki has now watched it. The three of them head to the Tama River, the site of a major scene in the movie. Saki is ready to give up on Wataru as a partner, which causes him to realize Saki didn't understand the movie. He confesses there were things in the movie he didn't understand. However, he still liked the movie and he wanted to understand it, know more about it, and be by its side.
Saki realizes Wataru is speaking metaphorically about their relationship. She agrees with him, saying it might take a lifetime to understand. Their hands reach out to each other as Nagi wants to visit the bridge that was destroyed in the movie.
Thoughts/Review:
Har! I want to see Shin Godzilla even more now. Here's a trailer from the film. See if you can identify which famous anime creator is involved in the making of the movie, just from watching the trailer. 😉
It's Godzilla!
One element that had me chuckling about the chapter is the desperate need Nagi had to discuss the Shin Godzilla movie with someone who'd watched it. In my younger years, I used to hit a lot of forums and such to discuss movies and TV shows. That was on top of the discussions I'd have with friends at work and other places.
Today, I mostly discuss a movie with my buddies after we leave the theater. Sometimes we'll be out there for hours and security or the police might slowly cruise by to see if we are up to something. So I laughed when Saki leaves to watch the film because she wants in on Nagi and Wataru's conversation, only to return and have them STILL discussing the film. 😆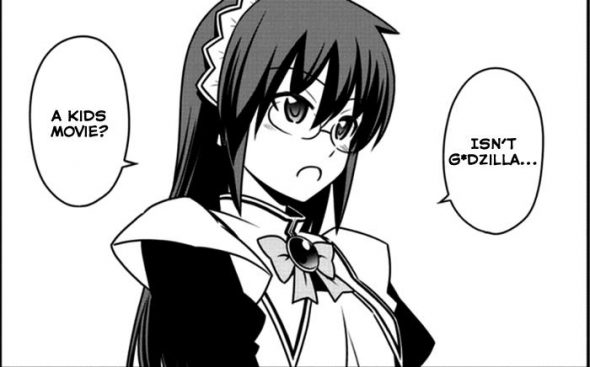 I do plan on picking up the BD when Funimation releases it, even though I'm pretty sure they won't use Japanese honorifics in the subtitles. 🙄
The Farewell Tour Continues
I know some folks will disagree with me, but I'm pretty sure Hata-sensei is saying farewell to all of the side characters who won't have a role to play in the final story arc of the manga. We've had chapters for Yukiji and Izumi so far.  Now, we get one with Saki and Wataru. I know that Wataru has a gem, so he might play a role in the main story. However, I can see Saki being gone until the final cameos when the manga ends.
I like the way Hata-sensei has done the Saki x Wataru romance. It is subtle and sweet. I never bought into the Sister Sonia x Wataru ship. After Wataru gave up on Isumi, it was Saki x Wataru all the way. Saki will be Wataru's wife-maid for life. 😉