Fate/kaleid liner PRISMA☆ILLYA 3rei!! Episode 10 REVIEW
Fate/kaleid liner プリズマ☆イリヤ 3rei!!
Fate/kaleid liner Prisma Illya 3rei!! 10
SPOILER Summary/Synopsis: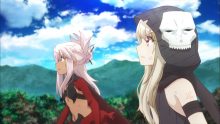 After hearing Ilya's proclamation on saving both this world and Miyu, Darius finds this amusing and lets Ilya know this via Flash Air. Miyu gains hope by Ilya's words. Kuro has Ilya uninstall Assassin and quietly slips Ilya the rest of the Class Cards. Kuro sends a signal to the invisible Ruby, Gil-kun, and Bazett. Gil and Bazett remove the seals on Luvia and Rin. After that, Gil binds Angelica. Gil reveals he is using Hades's Cap of Invisibility and disappears again. Despite being bound, Angelica unleashes a massive barrage, which the hidden Gil-kun takes into his treasury.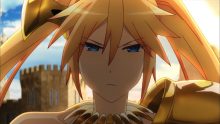 Kuro dispatches Gil-kun as Angelica frees herself and produces a large number of shields from the Gate of Babylon. Kuro fires at the castle tower where Miyu is held captive, blowing the top off and exposing Miyu, Erica, and Darius. Angelica launches a barrage at Ilya, but Ilya erects a barrier, now having Ruby in hand. Darius attacks with Crown Undertaker, capturing Ilya in a sphere of thorny vines. Darius uses Ninth Prayer to launch a massive obelisk at her. Ilya uses Sakura Saber Saber Lily to free herself and destroy the pillar. Darius easily defends against Saber Lily-Ilya, but Ilya uses the Caster Class Card to produce the Rule Breaker dagger to stab Darius with.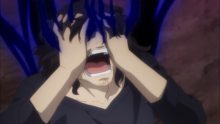 Darius goes down and the castle tower turns into a solid stone tower with an open petal top. Angelica and Beatrice come to their master's defense as Ilya gives Miyu Sapphire. The castle is being replaced with a mountain as Beatrice breaks up Ilya's and Miyu's reunion. Erica asks if Miyu is leaving them. Ilya tells Erica that she wants to save everyone.  Miyu believes in Ilya because they are friends. Erica asks if she and Miyu are friends, but Miyu tells her they aren't. Erica is devastated by this. Angelica threatens Miyu's brother, not knowing the Gil-kun has just rescued him.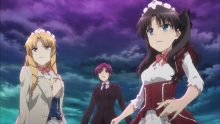 Meanwhile, Darius transforms into an unhappy Julian. He uses Flash Air to grab Ilya's Caster card and destroy it. He then pulls a massive cube from where it was hidden above the castle. This causes the sleeping Tanaka to awaken in the school. Miyu explains to Ilya that Darius has long been dead and that his son Julian used displacement magic to impersonate his father. Julian comforts the crushed Erica, saying he's her only ally and family. She puts her trust in him, after which Julian causes black goo to pour from the cube and drown her before flowing to the earth. Failed Heroic Spirits emerge with only the thought of getting the Holy Grail (Miyu). Ilya prevents Miyu from giving into Julian's demands to submit as Shirou emerges to save the fleeing Rin, Luvia, and Bazett.
Thoughts/Review:
Wow. Just wow. There were a lot of incredible developments here. While there is certainly a lot of great things in this episode, I do have a few quibbles.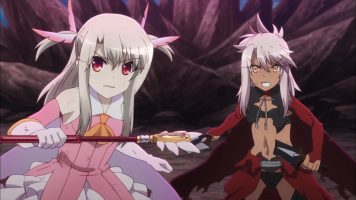 Freeing Friends and Allies
I had been wondering What Gil-kun, Bazett, and Ruby were up to. I hadn't expected them to be invisible in order to get behind Angelica. This is probably one of the only times Angelica has been truly surprised and allowed that emotion to show. That made it worth the price of admission.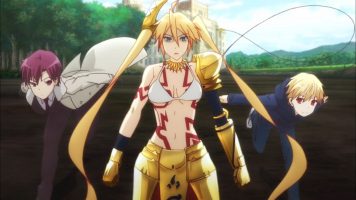 Once Luvia and Rin were free, sadly they had nothing to do but complain about their dress and such. Well, that and they had to flee for their lives. Hopefully, they can become more useful in the future. However, I'm glad to have them back.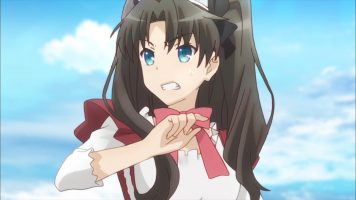 Miyu also became freed as a result of the assault on the Ainsworth castle. It is nice to see her back in her magic girl outfit, even if she didn't do anything constructive. She did provide some exposition on Julian (more on that later), but the rest of her actions actually were bad. I'll speak more on that in a bit.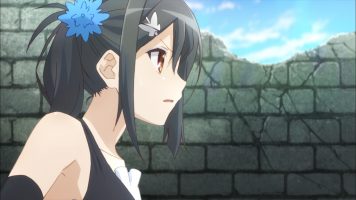 And finally, Shirou gets freed. Unlike Ilya's Shirou-oniichan, Miyu's Shirou-oniichan appears to be fairly powerful, able to use the same abilities as Shirou from Fate/stay night. I'm rather looking forward to seeing him in action.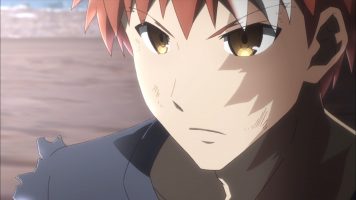 Miyu's Terrible Decisions
When Julian offered Miyu a chance to rejoin him of her own free will, I was disappointed that Miyu planned to accept this and return to captivity. Had she done so, this time things would have been far worse for her. So yay to Ilya for stopping that.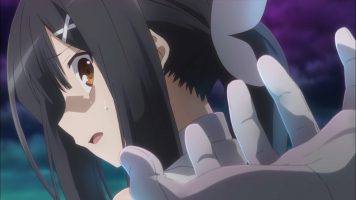 Where Miyu really screwed up is in how she crushed Erika. Seriously, I almost yelled at the TV when Miyu told Erika they weren't friends. To me, it didn't make sense because Miyu seemed to care about Erika, understanding the child's messed up situation.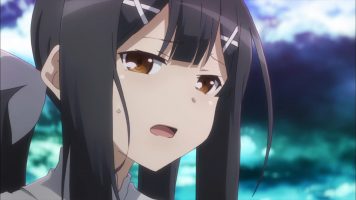 As I've mentioned before, Erica is an innocent child. She has been raised in a sea of darkness, evil, and corruption. As such, she doesn't see these things as the horrible things they are, but rather she sees them as normal things. That's why some of the things that Ilya and Miyu say confuse Erika. However, because she is young, I think there's still a chance to save her.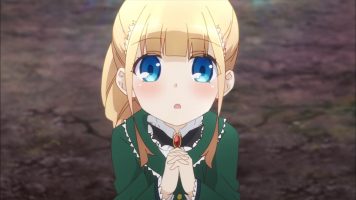 Or rather, I thought there was a chance to save her until Miyu kicked Erika off the edge of the cliff and into the open jaws of hell. Until that moment, Erika was on the edge of the knife. Miyu seems to have insured that Erika would fall into darkness. Then Julian adds to this by drowning his sister in the black goo.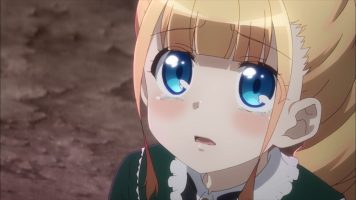 Erika (or Erica)
After I saw Erica die inside from being betrayed by Miyu, I didn't know what to expect from her. It did not surprise me that Julian and Beatrice were there to help Erica's entrance into the gates of hell. After all, they are making sure Erika can never be saved. (I keep switching how I spell her name. 😛 )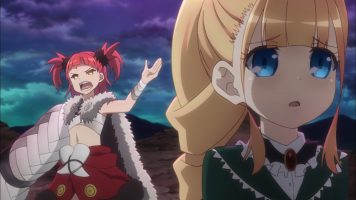 What did surprise me is that Julian drowned her in the evil black goo. This act caused a bunch of failed Heroic Spirits, made from the evil goo, to emerge. Does this mean that Erica is a Lesser Grail?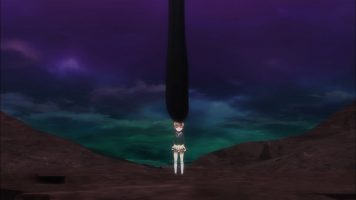 Darius and Julian
Back when Darius was first introduced to us in episode 6, I noticed that he transformed. At the time, I thought he might have some Class Card. Over the last few episodes, we hadn't witnessed any other transformations, so I forgot about it. That said, when Ilya used Rule Breaker to destroy the Darius shell and Julian emerged, suddenly things made sense.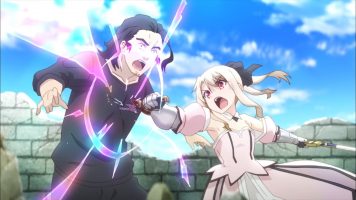 Now I understand why Beatrice basically worships Julian. He has always been her true master. I now see Beatrice as a willing and loving bond servant, bound for life to the service of Julian and the Ainsworth family. It is similar for Angelica, though she doesn't show the emotions that Beatrice does.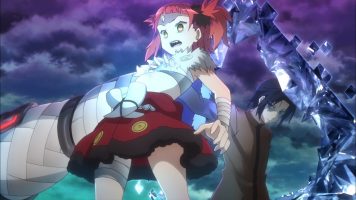 It also explains the insanity noted in Darius. Julian is truly insane and evil. The fact that he would use magic to go in the guise of his dead father just adds to the creep factor for this guy.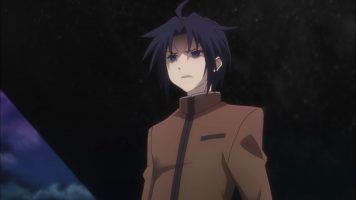 Julian is also insanely powerful. Were it not for his insanity, Julian should have already mopped the floor and been rid of Ilya and company. His displacement magic is just incredible. He is able to easily destroy Class Cards. (Sad there's no more Medea Caster.) And then he's able to hide something as massive as that cube in subspace (or something) and just pull it out at will.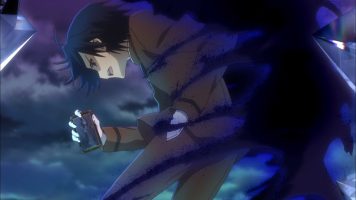 Tanaka and the Cube
Speaking of the cube, suddenly Tanaka's scribble makes sense. She was drawing the cube's emergence on the wall. Now the question is, "Did she predict that the cube would emerge, or did she always know about it?" Miyu seemed to know about it, so the answer would seem to be the later, but with as mysterious as Tanaka is, it could be the former.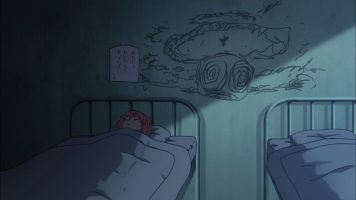 I've no idea what that massive cube Julian pulls from the sky is. However, I couldn't help but think, "Resistance is futile. You will be assimilated." 😉 As such, I want to see Tanaka show up and resist. 😀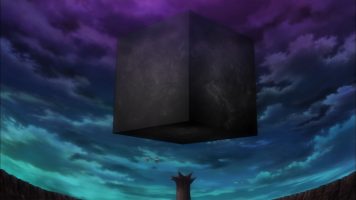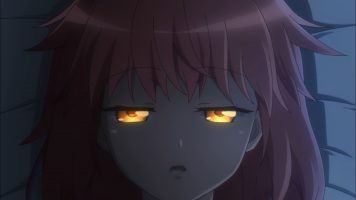 Failed Heroic Spirits
This seems like an odd thing to me. I will admit that I'm not that well versed on the normal summoning of Heroic Spirits. I know that Artoria Saber is a bit unique in that she participated in two Holy Grail Wars as Saber. But the way things were described, any Heroic Spirit that failed to obtain the Holy Grail is now a corrupted, evil, monstrous thing. That surprised me a great deal, especially since there are so many of them.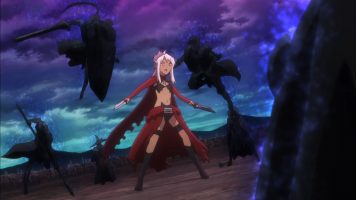 The Moments Don't Work
Since there were a number of reunions in this episode, it is understandable that there is a desire for everyone to have a moment. Rin and Luvia got their moment, which was mostly to complain. Ilya and Miyu got their moment. Miyu and Sapphire got their moment. You get the picture.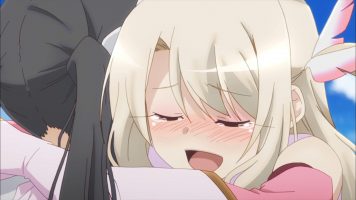 The problem is that the action and pacing all stop so that folks can have their moment. This makes for an unbelievable situation. In the previous episode, I saw a reason for Angelica not going all out on Ilya and Kuro. Here, especially after Darius was injured and Julian appeared, Beatrice and Angelica should have made them pay. There's no reason for the villains to allow the heroes to have these moments.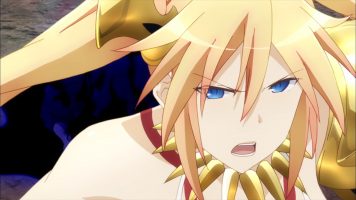 Yes, I know Beatrice made a comment about the moment Ilya and Miyu had, but her subsequent attack was announced ahead of time and it really wasn't all that much. Indeed, Beatrice was pretty worthless for as ruthless as she's been shown in the past. Angelica wasn't much better.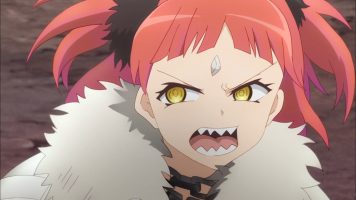 Conclusion
Man, I'm sure I could write a ton more about this episode. I didn't even discuss Gil-kun. However, I don't have the time to do that. Instead, we can discuss things in the comments, for those interested in doing so. Just be warned that it might take me a day or two to make a response.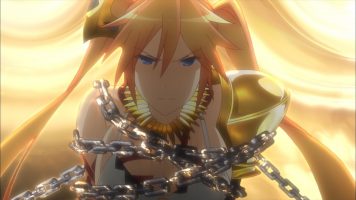 In the end, Fate/kaleid liner Prisma Illya 3rei!! 10 is an action packed episode that is also packed with plot. It suffers from some minor pacing issues whenever the heroes need to have their moments. Beyond that, it is a quite good episode.