Anime Babes Over the Years
Hey gang! I finally managed to get my head above water, howbeit briefly. While taking a mental break, I was treated to a blog post from プリキュアの数字ブログ.  In it, there are two anime top five images. The first is the Animage Anime Grand Prix, showing the top five babes of every year from 1983 to 2015

I'm not surprised to see Lum (Urusei Yatsura) in the top five for 1983-1986. My girl Yuri (Dirty Pair) was number 2 in 1985. I chuckle at seeing three Sailor Moon babes for 1992. I would have figured they could run the top five. 😉 Belldandy (Ah! My Goddess) naturally blows them away the next year, but then she's blown away by Haruka (Sailor Moon). 😆
Anyway, it is fun seeing anime babes from series I've watched over the years. Sadly, as a reflection of how much anime I've yet to watch, there are many babes I've no clue who they are or what series they were in.
The next is the NewType Anime Award top five anime babes, covering years 2011 through 2016.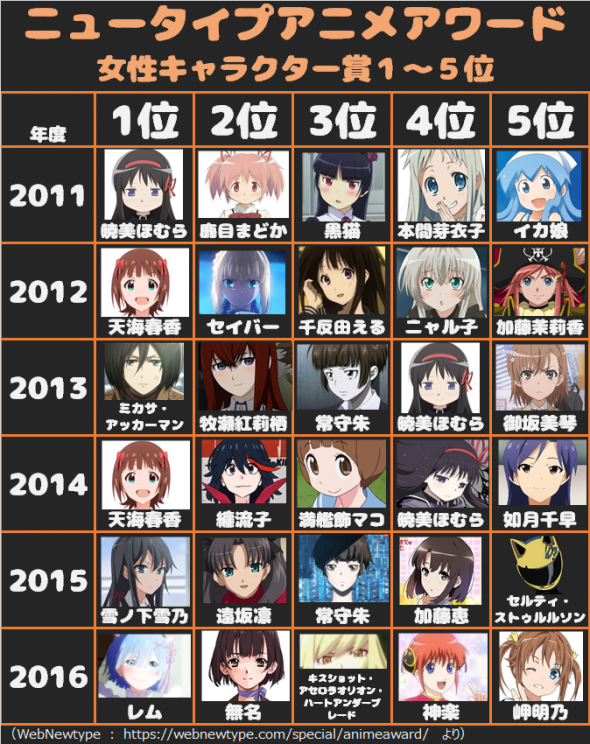 Funny how Mikoto (A Certain Magical Index/A Certain Scientific Railgun) is the only babe to show up in both lists.
Anyway, those who can read Japanese and understand more of what's being discussed on the Japanese blog can let me know more in the comments.