ユーキューホルダー! Manga Review
UQ Holder Chapter 129
SPOILER Summary/Synopsis: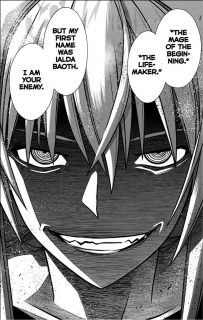 In the Phantasmagoria, Touta is shown typical happenings with his grandfather when Negi was 10 years old and a teacher at Mahora Academy. There's an incident where he sneezes and strips seven girls, causing Asuna to punish Negi. For homeroom, Negi's all female students stuff him with breakfast items. After class, Negi spends the afternoon with Setsuna, Konoka, and Asuna doing some shopping. The day ends with Eva arriving to take Negi for some rigorous training.
Albireo Imma reveals himself as the voice who's been narrating things. Kurobo also shows up, revealing that Al is the wizard that made it. After Al and Kurobo have a "reunion" of sorts, Al decides to show Touta how Eva came to love Negi. Traveling in the Phantasmagoria to the past, Touta observes an explosion on a castle at the edge of a cliff. Eva is falling, but is saved by Nagi, who's climbing up. Al shows Touta some of Eva's time spent with Nagi, including how Nagi ended up putting a curse on her and trapping her at Mahora.
Touta is then shown how Negi and Eva met at Mahora fifteen years later. Touta gets to see how that initially, Eva and Negi were opponents, but after Eva was defeated, Negi began training under her. Touta is shown how Negi's battle harem grew and how Eva was forced into an adult role. Touta also witnesses when Eva kissed Negi and how happy she looked. With that, Touta is satisfied at having seen Eva happy.
Al questions this and somehow, Eva is able to see Touta in this flashback Phantasmagoria and recognizes him. Immediately, the Mage of the Beginning appears behind Eva. Touta's "tether" to the real world vanishes and he has form in this world. MotB snares Eva while Al causes many spears to pierce Touta. MotB introduces herself as Ialdabaoth (Ialda). With that, she rips Eva in half at the torso while Al slams Touta into the ground with gravity magic.
MotB mocks Touta for thinking Eva was saved. Touta manages to craw to the broken and bleeding Eva. As Eva's legs regenerate, an angry Touta retorts to MotB that she doesn't get to talk about Eva's happiness and vows to settle things with MotB.
Thoughts/Review:
At last Crunchyroll will reveal UQ Holder chapter 129 to the public. At last, we will get to read it.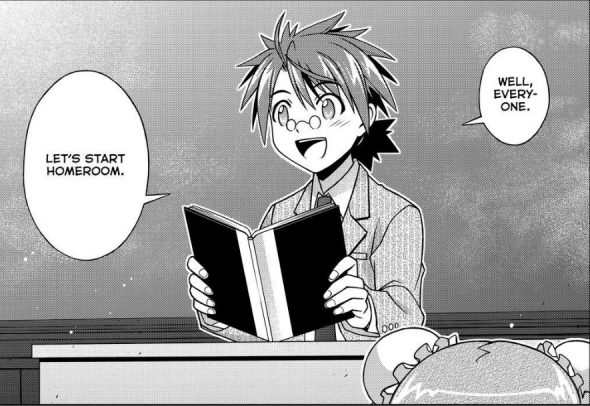 Man, it has been a while, hasn't it? However, after such a long wait, I'm happy to say that on a personal level, I loved this chapter, both as a look back at the awesome days of Negima, and as a continuation of the UQ Holder storyline.
Mahou Sensei Negima 2 or Magister Negi Magi 2
Despite its ecchi start, I loved the look back at at the Negima life. From Negi's sneeze to Asuna going all Naru (Love Hina) on Negi for stripping all the girls, it just made me grin from ear to ear. I got a laugh out of seeing Negi being handled like a certain ermine by Asuna.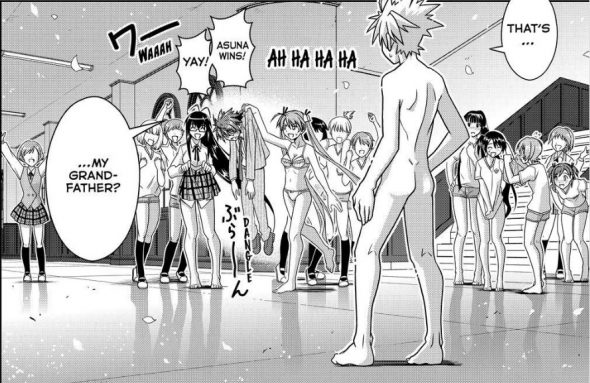 I also liked how Akamatsu-sensei managed to work in all of the girls from Negi's class, even if it was just for a cameo panel. The story of the homeroom and stuffing Negi full of food is a new story, but old ideas that were common in Negima, especially the earlier years of the manga. I loved seeing all of those antics again.
It made me think of how Negima ended. Before we knew it was ending, we had a period of antics, which bothered a lot of fans. I wasn't bothered because I felt once out of the life or death situation, young teen girls might easily start to forget the things they'd seen and become immature girls again. So it was all fun for me, but disappointing since Negima ended very shortly thereafter.
I liked that Touta recognized Mana, Zazie, and Sayo from his encounter with their older selves. I also liked that he recognized in the form of Isana and Honoka Setsuna and Konoka. (I still think that Isana and Honoka are clones of Setsuna and Konoka respectively.) It is understandable that Touta wouldn't recognize Ayaka since when he met her, Ayaka was an elderly woman. It would have been nice if Touta pondered about the Yukihiro name, but oh well.
Eva as Eva!
As a long time fan of Eva, I'm glad to see Eva as Eva in this chapter and not as Yukihime. As I've said before, it isn't that I have a problem with the Yukihime form, I just feel that Eva's true form has a certain level of sass and character that's missing in Yukihime.
You know, I really hope Akamatsu-sensei takes the time to further expound on things with Eva's past. We've gotten a lot, but I want more. For example, what was Eva doing in that castle that she was literally blown out of? What was Nagi doing climbing the cliff to said castle in order to catch Eva? What kind of things did Eva do with Nagi for the month they were together? And then there's Eva's brief time with Ala Rubra.
Reading all of the flashback stuff with Eva and Negi from Negima, I have a desire to reread Negima. Clearly, designed to bring new fans up to speed and make old fans nostalgic for Negima. I wonder if there will be a small uptick in sales of old Negima volumes because of this.
UQ Holder Returns, Featuring the Mage of the Beginning
Up until page 53 of UQ Holder chapter 129, everything Touta was seeing was via a Phantasmagoria. Negi had often used this when viewing memories. The only time that people in the Phantasmagoria could see outsiders is in Negima when Eva created one in order to battle Setsuna without the restrictions of the curse. That all changed when MotB arrived.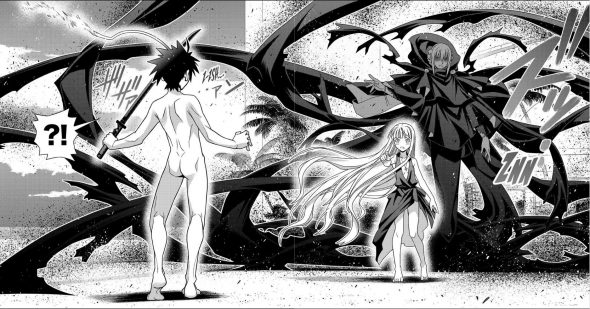 I noticed some interesting things when MotB arrived. First, she seems to have converted the Phantasmagoria into reality. Touta's tether was dissolved and he obtained physical form. Not only that, but Eva was able to see him as well. Does this mean Touta is now in the past within Eva's resort diorama? Or is the Phantasmagoria now a pocket reality, created by the MotB? I tend to suspect the latter.
Next, after looming behind Eva, MotB took control of Al. Actually, it may have been just prior to her arrival. Either way, I noticed that Al's long hair strand stood out when she arrived. That may not mean anything, but the fact that her shadow tendrils began winding around him as he attacked Touto with spears indicates control to me.
Finally, MotB binds up Eva, reveals her name to Touta, then rips Eva in half. As I see it, there are two things at work here. First, MotB has further plans for Eva. Second, MotB is trying to make Touta fall into despair. The obvious reason for that is so that Touta doesn't get in her way.
Gnostic Religion
With the Mage of the Beginning having revealed her name as Ialdabaoth (I think the manga is making it Ialda Baoth), we have a clear indication that Akamatsu-sensei is using Gnostic religious stuff rather than Christianity. This is certainly a direction I did not expect the manga to take. Not only that, but I think it kills any notion that MotB is connected to Amateru. I could be wrong there, but that's what I think at the moment.
The introduction of Gnosticism might very possibly explain some of the oddness with Karin and her backstory. If that's true, then I will be OK with Karin's seemingly Christian origins with Christ not jiving with Biblical accounts.
Final Thoughts and Conclusion
Not to nitpick, but in the last page, Eva's left arm is backwards. As such, it appears she has two right arms. 😉
I loved seeing Chachazero back. I wish Touta would have remarked on her. Even though Akamatsu-sensei killed the puppet off, I'd love for Chachazero to have future returns. She is awesomeness, after all.
Finally, how did Kurobo get into the Phantasmagoria? It just appeared, but it never had a tether like Touta.
In the end, UQ Holder chapter 129 ended up being very good for its heavy Negima elements, but also very good for its continuation of the UQ Holder plot. Now to wait another month for the next chapter.