ViVid Strike! 01
SPOILER Summary/Synopsis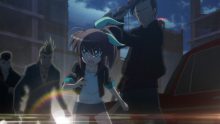 In the past, orphan girl Fuka Reventon defends her fellow orphan and best friend Rinne Berlinetta from bullies. A few years later, Rinne is adopted by a rich family, trained to become a powerful fighter, and ends up fighting Fuka, defeating her. In the present, Fuka is beset upon by thugs after beating up a couple of coworkers. She fights well, but is overwhelmed. Escaping, she encounters Einhart Stratos. The beaten and exhausted Fuka instinctively attacks Einhart, but she's surprised when Einhart easily blocks the attack. Fuka passes out, so Einhart arranges for the girl to be taken to the hospital.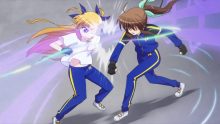 At the hospital, Fuka discovers she's fired. A doctor passes her a note from Einhart, inviting her to Nakajima Gym. She goes, but initially is turned off by the ideal of ojousama types in this gym. However, when Nove Nakajima, who runs the gym, offers her a job, Fuka accepts. Einhart has Fuka go against TAKAMICHI Vivio, Rio Wesley, Corona Timil, and Miura Rinaldi. She loses to each one of them. Later, after some training with Einhart, Fuka is able to knock Vivio out of the ring, but gets knocked out in the process.
Thoughts/Review
No Fate, no Nanoha, and Vivio taking an extreme backseat to things. Then add to this that we appear to be going to another tournament, forget about the one from Magical Girl Lyrical Nanoha ViVid. And to top it all off, a rather eye-rolling premise to get the story rolling. Not really a good start.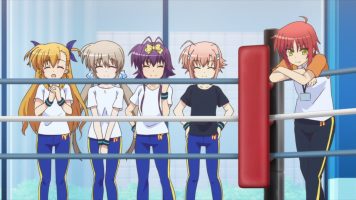 No Nanoha Nor Fate!
I have a weakness for the Mahou Shoujo Lyrical Nanoha franchise. Believe it or not, it goes back to when I watched the four episode Triangle Heart: Sweet Songs Forever OVA. Nanoha was just a little sister character there with little more than a cameo part, but she was cute and I was intrigued by the idea of a spinoff series featuring her as a magic girl. Since then, I have enjoyed watching Nanoha grow from a cute kid into a beautiful, adult, "waifu" character along with her friends Fate and Hayate.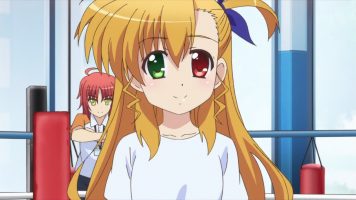 Unfortunately, Nanoha's seiyuu TAMURA Yukari and King Records have parted ways. There were rumors that they had a tiff. Regardless of the reason, it is believed that this is the reason Nanoha is not part of the ViVid Strike! series. Without Nanoha, there's no reason for Fate to be there, so scratch her as well. I think that ultimately, this could be a major negative for ViVid Strike!, but we'll see.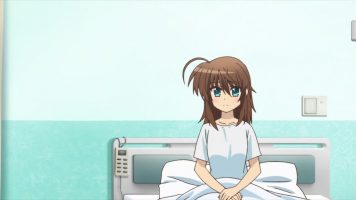 Vivo and Einhart Switch Roles
If the lack of Nanoha or Fate wasn't bad enough, forcing Nanoha's adopted daughter Vivio to take a back seat in the first episode added to the negativity. In Nanoha ViVid, Vivio was the star and Einhart was costar who had to learn and grow, eventually becoming Vivio's friend.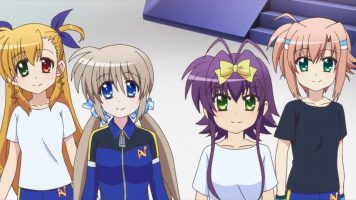 With ViVid Strike, Einhart has gone from a timid girl with only the thought of getting stronger (and some mysterious past) to the girl in charge. She's the one to recruit Fuka. She's the one to train Fuka. She takes on the mentor role that Vivio had.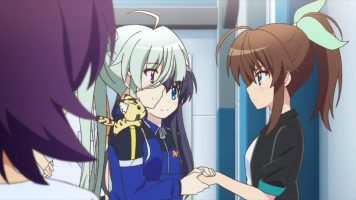 I think what really bummed me is that Vivio is given a bit of props as being the one to defeat Fuka's old friend Rinne, but Fuka is able to all but defeat Vivio in no time. Seriously, I understand Fuka is a tough girl. However, Vivio has tons of actual combat experience and training. I'm not buying that Vivio could so easily get knocked out of the ring, even if the writers did have Fuka get knocked out in the process. But, Fuka is the star of this thing, I suppose, so she's got to be the best. 🙄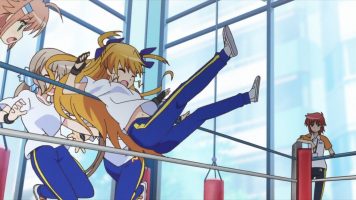 Fuka Reventon
Speaking of Fuka, this new tough girl with a good heart just isn't hitting my buttons. The writers do go out of their way to try to make me care. They make Fuka an orphan. They make Fuka the friend of the timid Rinne. Fuka then takes a beating for Rinne. Years later, Fuka is still the tough girl. She's abandoned by Rinne. She has a massive chip on her shoulder. Blah, blah, blah.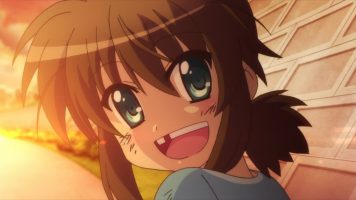 Unfortunately, none of this is gripping me. I can already see where this is going. Fuka trains, becomes more powerful than Einhart or Vivio, faces Rinne in a tournament, and restores their friendship through strength. I hope I'm wrong.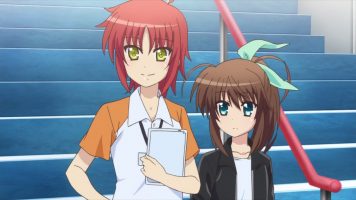 You Can Never Have Too Many Characters
The cast for ViVid Strike! was already pretty large due to picking up the central characters from Nanoha ViVid. In addition to adding Fuka and Rinne, Einhart suddenly gets an aide and fellow classmate, Yumina Enclave. I have absolutely no clue about her or how she will ultimately fit into the mix.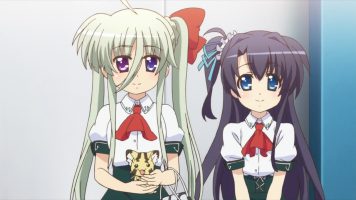 Granted, having a ton of characters is a Nanoha franchise trait and ultimately a weakness. It is impossible to get proper character development for all of the characters in a large ensemble. We'll see what happens with this current cast.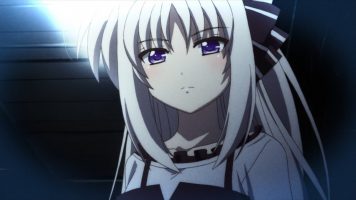 Final Thoughts and Conclusion
I really hope I'm wrong in my thoughts that ViVid Strike! is heading for a tournament. One of my problems with Nanoha ViVid was that it went into tournament mode. Frankly, tournaments bore me. They follow a fairly rigid story format, which doesn't make for interesting viewing after the first couple of times experiencing it. However, for now, I plan to keep with this series.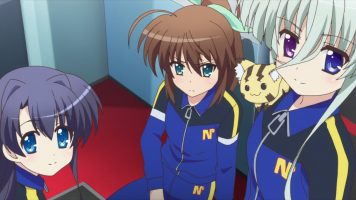 In the end, ViVid Strike! 01 gets of to a so-so start. Nanoha and Fate are gone, Vivio is in the back seat, and a new girl and Einhart are taking the front.