ViVid Strike! 04
SPOILER Summary/Synopsis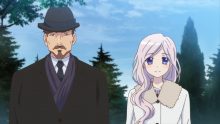 Fuka continues her training with the girls of Nakajima Gym. Elsewhere, Rinne goes to Bulgheroni Private Academy, where she is admired but feared. At Nove's request, Yumina has compiled information on Rinne, which she gives Fuka a chance to watch. Fuka agrees, learning about Rinne's adoptive family and the grandfather who was instrumental in that adoption. Rinne is given a precious tie clip that the old man made. Rinne then starts attending Rosburg Private Academy.  At school Rinne excels in athletics and wins approval by the staff. A trio of girls take to bullying Rinne.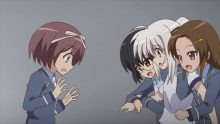 They briefly steal her tie clip, but Rinne manages to get it back. To safeguard it, Rinne stops bringing it to school. The girls discover Rinne was adopted, they decide to fake reconciling with Rinne so she'll bring her tie clip back. They again steal it, throwing it in a toilet. She gets it back. One of the girls takes Rinne's phone and destroys it. They then beat her unconscious. After the death of her grandfather, Rinne snaps. At school, she encounters the bullies. She attacks them, breaking one girl's arm. She then slams one girl's face into a locker, knocking her out. Rinne kicks anther girl into a locker, knocking her out. She then stomps the girl with the broken arm, leaving all three bloodied and out.
Thoughts/Review
You know, last episode I said I wasn't interested in Rinne's story. I already knew how it would go, and that was true. However, I was wrong about Rinne's story. A bullied girl getting revenge somehow makes for a satisfying experience.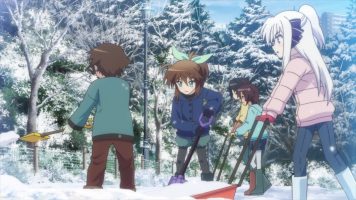 A Tale of Adoption
One thing this episode did is make me want to donate to orphanages. I'm seriously going to have to look into that. I did help at an orphanage many years ago. I don't have time to help at one now, but I'm sure they take donations.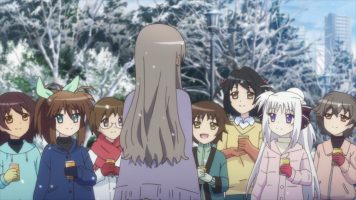 Either way, I couldn't help but think of how Fuka and the other kids must have felt when Rinne was adopted.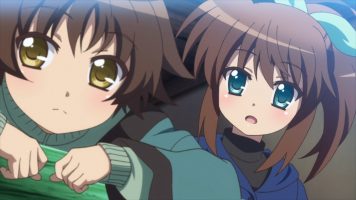 Still, Rinne got adopted by nice folks. Her home life is happy at least and that aspect still remains until today.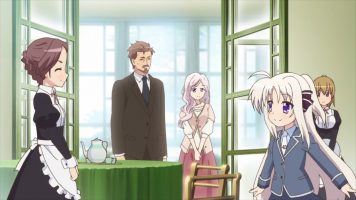 A Tale of Bullying
You know, it is hard to watch tales of bullying. It is hard to hear tales of bullying. It is hard to read tales of bullying. Well, let's face it — bullying sucks. And it sucks more when one has to hide it from one's parents.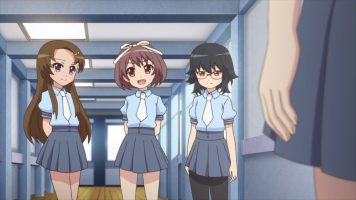 Still, anyone who's ever been bullied as dreamed of revenge. They want to hurt the ones who hurt them. Here, Rinne reached that point when her bullies beat her up and she wasn't there for the death of her adoptive grandfather.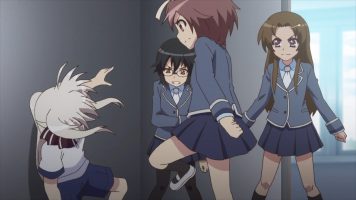 The unexpected part came from how brutal, vicious, and violent Rinne's beating of her abusers was. Don't get me wrong, I enjoyed seeing Rinne get her revenge. That being said, I couldn't help but wonder if Rinne had killed those girls. I kinda figure she didn't, but those girls were seriously messed up. I hope we learn more about that.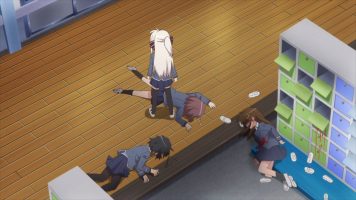 Final Thoughts and Conclusion
Question is, what does Fuka do with this information about Rinne? Fuka used to be Rinne's defender. Rinne has snapped and a part of her has died. However, I still think that Fuka and Rinne will reconcile in the end.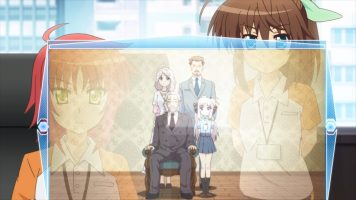 In the end, while I had not been interested in Rinne's story of abuse, ViVid Strike! 04 kinda changed my mind. Rinne's revenge on her tormentors was brutal, but did provide satisfaction.