Izetta: The Last Witch 08
Shumatsu no Izetta episode 08
Izetta, Die Letzte Hexe 08

SPOILER Summary/Synopsis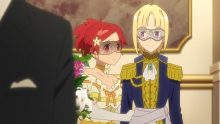 In Britannia, Finé and Izetta attend a masquerade ball. Izetta is embarrassed by the stares from the men and doesn't want to dance. So Finé takes her out to the landing to allow her to dance there. Major Berkman is there with a date and joins them on the landing. His silver haired, female date kisses Izetta, drawing blood, before the girl passes out. He reveals that he knows Finé's and Izetta's identity. Finé is not happy about this, but Lord Redford does not appear to be involved. Further, he has obtained Allied support for troops to help Eylstadt.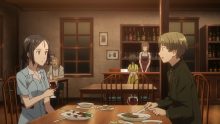 Lt. Rickert makes his night jump into Eylstadt and lands far from his target. He gets picked up by Bianca and Lotte, who take him to the old capital to stay at their family inn. Rickert starts gaining an understanding of the people his people are fighting. He meets with the Germanian spy and learns of Jonas. The two cling under a horse drawn delivery wagon to make it into the castle. Using a vial of blood, they get into the secret room and take photos. The blood reacts to the room, causing a red gem to emerge. Rickert is discovered by Bianca and company. Bianca ends up killing Rickert while her snipers kill the spy. However, the cart driver is also a Germanian spy and takes the gem and camera.
Thoughts and Review
You know, after that one bout of bad writing, the writers of Izetta: The Last Witch 08 certainly have gotten back in gear. I have to say that a lot of the things that have happened have genuinely surprised me. I like that.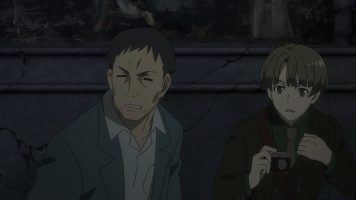 Oh Britannia!
We didn't spend a lot of time in Britannia this episode, but a lot happened. For starters, it appears that Finé will get the Allied help that she so desperately needs to help her country.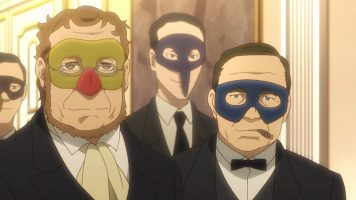 Second, and this was the surprise, Major Berkman showed up at Lord Redford's birthday masquerade ball. His date seems suspiciously like the White Witch. I suspect she's either a clone, the original (somehow), or a descendant. I lean toward clone since this girl seemed to need to consume some of Izetta's blood. But who knows. She could be the original. Either way, now we can have our witch vs. witch battle.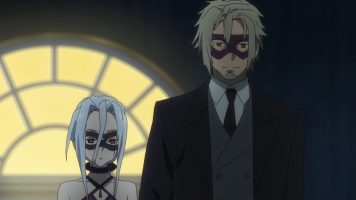 Question is, does Finé raise this encounter she and Izetta had with Lord Redford? Did Lord Redford actually allow Major Berkman in to have access? I can't imagine Berkman just sneaking into a party like this. He had to be on a guest list somehow.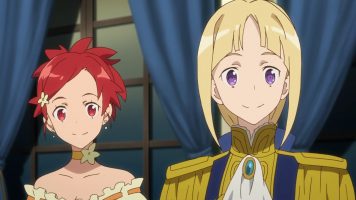 Eylstadt Adventures
I could have mistaken this, but I got the impression from this episode that Bianca and Lotte might be related somehow. Then again, this might have been partially a cover story.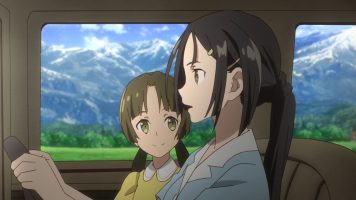 I was surprised that Rickert got killed in this episode. Seriously, I didn't see that coming at all.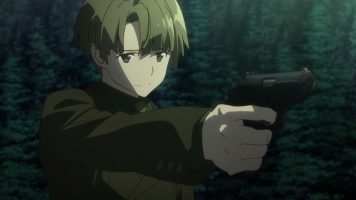 Further, I was surprised that Bianca's snipers killed the Germanian spy. Once Rickert decided to become the decoy, I figured that the spy would make it back to Germania with the goods. That was completely wrong.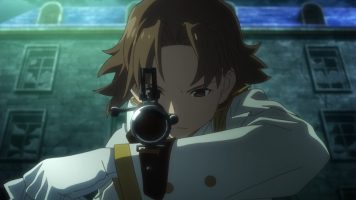 Rounding out the surprises, having the cart driver also be a Germanian spy really shocked the heck out of me. When I watched the episode a second time, I realized that the main Germanian spy must have known the allegiances of the cart driver. Score one to the writers for sure.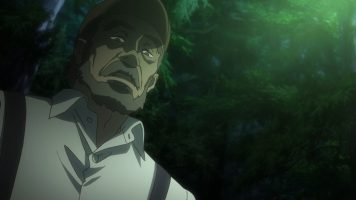 The Witch's Tale
We continue to learn more about the White Witch, thanks to Rickert reading up on the legend. It is interesting that the apparent true story of the White Witch is much darker than the official, romantic story. If the story Rickert knew is true, then the Prince's wife had horrible things done to the White Witch.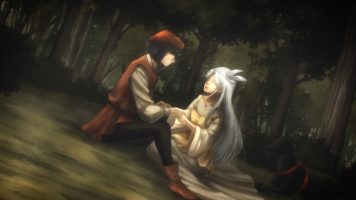 I suspect that the White Witch's staff is one that would allow her to overcome the weaknesses of witches and ley lines. As such, she'd use her staff, complete with the red gem, to compensate for areas where she couldn't draw power from a ley line. Call it a battery backup, if you will. I think there may be more pieces to the staff to find. Either way, I can't wait to learn more.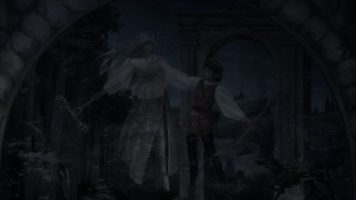 Final Thoughts and Conclusion
Getting images is going to be a time consuming pain this week, so I better just wrap this up so I can actually get a few hours sleep tonight.
Lotte is still awesome. I half expected her to cough up that she worked for Finé. However, she's too smart for that and the writers know it. I'm glad.
Bianca looked cute out of her guard uniform. Shame she had to kill Rickert, but it had to be done.
It may have been a stretch for Bianca's girls to all be snipers, but having established this, I'm glad that it isn't forgotten when it came to killing the one Germanian spy.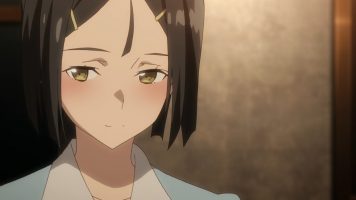 In the end, Izetta: The Last Witch 08 turned into a pretty good episode. For the second week in a row, the writers have really done a good job of keeping me on my toes and spinning an interesting yarn.