ユーキューホルダー! 魔法先生 ネギま!2 Manga Review
UQ Holder! Mahou Sensei Negima 2
UQ Holder!: Magister Negi Magi! 2 Chapter 130
UQ Holder Chapter 130

SPOILER Summary/Synopsis: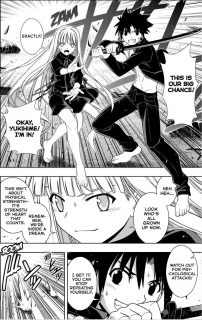 The injured Eva has a flashback to when Touta broke the barrier of time and came to see her. She laments not having talked with Touta. Touta tells "Kitty" that he'll stay with her forever, though she feels unworthy. The Mage of the Beginning (Ialda) siezes upon this, but is shushed by Touta, who challenges her. She accepts and shows her incredible power by destroying Eva's tower resort with strands of her robes.
Eva regains her composure as her Yukihime mind is now in the Phantasmagoria. Eva quickly explains things, then goes to attack MotB, who changes her form to that of Nagi Springfield. This causes Eva to fluster, allowing Al to get a surprise attack on Eva. As Nagi, MotB beats down Touta. Touta scolds Eva for not taking this seriously when Negi shows up and confesses his love for Eva. Eva is taken aback by Negi kissing her, so Touta attacks. Negi schools Touta on the differences in their power levels.
Touta again scolds Eva for losing focus. She gets angry with Touta because there have only been three men she's ever loved in 700 years, making her chaste. MotB sneaks in and attacks Eva, getting through Eva's barrier and shattering her body except for part of Eva's hand that Touta was holding. MotB remarks on Eva's weakness as a girl as Jack, Negi, and Al attack Touta. Touta's immortality is all that keeps him alive as he has no defenses.
Touta finds himself grabbed by a naked Karin, two versions of Kuroumaru, Kirie, and Santa. In addition, grotesque clones of his comrades are there, pulling Touta down into black goo. Touta comes to understand that MotB is similar to Sayoko, only massively more powerful. Asuna shows up to rescue Touta. She introduces herself, then takes Eva's finger and causes Eva to be recreated.
Thoughts/Review:
Wow. There's a lot for me to digest here, all the while trying to continue work on projects for my job.
Eva's Tale

I liked that we got to see the aftermath of Touta coming through the time barrier to see Eva in the past. Eva's always been a bit of a tsundere. As such, it is nice to see that for a moment, she apparently allowed herself to break down for a moment and be honest with herself. If Eva had someone who had walked by her side, her life would have been vastly different. She likely wouldn't have to do as many dark things to survive. I guess this human side of Eva is something that I've always seen in the character. Add this to her badarse side and she's awesomeness. 😀
That said, despite her feelings for Touta and despite Touta's feeling for Eva, I will NEVER get on board the Touta x Eva ship. 😛 I am locked into the Eva x Negi ship for life. ;-)\
Defeating Eva
The Mage of the Beginning certainly knew Eva quite well. The question is, why pull Eva into the Phantasmagoria in the first place? If I had to guess, I'd say it was to defeat Eva forever. Eva is a threat to MotB and her goals.
That aside, once within the Phantasmagoria, MotB pushed all of Eva's buttons. First, she took on Nagi's appearance, knowing Eva's love for the Thousand Master. It certainly worked as Al snuck in and put the hammer down on her. Then Negi shows up and causes Eva to freeze up because she loves him too. Sadly, she has feelings for Touta. As such, brainless Touta distracts her long enough for MotB to finish off Eva and apparently kill her, at least in the Phantasmagoria. I wonder what this did to her in the real world.
Regardless, it shows an interesting power that MotB has — tapping into the human heart.
The Temptation of Touta: Kuroumaru

I know some folks complained about how the previous chapter had none of the UQ Holder gang in it. Akamatsu-sensei corrected that with this chapter by having Kuroumaru, Karin, Kirie, and Santa pulled into the Phantasmagoria.
I mentioned earlier that one of MotB's powers is the ability to tap into a person's heart and discover their feelings. This became apparent in Touta's battle comrades (Shinobu and Mizore being absent as they don't have battle skills, even if they are in Touta's harem) emergence. I base this on the fact that there are TWO Kuroumaru figures — the male and the female. Kuroumaru's male persona takes a position behind Touta along with Santa. Kuroumaru's female persona takes a position in front of Touta with Karin and Kirie.
As seen when Asuna comes in for her deus ex machina (more on that in a bit), there aren't two Kuroumaru figures in the aftermath. There's only the one. Thus, as I see it, MotB tapped into Kuroumaru's heart and discovered the two hearts (figuratively speaking) that reside inside. There's Kuroumaru's male heart who respects and adores Touta, seeing him as a trusted brother in arms. This part of Kuroumaru loves Touta, but not in a romantic, sexual way.
Then there's the female heart of Kuroumaru. She loves Touta in a completely different way. Kuroumaru wants to be the attractive girl in the blonde hair. She wants to love him in the way that a girl loves a boy, which to me, includes bearing children. This Kuroumaru would lay aside the sword for motherhood, but would pick it up if her family were threatened.
For this reason, I believe we are seeing MotB's ability to tap into the heart and make discoveries there.
The Temptation of Touta: Of Santa, Karin, and Kirie
Let's start with Santa. There's no way that Santa is romantically or sexually attracted to Touta. His love is Sayoko and should she come back to life, it is Sayoko and Santa for life. 🙂 But Santa is devoted to Touta and adores Touta. This has been evidenced by the fact that Santa addressed Touta as "Touta-niichan" or just "Niichan." So that's why I see him coming up behind Touta along with male Kuroumaru.
For Kirie, her feelings have been known for a while. I found her positioning before Touta to be symbolic. In addition to being in front of with the other girls and expressing her love, she's also revealing a submissive side. She wants Touta to be with her and take care of her.  She's showing her fear of abandonment and her desperate desire for Touta to never leave her.
For Karin, she's the most aggressive of the girls in going for Touta here. She's directly in front of him, setting herself above the other girls. She's been the one who's been the most resistant outwardly to being in Touta's harem. But this suggests to me that in her heart, she's saying that she's where he's always belonged. Her feelings for Touta are much stronger than we knew, the seed being planted when Eva mentioned she and Touta would be well suited together.
So via MotB looking into the hearts of these girls, she's able to manipulate their feelings to try to tempt Touta into just giving up. Touta didn't think the girls were real, but in fact, they really were real in terms of showing Touta their heart and feelings for him. I loved the symbolism, even if it was rather erotic fanservice.
The Mage of the Beginning

I have to admit that I chuckled at Touta shutting up MotB. For the most part, MotB is smug and confident. Why shouldn't she be? After all, she cannot be killed and if you kill the one she possesses, she takes over the one who killed the host. (Though I suspect Nagi is still alive somehow. More on that in a bit.) Thus the look on her face was priceless to me when Touta told her off.
I found it interesting that when MotB adopted Nagi's form, MotB basically became Nagi. She fought as Nagi. She acted like Nagi. MotB didn't keep Nagi's form for long, but I have a feeling that she might have even cast spells like Nagi had it come to that.
We also got to see more of MotB's power. The ease with which she destroyed the tower resort building of Eva's with the fabric of her clothing is impressive. The way she blew through Eva's barrier apparently killed her is impressive. OK, everything about her is impressive. I really hope that we learn a great deal more about her as time goes on.
Father and Son
From what we know about the Mage of the Beginning, she possesses people who've defeated her host body. One of the people who is believed to have slain her host and been possessed is Nagi. Thus when Negi became possessed, he had to have killed Nagi, right?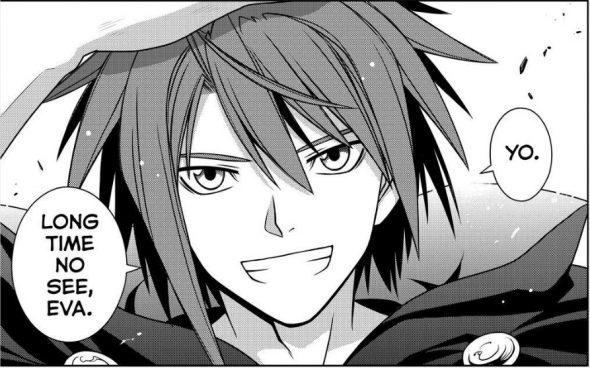 Despite this, when Eva and company first encountered MotB, who did they see first? Both Negi and Nagi. By all rights, this shouldn't be. However, it caused me to think that maybe Negi didn't kill Nagi, but came up with some kind of deal. To that end, Nagi is still alive and working with MotB.
I think that with UQ Holder chapter 130. we've seen evidence that may back up this theory. After MotB briefly took Nagi's form, Negi appears. On my first reading, I thought that it was Negi from then on. However, after Touta unsuccessfully fights Negi and MotB kills Eva, I noticed that she had TWO figures on either side of her — Negi and Nagi. Negi does a Lightning Shundo on Touta. Al hits Touta with gravity magic. Jack comes in with his sword. Then it is Nagi that comes in with the ball of lightning, not Negi. It was the spell book that made me pause and go, "Wait! That's not Negi!"
Looking closer, I saw that after Nagi those down his bomb of a spell, there are four observers — Negi, Nagi, Jack, and Al. Then before Touta's group attempts to tempt him into giving in, there are five in shot — Al, Nagi, MotB, Negi (just seeing the lightning from him) and Jack.
I honestly think that Nagi is alive and helping MotB, much as Al and Jack are.
Deus Ex Asuna
The one part of UQ Holder chapter 130 that makes no sense to me is Asuna showing up. When the spoilers came out, I assumed that maybe she was part of the Phantasmagoria come to life. However, now that I've read the chapter, that cannot be.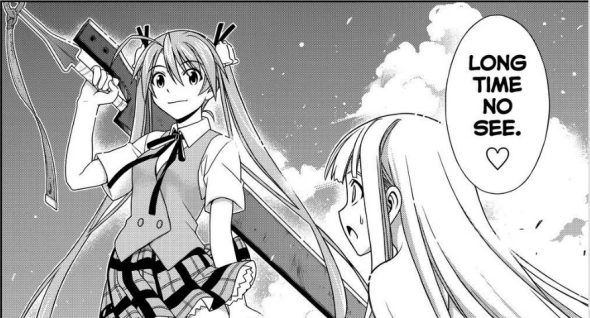 So where the heck did Asuna come from? Why does she still look like her teenage self? How does she know Touta at all? How did she come into the Phantasmagoria? How'd she know Touta had Eva's finger? How did she bring Eva back to life?
I think that it is highly possible that Asuna is the anti-MotB. We know Asuna was used as a weapon as a young child. We know that Fate needed her power to wipe out the Magic World in lieu of MotB. Asuna is the one who caused MotB to be defeated on the Magic World (without being possessed in the process). And Asuna is the one who caused the Magic World and all of the magical creatures and humanoids therein to be brought back to life.
Final Thoughts and Conclusion
I've written a ton, and after the nutty day and night I've had, I'm sure this is full of errors. (Feel free to let me know about them.) So I'll wrap this up with a few final thoughts.
I know Touta is opposed to Magia Erebea, but I was surprised he didn't go there after Eva's death.
Negi had Al, Jack, and even Nagi helping him. What happened to Yue and Nodoka? With Asuna now appearing, I wonder if they'll show up.
Santa, Karin, Kuroumaru, and Kirie were all rendered unconscious after Asuna showed up. What happened to Shinobu, Mizore, Isana, and Honoka?
In the end, UQ Holder chapter 130 ended up being a very interesting and enjoyable chapter for me. Shame we have to wait another month to find out where things go from here.