ViVid Strike! 07
SPOILER Summary/Synopsis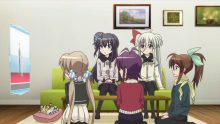 Rinne acknowledges to herself how close her fight with Miura came. Einhart easily defeats a girl twice her sized and weight. The girls pay Miura a visit in hospital. Afterward, Vivio does a late night training session with Nove while the other girls provide a little bit of background information on Nove, Vivio, and even Einhart. The next day at the tournament, Vivio faces Rinne. Rinne takes Vivio's attacks, then comes back. However, Vivio manages to hold her own and get a knockdown on an angry, surprised Rinne. Vivio tells Rinne that she would like to be Rinne's friend.
Thoughts/Review
As a longtime Nanoha fan, this series is missing both Nanoha and having Vivio as the star. Delaying the inevitable Vivio loss just annoys me. Otherwise, tournament stuff is boring tournament stuff.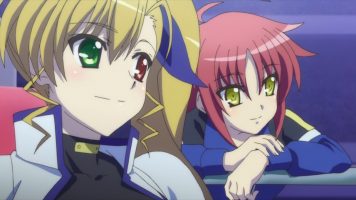 Nanoha? Never heard of her.
The writers of ViVid Strike! apparently felt a need to identify Nove and the founding of Nakajima Gym. Further, they felt a need to explain a bit about Vivio. That's all fine. The writers don't need to get too deep into the woods, but Nove's background was only hinted at. I think the reasons the writers didn't go further (and they should have) is because that would force them to acknowledge Nanoha as a character. That's not going to happen, and that irritates me to no end.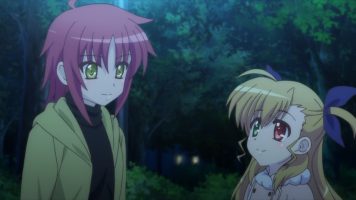 Then there's giving a bit of Vivio's backstory. Everything that would force the writers to acknowledge Nanoha is not mentioned. As such, we get this girl, apparently without a mother and only trained by Nove ('cause apparently Fate and Nanoha had nothing to do with Vivio's training).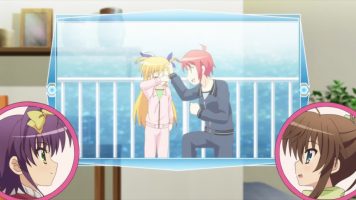 Further, Nanoha is Vivio's adoptive mother. So as we saw in the ViVid anime, she should be in the stands, watching her girl fight. But because ViVid Strike! cannot acknowledge Nanoha, there's no Nanoha in the stands. And when Rinne rips off Vivio's head and dumps down her neck, Nanoha-mama won't be anywhere to be seen, even though she should be.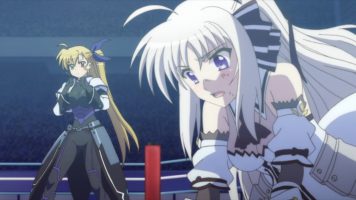 Missing Vivio as the main character.
As a main character, Fuuka has not been anything special. I don't have anything against her, but she's pretty much a one-dimensional character to me. The whole purpose of this anime is so Fuuka and her old best friend Rinne can beat the tar out of each other and make up in the end.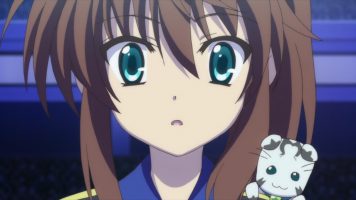 By having Vivio take more of a focus in ViVid Strike! 07, it really made me miss her as the protagonist. Although ViVid Strike! has done nothing to enhance Vivio's character, because of my past with her, she's a character I have much more interest in than Fuuka. That's her forthcoming loss is going to irritate me. In fact, the fact that they drug her fight with Rinne out annoys me. In my opinion, the writers are hoping to introduce an element of doubt with the Vivio fight, but I'm not buying it.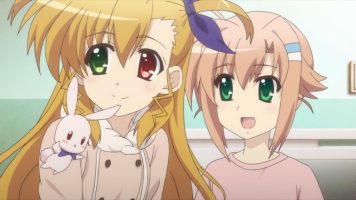 That said, Vivio's approach to Rinne at the end of the episode may have been cliched, but it still made me want her to be the main character. So next episode, she'll get her butt handed to her, and then she'll still want to be Rinne's friend, which is the element that will eventually cause Rinne to reconcile with Fuuka.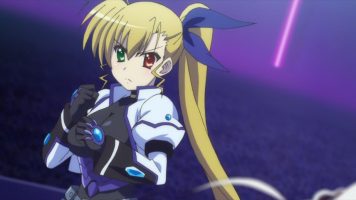 Final Thoughts and Conclusion
Since I'm writing this on a break, I need to wrap up to get back to the fun of work.
Sister Ixy has a cameo return as a healer. In ViVid, she was some comatose girl that Vivio would visit. You had to know her story from some manga.
I laughed at Einhart facing "Pretty Girl Kong." I knew it would be a quick victory for Einhart, but it still made me chuckle. Well, I guess I give a not to the production team for creating a non-standard magic girl.
This episode took both sides of Miura's injury. On one hand, they had her mostly recovered in the hospital and "It isn't so bad." On the other, she had to be taken to the tournament in a wheelchair, indicating it is bad.
The writers are trying to lessen my hate of Rinne's eventual destroying of Vivio by continuing to remind me that deep down, she's a good girl who just wants to protect herself and those she loves. Be that as it may, I will still hate it when Vivio loses.
Have I ever mentioned that tournaments are boring and predictable? 😉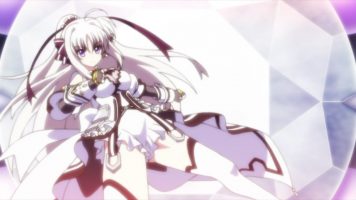 In the end, ViVid Strike! 07 was just an OK episode. It gets a small plus for Vivio being allowed to take a more central role. It gets a large minus for doing everything possible to excise Nanoha (and Fate) from the universe. And it gets a minus for being predictable in its fights.