Spotted Flower Chapter 20 (Manga)
Spotted Flower manga chapter 20 review

SPOILER Summary/Synopsis: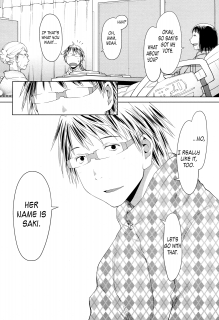 NOTE: For the purposes of this and future reviews, until the characters are given names, since these characters are obviously from Genshiken (or Genshiken Nidaime), I will call the "not-Saki" character !Saki, the "not Madarame" character !Madarame, and so forth for all other unnamed Genshiken characters.
!Saki take her newborn daughter from the crib in the nursery to show the baby off to Madarame and her friends. When asked about the name of the baby, !Madarame recounts the story of !Saki's grandmother visiting them in !Saki's hospital room. !Madarame wonders what otaku referenced name she'll come up with. Obaasan decides the infant girl's name should be Saki, which happens to be the name of a mahjong manga.
!Saki likes it since it means "to bloom." !Madarame likes the name as well, thus their daughter's name becomes Saki. However, Obaasan has one more name suggestion — Yoshiko. Recognizing the name as a Love Live character, !Madarame insists on Saki.
Meanwhile, !Kousaka says that Saki is a nice name.
Thoughts/Review:
Bwah!ha!ha! Oh, Kio-sensei. Clearly, he's enjoying toying with the readers since he knows there's a large number of folks who want Spotted Flower to be canon to Genshiken.
Our First Named Character
Until now, Spotted Flower has had no named characters. However, since Kio-sensei is clearly borrowing characters from Genshiken, we fans have chosen to use the not-Saki (!Saki) or not-Madarame (!Madarame) to ID the characters. So Kio-sensei choosing the name Saki for the infant girl, he's clearly having some trolling fun with fans.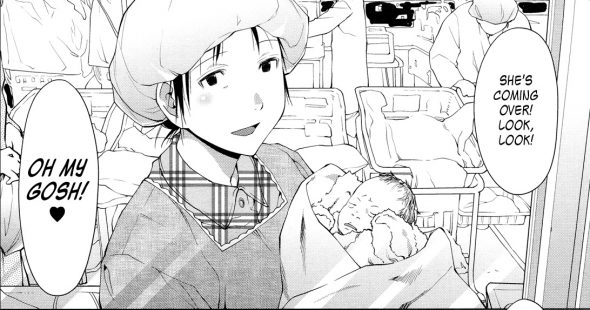 Does this mean that this is no longer a canon possibility?
I would say that the odds are long for that to be the case. Kio-sensei has always said that it had nothing to do with Genshiken, but then later admitted that he's using Genshiken characters in Spotted Flower (at least, that's my understanding of what happened). So this could easily be the definitive "Spotted Flower is not in the Genshiken canon" declaration.
On the other hand, there's no rule that says parents can't chose their own name for the name of their kid. It happens a fair amount in the West. Normally, the child would get a suffix added to their name IF the name is 100% identical to the parent. However, if the name is not identical, the suffix would be dropped. We saw this with U.S. President George Herbert Walker Bush and his son, President George Walker Bush.
So yeah, !Saki's grandmother could have named the child Saki after her mother. Doubtful, but not impossible.
The !Genshiken Crew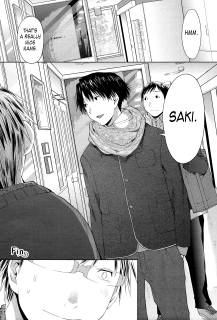 We had a few !Genshiken folks show up. !Ohno was easily identified since she's been in Spotted Flower before. Plaid jacket guy was clearly !Kugayama, based on his stuttering. The guy holding the boy with the straggly beard appears to be !Tanaka.
!Kousaka is easily identified. And if there were any doubts, having the !Madarame character become worried when !Kousaka remarks on what a nice name Saki is should remove said doubts.
The person behind !Kousaka is someone I had a hard time identifying. I thought it might be !Sasahara, but the eyes and hair are wrong. And it isn't !Hato as a male. As such, I think this could be !Kuchiki. The hair style is very similar and the eyes are similar. !Kuchiki could have matured a lot over the years and is no longer the freak he used to be.
Well, we'll see what happens.
Conclusion
In the end, Spotted Flower chapter 20 ended up being quite a fun chapter, mainly because of Kio-sensei having fun with the fans. Even if he'd not done that, I still would have loved the chapter for continuing exploring the lives of !Saki and !Madarame. Even if it isn't canon, I'd love for the series to go full time.