ユーキューホルダー! 魔法先生 ネギま!2 Manga Review
UQ Holder! Mahou Sensei Negima 2
UQ Holder!: Magister Negi Magi! 2 Chapter 131
UQ Holder Chapter 131

SPOILER Summary/Synopsis: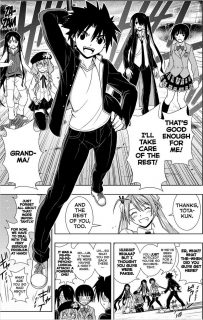 Eva is stunned to see Asuna. The Mage of the Beginning, Ialda Baoth the Lifemaker, realizes that the Imperial Princess of Twilight was within Touta. Asuna uses her abilities to create clothing for everyone. Asuna identifies herself as Touta's grandma, though she and Negi weren't a romantic couple. MotB attacks, but Asuna easily cancels the attack, then teleports everyone to Inverse Mars.
Eva and Asuna explain that where they stand is the ruins of the ancient kingdom of the city of Ostia on Inverse Mars. This is still part of the phantasmagoria. Asuna's physical body is at this location. She explains that as part of Touta's creation, a shadow of herself resides within Touta. The real her is controlling this version that Eva and Touta see. Eva suspects that this isn't the Asuna persona, but rather the Imperial Princess of Twilight. Asuna reveals that the Asuna persona is now merged with the Imperial Princess of Twilight and the two are one.
Asuna tells Touta that while she can't help him, her Magic Cancel abilities that have passed to Touta can defeat MotB. She tells Touta that he will have to handle this, but she can break them out of the phantasmagoria. The rest of Touta's companions join him, to his surprise. MotB arrives, so as Asuna defends them, she reminds them that in reality, it is 2087, they are on Earth at the Airbike Race. She gives them details on Jack, Yue, Dark Honya (Nodoka), Al, Cutlass, and Negi Ialda. She scolds Touta for whining about their tough opponents since he's immortal, then lays out a plan.
After Asuna breaks them free, less than a second of real time has passed. Karin, Santa, Kuroumaru, Eva (as Yukihime), and Touta launch their attack successfully. Touta uses Magia Erebea to attack Cutlass while Kirie counters her Time Stop. Negi Ialda attacks Touta, demanding Touta come with him.
Thoughts/Review:
I'm surprised that UQ Holder chapter 131 had no spoilers come out prior to release. This chapter was actually quite good for me.
Explaining Asuna
Now that we have an explanation for Asuna's appearance, I am fine with her appearance here. Her physical location is still sealed on Inverse Mars. Her projection in the phantasmagoria makes sense to me since a part of her is in Touta. I can see Touta consulting with Asuna from time to time as the manga progresses. This would give Akamatsu-sensei another means of providing backstory exposition.
While Asuna was used to provide exposition and additional information on Negi's apostles (telling me that even Yue and Nodoka are the real McCoy), I noticed that we didn't get an explanation of Asuna being Touta's grandma. Sure, Asuna said she's his grandma due to abilities, but she didn't go into any details. Hopefully, we'll get more of that information down the line.
I liked learning that Asuna and the Imperial Princess of Twilight have merged and become one. However, this makes me suspect that we aren't in any of the Negima timelines. After all, in Negima, Asuna's persona was all but faded. But here, that's not the case. Further, Asuna had no memories of events, which one would think she would have had. Yeah, UQ Holder wasn't around at the end of Negima, but the easiest resolution to this conflict is to say that this is another timeline.
All in all, I loved seeing Asuna back in action.
UQ Holder Returns
I know a lot of fans had understandable concerns that with Asuna and Negi showing up, combined with the manga taking the Negima 2 moniker. However, when Akamatsu-sensei drew the panel with Touta in front of Santa, Kirie, Kuroumaru, and Karin, that told me that the core UQ Holder team is going to remain the same.
I really enjoyed the battle that UQ Holder gave to Negi Ialda and his apostles. The best part from the Negi side is seeing Yue and Nodoka work as a team. Seriously, I'd love to see a one-shot, single volume manga showing those two on an adventure together. I think that would rock.
What doesn't compute is Eva's Yukihime body being that of an android with a bomb in the head. The only explanation I have is that Kirie stopped time and did this. Eva couldn't have foreseen this.
I'm glad to see Touta use Magia Erebea against Cutlass. It is about time he used this power. Now, how will he fare against Negi Ialda?
Finally, I loved Touta confronting Karin, Kuroumaru, and Kirie about their erotic actions toward him. Kuroumaru had attacked him for being incompetent for not noticing them, but his belief that they were all fake is completely understandable. So his comeback causing them all to blush and flounder made me laugh.
Final Thoughts and Conclusion
As usual, I'm very pressed for time, so here goes.
Here's a plus for officially making UQ Holder into Negima 2: Cutlass has the Horaria Porticus artifact. This makes the second pactio card we've seen in UQ Holder (we didn't see Al's, did we?) and the first new card. So finally, Akamatsu-sensei is apparently going to use the pactio system.
I have a feeling that UQ Holder could go two ways. First is that the battle against Negi Ialda and company ends the series once and for all. The other way is that MotB doesn't get defeated yet and the manga goes on for a while longer. I'm kinda hoping for the latter.
Eva's tsundere reaction to Asuna keeps cracking me up. 😀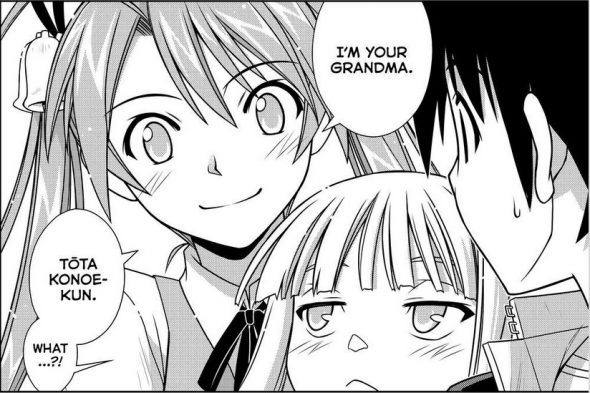 In the end, UQ Holder chapter 131 is a good chapter. We got some exposition, action, and a nice cliffhanger. Here's hoping we get timely spoilers for chapter 132!