Tenchi Muyo! Ryo-ohki OVA 4 Episode 1
天地無用! 魎皇鬼 OVA 4 Ep. 1
Spoilers Summary/Synopsis:
Part 1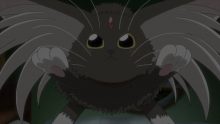 Ryo-ohki wakes up early with a fantasy about waking Tenchi. When Tenchi wakes and doesn't react as Ryo-ohki expects, she gets angry and chases him around his room. The rest of the household gets up to do their various chores around the house, sans Ryoko. At breakfast, Ryoko laments the fact that Tenchi's older sister (Tennyo) and aunt (Minaho) are coming to visit for Rea's and Nobuyuki's wedding in three days. Ryoko asks Noike what Minaho's personality like. Ryoko is relieved to learn that Minaho is more like Funaho (Yosho-Katsuhito's mother) rather than like Misaki (Aeka's and Sasami's mother).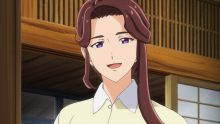 After breakfast, Tenchi takes a large batch of carrots to MASAKI Tsukiko, mother of Kiriko (GXP) and Kai (GXP). They talk about Seina's time with GXP and the fact that Tenchi could use his powers to visit Seina at any time. She also encourages Tenchi to visit Airi (his grandmother) and Tennyo. The two then talk about Minaho, whom Tenchi only met at his mother's (Kiyone) funeral as a child. Since Minaho has the reputation of being "Seto-sama's Leash" (Aeka's and Sasami's grandmother), Tsukiko doesn't think Tenchi has anything to worry about.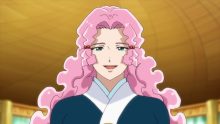 Elsewhere, Minaho has a meeting with Ringo of the Hyena Corps regarding the massive revenue boost the efforts of Seina have provided to Jurai. Minaho's staff (Fuuka, Otoka, and Mizune, all of the MASAKI family from Earth) discuss the situation with Seina and their upcoming visit to Earth. MASAKI Funaho opens communications with Minaho regarding the wedding. She is unable to attend as the fact that Yosho is still alive has not been announced. She teases Minaho about being single, then makes sure to tell Mizune to behave herself on this trip. The discussion leaves Minaho depressed, so her staff try to cheer her.
Part 2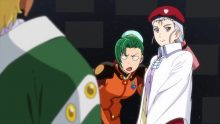 Airi is on her ship with Tennyo, lamenting the massive piles of work she has to do after taking time off. Tennyo has no sympathy for her grandmother. KURAMITSU Mikami (GXP) shows up in a younger body. Airi is irritated by this since Mikami makes a remark about young ones showing up at GXP Academy, suggesting Mikami may go after Seina. Tennyo decides to put an end to it by getting Mikami to help Airi with her work.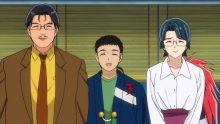 At the Tenchi home, Nobuyuki and Rea arrive for their upcoming wedding, to be held on the property. Minaho's ship comes into Earth orbit. Mizune briefs her that Airi won't be arriving today due to work and that Tennyo is held up as a result. Minaho's staff beam to the large lake deck. Mizune gets too excited and forgets protocol, forcing Otoka to toss Mizune into the lake. Minaho beams down and formal greetings are exchanged. Minaho then gives Tenchi a hug, initially causing Ryoko to negatively react before she regains composure and accepts the situation. Mizune excitedly emerges from the water with a large fish in hand.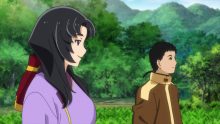 Minaho's staff change into Earth clothing to head into Masaki Village. The others break up to do other things around the house, Nobuyuki heading the the Masaki Shrine. Minaho asks if she can help Tenchi as he works the carrot fields. As they work, Minaho explains that she lived on Earth for a time about a hundred years ago. She also lets out the secret that she was actually already born when Yosho came to Earth, battling Ryoko hundreds of years ago. The conversation switches to carrots, so Tenchi explains why they grow them year round, thanks to Washu's modifications of the fields.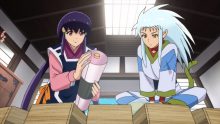 Back at the house, Ryoko brings Aeka bolts of Juraian silk Minaho brought with her. Based on the color and quality, Aeka believes the silk came from Funaho's factory. Since you couldn't even find this on the black market, Aeka suspects that she's being covertly told to make outfits for everyone from the silk. Ryoko seems horrified that she would be included in this. Aeka explains that Ryoko's situation has changed and her status has risen on Jurai. Aeka then speculates that the silk gift may indicate Jurai wants Tenchi and his harem to attend when Yosho's officially declared alive and back as a member of the Royal family.
Meanwhile, Minaho and Tenchi take a break. Minaho tells Tenchi about Kiyone. As they talk, Minaho tells Tenchi that he's cute and that she's decided to make Tenchi her own.
Thoughts/Review:
And so we have Tenchi Muyo! Ryo-ohki OVA 4 episode 1, something that after the completion of OVA 3 +1, I didn't think we'd see. While I am certainly happy to see the canon Tenchi series continue, this series certainly isn't for new fans attempting to enter the franchise.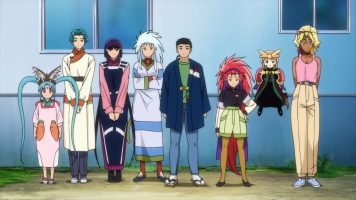 Better Know Your TM!R Canon and Your GXP Novels
I'm going to start off with the bad of this new OVA series. For starters, viewers MUST have watched OVA 3, OVA 3+1, and GXP at a minimum before attempting to watch OVA 4.  To be honest, viewers should have watched OVA 1 and OVA 2 as well. That way, you'll at least understand the situation of the forthcoming wedding between Rea and Nobuyuki. More than that, you'll know the characters.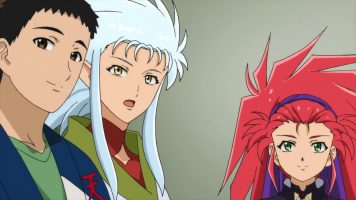 That said, it is crystal clear from Tenchi Muyo! Ryo-ohki OVA 4 episode 1 that the series is written only with Japanese fans in mind. While I mentioned that viewers need to have watched GXP, that will only allow the viewer to know names like Seina, Seto-sama, and the pirate situation (which isn't specifically mentioned). However, as I noted in my review of the GXP anime, Kajishima-sensei hated what director Nabeshin did to his story. To that end, Kajishima-sensei began writing GXP light novels, allowing him to tell the story he wanted to tell.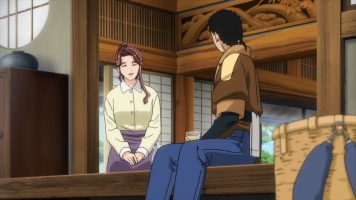 OVA 4 takes place prior to the events of volume 6 of the GXP light novels. My understanding is that the novels introduce Minaho's staff. So if one has read the novels, then one would expect characters from said canon novels to be in the canon anime. However, for those of us outside Japan who can't read Japanese, we are out of luck. (The first twelve novels have summaries in poor English.) That means there are moments in the anime where characters are talking about events from the novels, but outside of Seina's name (and the episode doesn't explain who Seina is or what he's doing) or Kiriko's name, I'm not really sure what they are blathering on about.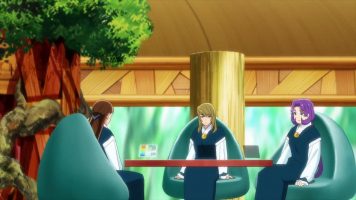 Confusing Dialog
Because OVA 4 expects you to have 100% familiarity with all of the other canon Tenchi Muyo! Ryoi-ohki material in whatever form, this leads to some confusing moments. For starters, there's nearly every conversation had in Minaho's office (which I presume is inside her Royal Tree-ship, but that's not even clear to me). Being as versed as I am, I wasn't as negatively impacted as others. However, because I've not read the GXP novels, I didn't know what the Hyena Corps is. While I did know Seina (the MC in GXP), it was difficult for me to understand some of the conversations about him and assigning work to Kiriko (one of Seina's harem in GXP).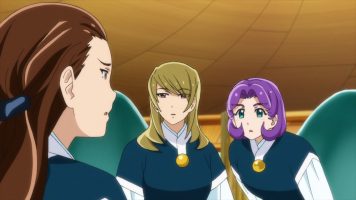 The first time I watched the episode, I thought I recognized Tsukiko's place. It wasn't until the second viewing when I caught the throw away reference to Kai that I realized this must be Kai's and Kiriko's mom. She was never shown in the GXP anime (or if she was, I don't remember her). But I'm guessing that folks without that history won't know who she is nor the conversation she's having with Tenchi.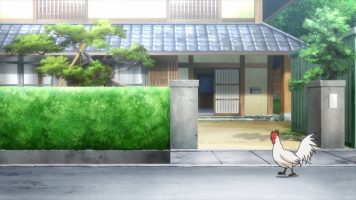 Losing The Respected Head of GXP Academy
In the GXP anime as well as in OVA 3 +1, the respected head of the GXP Academy is Mihoshi's mother Mikami. She's also the twin of the head of GXP, Minami. Both Minami and Mikami are visually portrayed as being in their late 50s or early 60s, even if their actual ages are much, much greater. So if it were revealed that they a thousand years old or greater, I would have been OK with that. After all, Kajishima-sensei stated that rich and powerful folks could live as much as 10,000 years.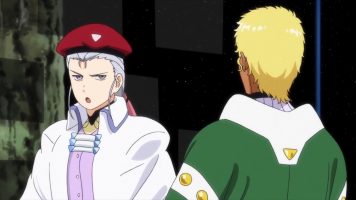 Apparently, during the course of writing the GXP novels, Kajishima-sensei decided that the respectable older lady who runs GXP Academy wasn't such a good idea. I'm guessing that because he thought it would be a barrel of laughs, combined with adding yet another sexual fetish to GXP, he'd have Mikami's true form be that of someone roughly 30-ish. Then to cement the deal, he had that put into OVA 4, though he doesn't make it clear if this is her true form or if Mikami is just assuming a younger form to tease Airi and Tennyo.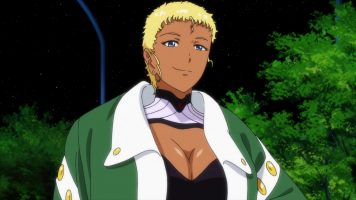 I'm told that this is Mikami's true form, but it makes no stinking sense. The BS explanation I hear is that Mikami uses the respectable grandmother form because of her job. In my mind, it makes no sense. Since the Kuramitsu Family is a massively powerful one in the galaxy, it wouldn't be a secret that they live how ever many years and thus don't look old. Airi is the head of Galaxy Academy and doesn't need to pull this "old woman" routine. So the excuse doesn't wash for me.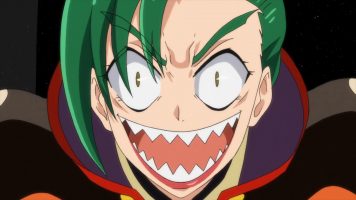 So now, Mikami has gone from the respectable head of the Kuramitsu Clan as well as the head of GXP Academy and now is nothing more than some hussy who apparently took the bloody job so she can try to have sex with underage boys. Yes, Tennyo stated that she was going to assume Mikami's remarks were a joke, but knowing Kajishima-sensei and his obsession with different sexual fetishes, I suspect Mikami is a shoutacon on top of whatever else she might be. 🙄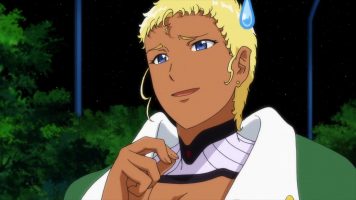 Mihoshi and Chibi Tokimi-sama
Mihoshi didn't serve much purpose in the episode other than to provide a few gag laughs. One of those came from Sasami giving Mihoshi a directional vector, whereupon a witless Mihoshi ends up catching Ryo-ohki in cabbit form as she falls out of an upstairs window. The other gag came from Mihoshi fishing, catching a big fish, but then causing it to fly into the house and into Ryoko's open mouth, slapstick style. I admit, I did laugh at that.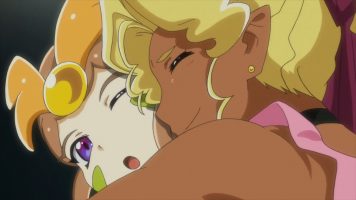 What was kind of interesting and cute is Mihoshi's relationship with the chibi Tokimi-sama. Tokimi seems to live with the Tenchi crew, keeping watch over the household at night while they sleep. But there was something funny about the sleepy Mihoshi picking up the small Tokimi and giving her an affectionate hug, as if Tokimi were a plushie. Then chibi Tokimi is out with Mihoshi for the fishing fun. It is such an odd relationship that I wish were explored more.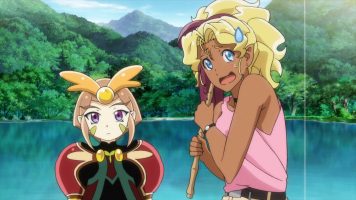 MASAKI Minaho
While half of the episode is dedicated to the slice of life happenings at Tenchi's house as they prepare for Nobuyuki's and Rea's wedding, the other half is dedicated to Tenchi's aunt, Minaho. What little plot there is in the episode revolves around her still being single despite being several hundred years old. She gets teased by Funaho about it. And in coming to Earth three days before the wedding, her plans seem to be to claim Tenchi as her own. The implication being that she wants Tenchi to be the father of her children.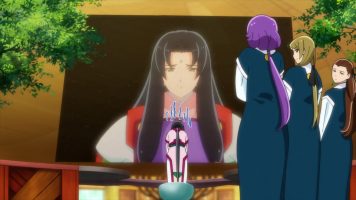 Personally, I don't think that Minaho is actually into Tenchi in this regard. Based on what I saw from OVA 3 +1 where Katsuhito and Airi are apparently strongly encouraging their daughter to get married, she may have some scheme that she thinks will put them off. That might explain why she's so pleased her mother is still buried in Galaxy Academy work and that this also keeps her niece Tennyo at bay as well. The implication there is that those two have incestuous thoughts for Tenchi (how serious that is can be debated), so removing them allows Minaho to have her incestuous way with Tenchi. Hoo!hoo! It is to laugh. 🙄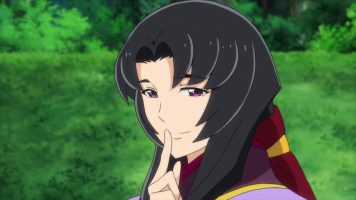 I do wonder why Minaho wasn't shown paying Katsuhito a visit. After all, this is Yosho in disguise and Yosho is her father. I can kinda understand Katsuhito not visiting, based on the last episode in OVA 2. One would think Minaho would want to pay her father her respects before doing whatever else with Tenchi. But what do I know?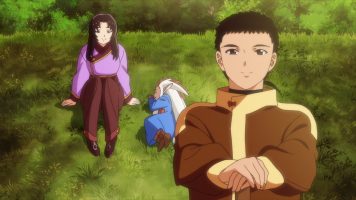 Ryoko and Aeka
I love it that Ryoko and Aeka are friends and have matured a lot. Sure, Aeka was annoyed at having to fix Ryoko's pillow, but she did it. I enjoyed the conversation that the two had when Ryoko brought in the bolts of Juraian silk. Aeka has come a long way in regards to how she views Ryoko. Since it appears that an official announcement will be made that Yosho is still alive, we may get to see Tenchi and company head to Jurai before the series is out. But that aside, Aeka had no problem making Ryoko an outfit and acknowledging that Ryoko's status on Jurai has risen from when she did her terrorist attack.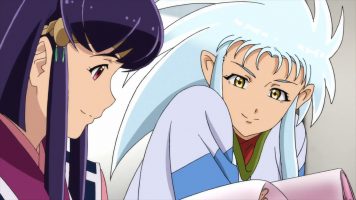 Ryoko has come a long way as well. Yes, she's still the lazy Ryoko we know and love. Yes, she can tease Aeka. But at the same time, she has matured. While she was dreading Minaho's arrival as well as the return of Tennyo, she handled Minaho's embrace of Tenchi with class. OK, her initial reaction was to get angry, but she calmed herself and accepted the situation for what it was. I loved that character moment for Ryoko.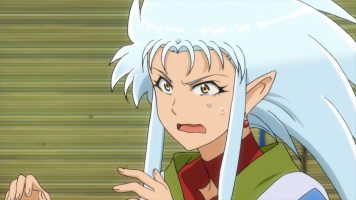 Final Thoughts and Conclusion
I wanted to have this review up Friday, but as usual, things didn't go as planned. So in order to get this posted, I'll wrap up my review of Tenchi Muyo! Ryo-ohki OVA 4 episode 1.
Although I doubt it gets explored, I am curious about Tokimi's remarks on being low on power until Tsunami and Washu return so that she can free herself.
I liked the nods to Kiyone's funeral. I'm thinking that since Kajishima-sensei wanted that moment showing the astral Ryoko protecting the child Tenchi from the snow that day shown in OVA 1, he's been looking to get it into the anime one way or the other. He got close in OVA 3 by having the no snow circle where Tenchi lay outside of Ryoko's Cave being shown. This time he got to show the scene.
I've mention Funaho earlier and I wanted to reiterate that I'm glad she got a cameo. Further, she was able to provide an explanation on why she wasn't shown attending the wedding in OVA 3 +1.
While I don't have a clothing fetish, I get annoyed when anime titles refuse to have characters change clothing. In OVA 2, we got to see Ryoko wear a lot of different things. With OVA 3, the decision was made to just pick one outfit for all of the Tenchi harem and that's what they wear from then on. Well, that is unless there's a bathing scene of some sort.
I was disappointed we didn't get to see the floating onsen when the shot panned outside of the Tenchi home. I suppose it could be cloaked or in hyperspace somewhere. I know we saw it in OVA 3 'cause Ryoko flew up to it with the filthy Ryo-ohki to get her clean.
I liked seeing Tennyo in her red beret. It almost seems like she is above Airi and Mikami as she got them both to work while she observed.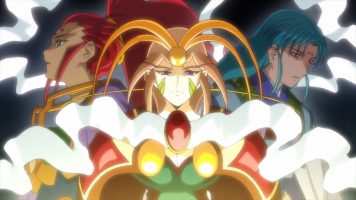 In the end, Tenchi Muyo! Ryo-ohki OVA 4 episode 1 has some interesting and neat stuff for hardcore fans of the canon franchise. However, it is plagued by forcing the viewer to have 100% knowledge of everything in the TM!R canon prior to OVA 4, including through the GXP volume 6 light novel. To that end, while I liked the episode on the whole, I can only give it a marginal passing grade.