Tenchi Muyo! Ryo-ohki OVA 4 Episode 2
天地無用! 魎皇鬼 OVA 4 Ep. 2
Spoilers Summary/Synopsis: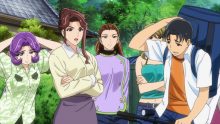 As Akie (the elderly lady that runs her own onsen) and her younger sister (?) and niece (?) come to the site where Rea's and Nobuyuki's wedding will be held, Tsukiko sees her son Kai off on a school trip. Fuuka, Otoka, Mizune, and Rea show up, where the three girls of Minaho's staff tease Tsukiko about leaving Earth to engage in a romantic relationship with the underage Seina. Akie shows up at Tsukiko's house, having heard this discussion, and puts and end to it, forcing the girls to get to work. Elsewhere in space, Airi furiously goes through work, desperate to see Tenchi, as Tennyo and Mikami observe.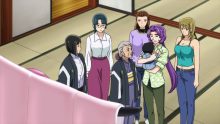 Back on Earth, Mizune is put in charge of the child Sawa (Taro) as Kiyone's wedding kimono is examined for restoration work since Rea is going to wear it. Rea explains why she asked for permission to wear Kiyone's kimono, which pleases Akie. Akie demands to know why Tennyo isn't here, leading Minaho's staff to blame Airi. This leads to a group discussion about Minaho still being single. When the conversation turns to Yosho being declared to be alive, it will mean all of the descendants of Yosho on Earth will become members of House Masaki and thus royalty. It is also revealed that as Kasumi-sama's great-granddaughter, Mizune would have a high rank within House Masaki.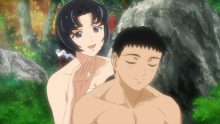 That evening, Minaho takes Tenchi to the floating onsen along with Ryo-ohki. The moment reminds Ryoko of when Kiyone would take the child Tenchi for walks. In the onsen, Minaho speaks to Tenchi about his training. When Tenchi washes Minaho's back, he sees scars. She explains they were from experiments done by her mother Airi. Though this caused problems between her and her mother, Minaho understands they made her what she is today. Meanwhile, Noike serves Nobuyuki and Katsuhito dinner, where the two men discuss things including why Katsuhito won't see his daughter until Nobuyuki's wedding.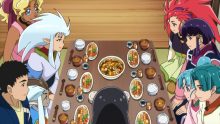 In the main house, Tenchi, his harem, and Minaho have dinner. After dinner, Minaho helps Noike with the dishes, where they discuss things. That night, Minaho and Ryo-ohki take Tenchi's bed as he uses a futon. They discuss the future ramifications of Yosho's being alive being made public. Once this happens, Tenchi will become part of House Masaki and a member of the royal family. Jurai is officially not supposed to have contact with civilizations at Earth's level. Further, it will become more difficult for the descendants of Yosho to blend in as Earth technology advances.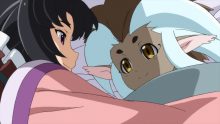 As such, Minaho believes that all Juraians on Earth will eventually be forced to evacuate to Jurai. This would mean Tenchi being forced to leave the planet he was born on. Although House Masaki would love to see Tenchi come to Jurai sooner rather than later, they understand his situation and aren't forcing the issue. Meanwhile, Ryoko has overheard this from her usual bed in the rafters. Washu teases her about eavesdropping. Ryoko remarks on how she's become fond of Earth, something Washu agrees with. However, Washu states that should the decision be made to move to Jurai, she'll pack up the entire estate and move it to Jurai. Ryoko likes the idea since where ever Tenchi is, that's where the rest of them belong.
Thoughts/Review:
Tenchi Muyo! Ryo-ohki OVA 4 episode 2, one still needs to be well versed in the canon that has come before. However, for this longtime fan, I liked the episode a lot more than the first, partially because I actually knew some of the source references. Plus, the ending was really good.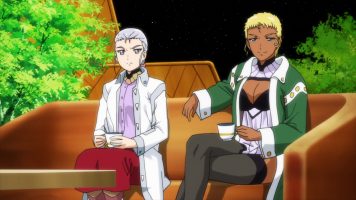 Straight Shoutacon Humor
The one element from Kajishima-sensei that I've never liked is his constant pushing the bar on sexual fetish humor. Believe it or not, back when I first watched OVA 1 and OVA 2, I did not like the harem ending idea. However, I eventually came to see that this ending had a practical story reason due to Juraian politics, both internal and with the rest of the galaxy. I didn't like the notion of Aeka being betrothed to her half-brother, but again, there was a legitimate story purpose behind it.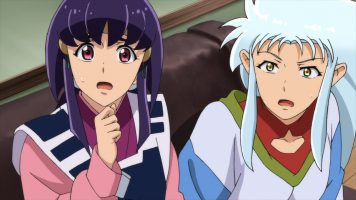 Since then, Kajishima-sensei has pushed and pushed this boundary. So not only do we get the continued incestuous push injected into the story (Airi desperate to get to her grandson for apparent sexual reasons), but we get a massive dose of shoutacon humor put into the mix by referencing the underage Seina from the Tenchi Muyo! GXP series. I didn't mention it in my review of GXP, but it did bother me a little bit that we had an increased push of this shoutacon element, mainly from Airi. But it was done in such a way that I blew it off as stupid shoutacon humor.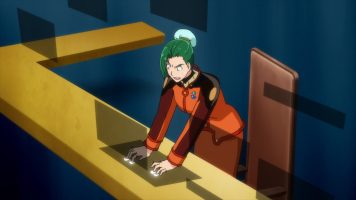 Nearly all of the girls interested in the 15 year old Seina, including MASAKI Kiriko (who gets name dropped again in Tenchi Muyo! Ryo-ohki OVA 4 episode 2) were older than him. However, the age gap wasn't that severe for me. Kiriko was the oldest of the lot, but because they'd grown up together, that shoutacon element didn't bother me too much in GXP. But for OVA 4, to have Kiriko's mother Tsukiko being teased by her friends from Minaho's staff about going into space and basically boinking Seina was a bridge to far for me. They wanted Tsukiko to go into space, abandon her teenage son (and Seina's best friend on Earth), and make Seina her future husband.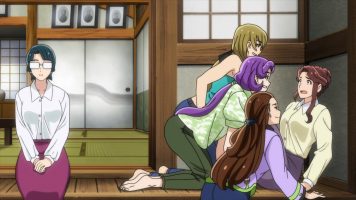 Sorry, but the ick factor on that is pretty high for me, made more so by the fact that she's apparently on her second marriage now (according to a Japanese family tree (PDF file) done at the time of OVA 3). Add to that the fact that everyone else was OK with the notion of Tsukiko banging her son's (or step-son's) best friend. Well, almost everyone else was OK with it. 😉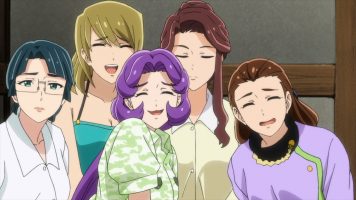 Onsen-obaasama Rules!
The biggest delightful surprise from Tenchi Muyo! Ryo-ohki OVA 4 Episode 2 was the return of Akie-obaasama, the old lady "Okami" that ran the onsen that Tenchi and company visited in episode 4 of OVA 1. and then again in OVA 2 episode 1 when they had to make repairs to the onsen. She was a crusty, no nonsense woman in OVA 1 and and OVA 2. Thankfully, she gets us out of the shoutacon talk, putting the girls to work. Although I couldn't find anything crediting her seiyuu, I'm 99% certain it is KYOUDA Hisako returning for the part.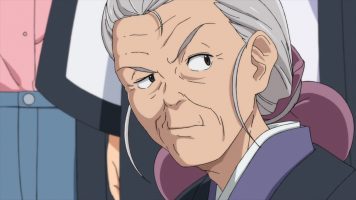 Along with Akie-obaasama, the "aunt" who brought the infant to Tenchi and company in OVA 2 episode 1. And we get the child's name (Sawa instead of Taro for some reason) as well as see her mother.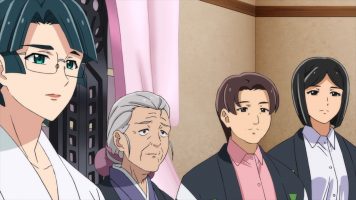 That aside, I love out this episode of OVA 4 helps flesh out Akie-obaasama's character a bit more. In addition to seeing that "take charge" side of the character, we also get to see her concerned for Minaho and Jurai. Here, we get to see a softer side of Akie's character and she and the others discuss the ramifications of Yosho being declared to be alive. I think that was pretty cool of Kajishima-sensei to do this for Akie (to say nothing of giving her a name).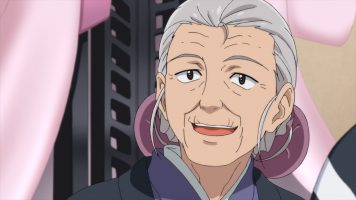 Earth Masaki's: A Dysfunctional Family
I've already mentioned my disgust at the Masaki girls desperate for some hot, straight shoutacon party action. I'll talk about Airi in a bit. But right now, I want to speak of Katsuhito. I made mention (typing Katsuhito's name wrong) in my review of episode 1 about the oddness of Katsuhito not appearing.
I do wonder why Minaho wasn't shown paying Katsuhito a visit. After all, this is Yosho in disguise and Yosho is her father. I can kinda understand Katsuhito not visiting, based on the last episode in OVA 2. One would think Minaho would want to pay her father her respects before doing whatever else with Tenchi. But what do I know?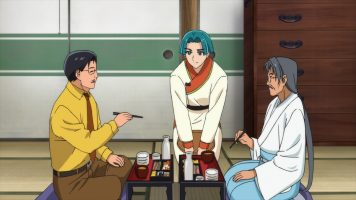 So what do we get as a reason for Katsuhito not wanting to see his own daughter?
No, I'm not going to call for her. She'll bring up marriage and I'll have to run away. I'll keep my distance until the day of the ceremony.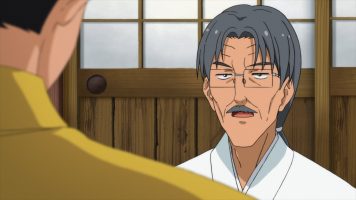 If Kajishima-sensei's purpose is to make us see what an utter coward Yosho still is, then I guess this scene did it. The only reason Yosho hid on Earth and eventually became Katsuhito (after several hundred years) is that he didn't want to face the responsibility of becoming the next King of Jurai. Further, since he was in love with Airi, he didn't want to face Aeka, Funaho, or Misaki regarding not wanting to marry Aeka. I excused all of that stuff, but this BS about not wanting to see your own daughter 'cause she might bring up marriage is just stupid.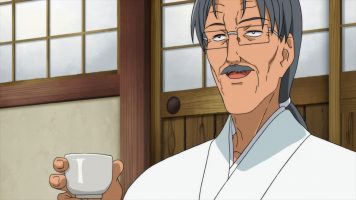 That said, what's Minaho's excuse for not seeing her father? Wanting to see Tenchi is fine, but go see your dad. Sheeze.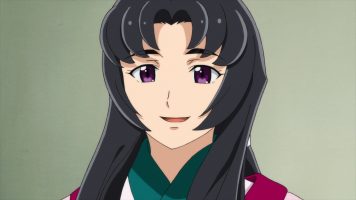 Airi: Child Abuser
Kajishima-sensei dropped a massive bomb when he revealed that Minaho has a lot of scars thanks to her mother, Airi. Until Tenchi Muyo! Ryo-ohki OVA 4 episode 2, Airi's story with Minaho was a beautiful one. She and Yosho had a forbidden love affair while attending Galaxy Academy. Their romance was forbidden for political reasons. Yosho returned home because of Ryoko's attack, then chased Ryoko to Earth. Airi found out she was pregnant with Yosho's child. Rather than kill it or allow her family on Airai to kill the child in her womb, she removed the Minaho fetus and placed her into stasis. After Airi defected to Galaxy Academy, she took Minaho back within her womb, then gave birth to her daughter.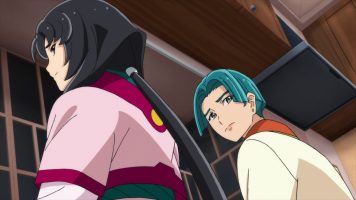 There's a bit more to the story, such as Seto-sama getting involved and thus making it OK for Minaho to be part of House Masaki even though Airi and Yosho were not officially married and Yosho was officially dead.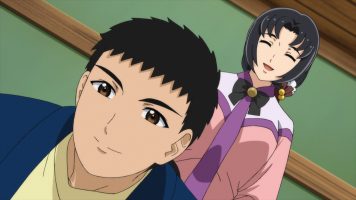 Now we learn that as a child, Airi experimented on Minaho for unknown reasons. Tenchi asks Minaho why, but in typical Kajishima-sensei style, we don't get an answer, only a massive beat around the bush. Airi didn't know what she was doing while experimenting on her daughter and naturally caused a rift between the two for a time. It is all well and good that Minaho has forgiven her mother and wears her scars as badges of honor. But I still don't know what the heck Airi did to Minaho nor why. 🙄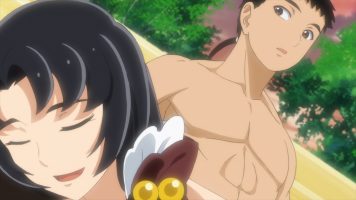 Evacuation From Earth
In the Omatsuri Zenjitsu no Yoru 21 Seiki-ban 1 doujinshi, Kajishima-sensei tells a future tale of Tenchi's unnamed son who seems to resemble Washu. This boy flees Jurai, where Tenchi and the harem are living. I don't remember if 21st Century (as the doujinshi is  commonly known as among hardcore Western Tenchi fans) states when Tenchi and company left Earth. However, whether that doujinshi or some other, Kajishima-sensei let it be known that Tenchi and the harem leave Earth sometime after Sasami graduates high school.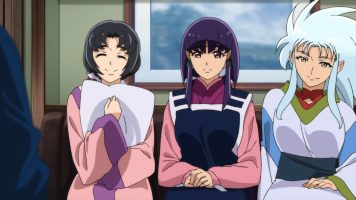 What I could never understand for all of these years is why would Tenchi leave Earth. Jurai has technology that could shield them as does Washu. Kajishima-sensei actually gives an explanation in Tenchi Muyo! Ryo-ohki OVA 4 episode 2 when Minaho and Tenchi have that long chat in his room. Once Yosho is declared to be alive, all of the descendants of Yosho will be illegally living on Earth, including Tenchi. They will all become official members of House Masaki on Jurai. And because it will become increasingly more difficult to hide their existence on the low tech Earth (compared to the rest of the galaxy), then it makes sense to me that the decision will be made for Tenchi and his harem (as well as other Masaki families) to leave Earth in the future.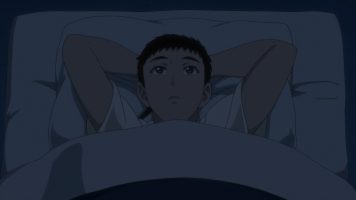 This discussion between Minaho and Tenchi lead to one of the most poignant moments I've seen in the canon franchise in a long time. If you aren't up on your canon, because Ryo-ohki was in the bed with Minaho, Ryoko can listen in on Minaho's and Tenchi's conversation through Ryo-ohki. Likewise, Washu can tap into Ryoko and know what's going on. Thus Washu and Ryoko are aware of the idea of evacuating Earth. I loved it when Ryoko remarked on how fond she was of this place. Then Washu tops that by saying that when the time comes, she'll take the entire estate and move it to Jurai. When Ryoko agrees because they all belong with Tenchi, I then knew why the harem follows Tenchi to Jurai. For me, it is just a lovely moment.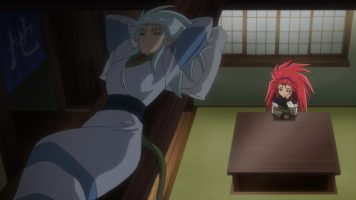 Dinner Time Conversations
The funniest moment of OVA 4 thus far started when Ryoko wished there were a few more things for Ryo-ohki to snack on. This lead to a snark remark from Aeka, showing that while she and Ryoko are friends, there's still a bit of rivalry there. When Tenchi offers to buy more food stuff, suddenly Sasami and Noike want to buy more ingredients from Seina's family's store. That in and of itself isn't too funny, but then enter Mihoshi, who complained about the lack of meat varieties, something Tenchi can't provide beyond their normal chicken and fish. I was surprised that Sasami states that Tsunami could provide more meats. I presume that comes from the subspace living area within the tree-ship.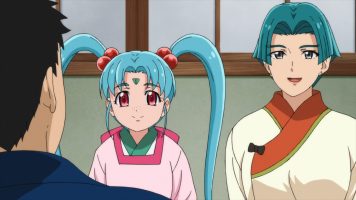 That aside, because Mihoshi complained about a lack of meat, Aeka jabs Ryoko about hunting. I expected Ryoko to complain about doing work, but instead, Ryoko's protest is that they are in a residential area. When Washu tells Ryoko she can hunt in Washu's lap, I laughed out loud. I'd forgotten all of the beasts there (whom Ryoko describes as living weapons that aren't something one would want to consume). But then Mihoshi had me in the floor with her "meat is meat" reply.  As I'm laughing, I'm seeing this vision of Ryoko dragging Aeka with her along with Mihoshi, going hunting for one of Washu's monsters. 😆 Good times.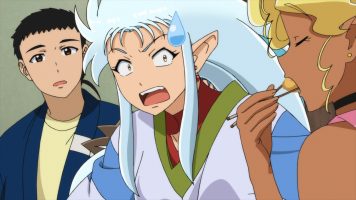 Final Thoughts and Conclusion
Well, I meant to have this out Saturday, but I spent the weekend in bed sleeping and generally being a lazy slob. Well, work has been especially tough of late, so I needed it. 😉 Regardless, here are some final thoughts.
It is interesting that Aeka and Ryoko passed on going into the floating onsen with Tenchi and Minaho. Ryoko came off as positively shy at the prospect of bathing with Tenchi.
I wonder why the infant was called Sawa-chan in this episode when previously, he'd been called Taro. If anyone knows and can cite a source, let me know.
Ryoko's flashback to watching Tenchi and Kiyone go for walks was nice. I wonder why Kajishima-sensei keeps putting these moments of Ryoko thinking of the past with Tenchi in.
Katsuhito's and Nobuyuki's conversation about Kiyone and Nobuyuki getting married again kinda reminded me of their scene together at Kiyone's grave in OVA 3.  While I complained earlier about the dysfunctional Masaki family, Katsuhito and Nobuyuki are good.
Speaking of Katsuhito, his new seiyuu UO Ken does a great job.
I smiled at Minaho taking a moment to marvel about how former enemies could reside under one roof (meaning Ryoko, the terrorist who attacked Jurai).
I think I've said this in other reviews, but where is the automatic dishwasher for the house? Seriously, with that many mouths to feed, I'd want a dishwasher installed.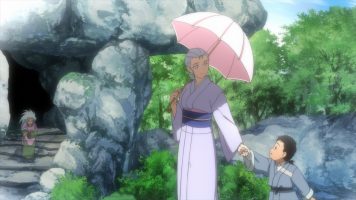 In the end, Tenchi Muyo! Ryo-ohki OVA 4 episode 2 was much, much better for me than episode 1, mainly because I knew more of the canon materials being referenced in the episode.