ユーキューホルダー! 魔法先生 ネギま!2 Manga Review
UQ Holder! Mahou Sensei Negima 2
UQ Holder!: Magister Negi Magi! 2 Chapter 134
UQ Holder Chapter 134

SPOILER Summary/Synopsis: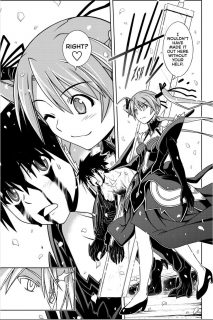 Asuna arrives and nullifies Negi's attack on her. Asuna frees Touta, then turns to Negi-MotB to give him a hug. Asuna greets Yue and Nodoka. She explains to Touta that the two of them stayed with Negi to give humanity more time. Asuna announces that she will now be joining them to put off the inevitable a little while longer. As such, she leaves things in Touta's hands. Negi-MotB agrees to retreat, then tells Touta that he will wait for Touta at the top of the tower. Negi emerges to tell Touta that he awaits his answer.
With the group gone, Karin emerges from the rubble, lamenting the destruction. Jinbee and Gengorou help her, revealing that they evacuated everyone from the building, thanks to Mana and Zazie, who both show up. The two women reveal that they reacted to a telepathic message from Yukihime.
Back at the battle site, Kirie informs Touta about the lack of casualties. Touta is amazed since this had to happen within a second of time. After discussing Kirie's health and the fact that Touta grows a tail when he uses Magia Erebea, Touta acknowledges Kirie's love confession to him. Kirie gets embarrassed and tries to deny it. However, Touta's praise for her actions in the fight cause Kirie to run and hide. Touta follows and gives her a kiss on the cheek, really throwing her off.
Yukihime arrives, followed by Isana, Honoka, Ikkuu, Mizore, and Shinobu. Mizore demands to know what is going on, but shuts up when Kirie reminds her of who won the race. Yukihime congratulates Touta on a job well done, but he doesn't think he did so well. Fate joins them, wanting Touta for his plan. Yukihime, Santa, Kuroumaru, and Karen move into attack positions. Fate decides to retreat as well, but agrees to Touta's request to visit for more information.
Later at the UQ Holder HQ, the guys are relaxing in the onsen, unaware that Cutlass is spying on them.
Thoughts/Review:
And so this arc ends in a rather anti-climactic way. However, I think I know what is going on here and so I'm OK with how things went in UQ Holder chapter 134.
The Real McCoys
One thing this chapter put to rest is the notion of whether Yue and Nodoka are the real McCoy or not. Some had theorized that Yue and Nodoka might be recreations, and certainly that was a valid theory. My thoughts on the two of them is that because everyone, including Eva, treated them like the real thing, and they had the real Artifacts that Yue and Nodoka had. To date, doppelgangers can only produce faux Artifacts. So it was nice having Asuna explain a bit about what happened to them. As I thought, they willingly joined Negi and thus bought more time for humanity.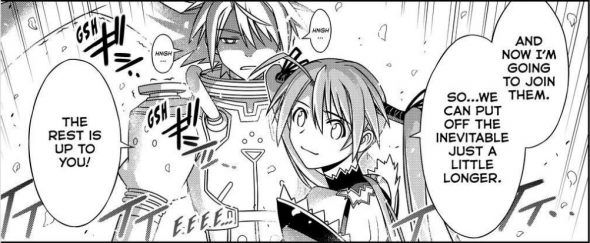 Although Asuna didn't mention Al and Jack, I figure they are are the real deals as well. Their long life is due to being non-human beings from the Magic World. We don't know why Yue and Nodoka still look young, but Kirie's theory may hold the answer.
Kirie theorizes that  the apostles with Negi (Al, Jack, Yue, and Nodoka) are chained to Negi-MotB. Through Ialda's power, I figure Yue and Nodoka are now immortal. If this chain theory is correct, it is a way for Nagi to still be alive. I know the implication is that Nagi died, and that certainly is a real possibility. However, I can't believe Akamatsu-sensei would kill Nagi like that. So I'm still going to retain the thought that Negi took Nagi's place, but then Nagi became chained to MotB in a manner similar to the others. We'll see though.
To the Tower, March! But Just Not Right Now
With UQ Holder chapter 134, we have the third reset of the goal for getting to the top of the Tower. Initially, Touta just wanted to do it for reasons. Then Fate was supposed to be the boss at the top of the Tower for Touta to take down. Now it is Negi at the top of the Tower. As such, Touta now has the best reason of all to get to the top of the Tower, just not right now, of course.
Right now, UQ Holder is in limbo as to its ultimate fate. Kodansha is going to wait and see what the anime does for sales of the manga. If sales do good, Akamatsu-sensei will be allowed to do more stuff before ending the manga. If not, then I suspect we'll see some kind of time jump in the manga, after which Negi and company return for the final showdown.
With Fate also retreating in the chapter, does he too return to the top of the Tower? After all, Touta has an open invitation to visit Fate and learn Fate's story. If so, does Fate just hang with Negi-MotB?
So What Now?
For now, I think we will see two things. First, we'll have a return of the Touta harem and the comedy hijinks that come with that. I think this was evidenced by Kirie and Mizore getting into their conflict, to say nothing of the conversation between Touta and Kirie. I suspect that we will see Isana and Honoka hang out with the UQ Holder crew as part of the Touta Harem Project.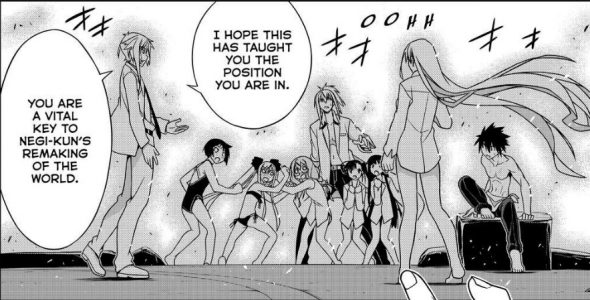 Second, we'll have the serious story with Cutless and whatever that leads to. Cutlass could become a member of UQ Holder, especially if the manga series picks up in sales. Otherwise, Cutlass could be the key that gets the story to rapidly return to Negi-MotB. We'll see.
As an aside, I do like the idea that Cutlass is supposed to be the hooded figure in the early promo artwork rather than Santa.
Final Thoughts and Conclusion
Time to wrap up my review of UQ Holder chapter 134 with some final thoughts.
I'm glad to see Jinbee and Gengorou return. I think it would have been nice to see other UQH folks around int he rubble.
Glad to see Mana and Zazie not forgotten. Too bad Sayo wasn't around.
I laugh at the deus ex machina method of magically saving everyone so that no one dies. I don't have a problem with it per se, but it is a stretch and a half and then some.
The reason I think Kuroumaru didn't show up in the onsen with the other guys is because Kuroumaru's gender dial is now in the female range. 😉 😀
I liked seeing Isana flying with her own wings. Makes sense since she appears to be the clone of Setsuna.
In the end, UQ Holder chapter 134 gives Touta his latest and final reason to get to the top of the Tower and appears to be returning things to the way things were. Personally speaking, I liked what I read.