ユーキューホルダー! 魔法先生 ネギま!2 Manga Review
UQ Holder! Mahou Sensei Negima 2
UQ Holder!: Magister Negi Magi! 2 Chapter 136
UQ Holder Chapter 136

SPOILER Summary/Synopsis: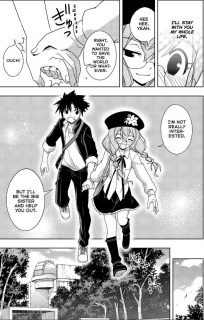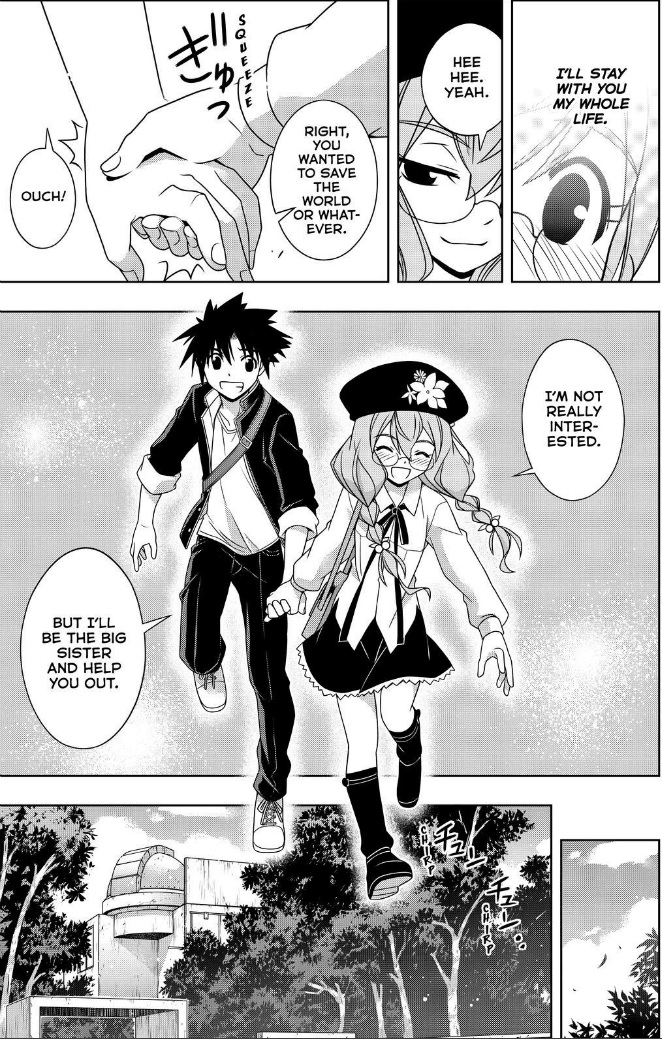 Yukihime sends Kirie and Touta on an "extended vacation" to Kyoto to start investigating Touta's great-grandfather, Nagi. Kirie is flustered on the train because Karin worked her over, getting Kirie to concede that she loves Touta. Further, Karin encouraged Kirie to have sex with Touta.
In Kyoto, Touta is excited because this is the first time he's been here. Touta informs Kirie that they have to visit several famous site in order to undo seals around Nagi's place. As they travel, Kirie becomes conscious of the fact that their actions could be seen as going on a date. That evening at the ryokan, Kirie decides to take Karin's advice and attempt to seduce Touta. She steps up the effort over dinner in the room. It is all to no effect. Indeed, after consuming a bit of alcohol, Touta falls asleep.
Kirie is in the bath thinking about things when Touta enters. He attempts to leave after realizing his mistake, but Kirie invites him to join her in the bath. After they talk a bit, Touta attempts to leave, but Kirie grabs him and confesses her love for him. She gets Touta to say what drives him regarding Yukihime — the 16 year old Eva that he met. At the end of their discussion, Touta says they are going all the way. Kirie thinks he means sex, but after he kisses her and attempts to leave, she realizes he knows nothing about sex and attempts to give him a textbook education.
The following day, Kirie and Touta head for Nagi's place. Kirie wonders if Touta really was as dumb as he seemed regarding sex. However, she has decided to stay with Touta for life. They arrive at Nagi's former residence (workshop), where they see the pictures from Nagi and then from Negi. As they examine the photos, someone shows up, asking them who they are.
Thoughts/Review:
With UQ Holder chapter 136, Kirie is not firmly in Touta's harem and we start an investigation in Kyoto, calling to mind Negi's similar investigation in Negima.
Kirie's Immortality
Although most of the chapter is dedicated to Kirie's final fall for Touta and firm, willing placement within Touta's harem, one interesting element that came out is confirmation that Kirie does not physically age. According to Karin, if you don't count the resets, Kirie is 19-20 years of age. From a legal aspect, Akamatsu-sensei is doing this to play things safe. That way he can have his ecchi loli content for a girl who looks 12, but who's actually so much older. It is a standard ploy for Japanese artists doing lewd work to have their loli characters actually be an adult.
I did find it interesting that Akamatsu-sensei came up with a reason for Kirie to halt her aging at 13. I actually appreciate that as it doesn't come off as some kind of retcon to fit the current situation.
Kirie's Position in the Harem
For whatever reason (I'm thinking partially the lolicon aspect), Akamatsu-sensei has been working on the Kirie x Touta ship. We've seen Kirie slowly fall and with UQ Holder chapter 136, Kirie has completely fallen. She is now on a new path, one where she accepts and appreciates the notion of being in love with Touta. Although at the end of the chapter, Kirie used what I presume was "oneechan" (I can't consult the raw to confirm) to describe her position with Touta, I interpret this to mean that Kirie knows she won't be in the top slot in the harem. However, she has vowed to stay with Touta, which I thought was sweet.
That said, after Kirie and Touta's Kyoto adventure is over, I want to see Karin broken down and forced to admit she has feelings for Touta. 😉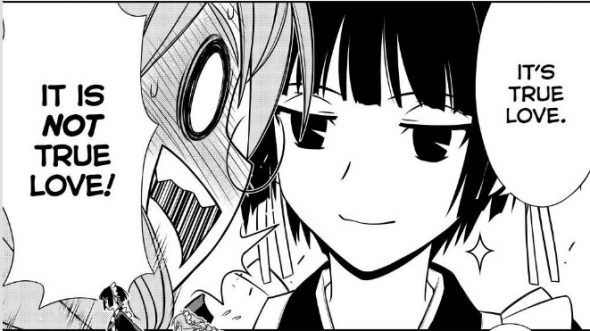 As an aside, I think it is pretty clear that Kirie is taking Chisame's place from Negima. I think she'll become a trusted advisor. While I am hoping for a harem ending, it is possible that Akamatsu-sensei has Touta end up with Kirie just to be a substitute for the Chisame x Negi ship.
The Neo Kyoto Arc
So in addition to the trip to Kyoto being an opportunity for Akamatsu-sensei to dust off his old Kyoto artwork files, it also is a way of redoing the Kyoto investigation that Negi did in Negima. I think that Akamatsu-sensei got blown off his original plans in Negima during and after the Kyoto arc. For example, Akamatsu-sensei was clearly planning the original girls for Negi's battle harem, but some of those girls (Ayaka and Makie spring to mind) didn't get pactiones until much, much later in the series. As such, where did Negi's Kyoto investigation take him? A giant spider web and a wyvern. The investigation ends and Negi is later handed pieces when Al introduces himself and when Negi is directed to the Magic World.
With that in mind, Akamatsu-sensei has a new opportunity to do this investigation properly. Whomever the workshop-home's caretaker is, I'm guessing they know about Nagi and Negi. To that end, they would help in Touta's and Kirie's investigation. Further, with no class of female students along for the ride, Akamatsu-sensei can keep things focused and not lose track of the narrative, as I think he did in Kyoto. (Not that I have anything against the Kyoto Arc in Negima – it is a good one and we got to see just how powerful Eva truly is. But I recently reread those volumes and the whole East vs. West conflict was abandoned after Kyoto and then attempted to be reworked into something else.)
Final Thoughts and Conclusion
I've got another busy, busy week in progress, so let me wrap this up so I can hit the hay.
Seeing Nagi's old place, I was reminded by the stark fact that there are no pictures of Arika there, nor where there any pictures of Negi's mother found there. And yet when Nagi was at Kyoto, he was supposedly married to Arika. That's one of the reasons I think Arika is a retcon/afterthought.
I tend to think Touta is truly as innocent as he seems when it comes to sex. I'm guessing that in the end, this is partially because he's actually only a few years old. Also, I'm guessing that since he was apparently made for battle, a strong sex drive wasn't part of the equation, even if all the girls swoon over the power that comes off of Touta.
Someone theorized that the figure at the end of the chapter might be Setsuna. The theory is sound as Setsuna is only half-human (as is Mana), thus she should still be alive and looking fairly young based on her youkai half.
In the end, UQ Holder chapter 136 is full of ecchi filler, but does serve the purpose to firmly establish a now willing Kirie into Touta's harem. Further, it would seem to begin to mirror Negi's own Kyoto investigations. Hopefully, Touta's has better success.