Spotted Flower Chapter 20.5 #4 (Manga)
Spotted Flower manga chapter 20.5 #4 review

SPOILER Summary/Synopsis:
NOTE: For the purposes of this and future reviews, until the characters are given names, since these characters are obviously from Genshiken (or Genshiken Nidaime), I will call the "not-Saki" character !Saki, the "not Madarame" character !Madarame, and so forth for all other unnamed Genshiken characters.
!Hato pays a visit to Senpai's booth, but finds !Yabusaki manning it instead. Apparently, !Ogiue got sick again. !Sue is helping and another helper is coming, but at the moment, !Sue is on the hunt. With that, !Hato takes off.
Meanwhile, !Sue tracks down !Yajima as !Hato shows up. Before !Sue can say anything, !Yajima holds up !Hato's new doujinshi. After looking at it, she loudly expresses her approval, takes her copy, gives an acknowledgement of !Hato and !Yajima, then goes off into the "Fujoshi Sea." !Hato and !Yajima give remarks acknowledging !Sue and her line.
Thoughts/Review:
This last part of chapter 20.5 doesn't do a whole lot. We get to see !Yabusaki come into the mix, which I liked. The implication here is that she and !Ogiue are still good friends since !Yabusaki is working !Ogiue's table.
I am disappointed that !Ogiue hasn't shown up yet. I really would like to see her in Spotted Flower and I would like for her to have a chat with !Hato.
It is always nice to see !Sue. The implication I got from Spotted Flower chapter 20.5 #4 is that !Sue is more riled up than normal due to !Ogiue being sick and !Sasahara taking care of !Ogiue. It would be interesting to see what !Sue does since here, !Sue isn't with !Madarame.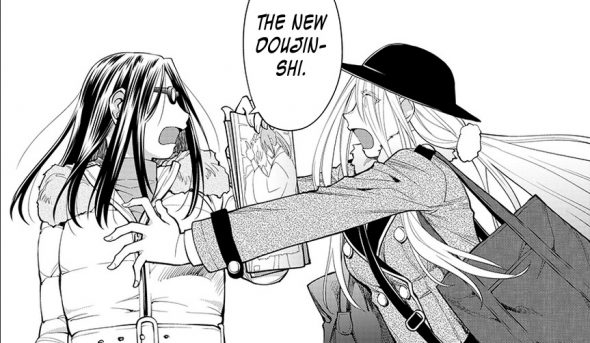 Otherwise, not much to talk about. I'm told that chapter 21 will see a return of !Madarame and !Saki. I'm looking forward to reading that since I want to know how a baby affects their lives.