Spotted Flower Chapter 20.5 #3 (Manga)
Spotted Flower manga chapter 20.5 #3 review

SPOILER Summary/Synopsis:
NOTE: For the purposes of this and future reviews, until the characters are given names, since these characters are obviously from Genshiken (or Genshiken Nidaime), I will call the "not-Saki" character !Saki, the "not Madarame" character !Madarame, and so forth for all other unnamed Genshiken characters.
!Yajima proofs !Hato's work, pronounces it good stuff, and states she will send it to !Hato's editor, Endou. As a reward, !Yajima gives !Hato a breast massage. !Hato irritates !Yajima by asking if !Yajima would want to do something with a real woman. !Yajima tells !Hato that she's not doing this 'cause she's into girls, but rather because it is !Hato. !Hato apologizes, but !Yajima goes off over !Hato's attitude.
!Yajima suddenly realizes !Hato is worried about so !Yajima assures !Hato that she doesn't go for blonds. !Yajima asks if !Hato wants to call off meeting the others after Comifes. Since !Hato wants to see "her" for advice (implied to be !Ogiue), !Hato says that they'll go.
!Hato asks for sex, but !Yajima rejects the idea until the draft manga is approved by the editor.
Thoughts/Review:
We get four pages with this part of 20.5, and Kio-sensei went someplace I didn't expect.
!Hato's Insecurities
Despite everything !Hato has done, I find it interesting that !Hato is still pretty insecure. Despite how much !Yajima cares for !Hato, !Hato still worries about their relationship. !Hato now has female parts, so maybe !Yajima would want a real woman instead. Hato was always an insecure kind of character in Genshiken Nidaime, but it seems those insecurities really haven't left.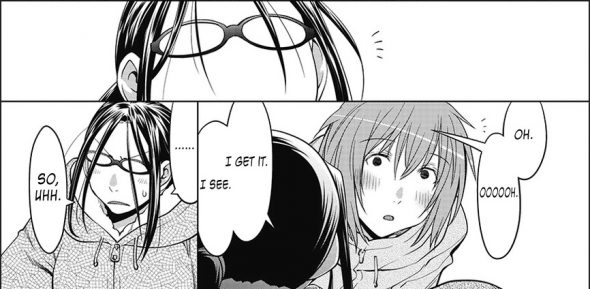 It is implied that !Hato is worried about !Sue. The question is "why?" In Genshiken Nidaime, there was no indication that Sue liked anyone romantically other than Madarame and to a degree, Ogiue. With Ogiue, I always saw it more about her fujoshi artwork than being into girls. That aside, Sue never really hung out with her fellow first year clubmates (Hato, Rika, and Yajima).
The only think that I can think of is Sue's rivalry with Hato when both were doing things as part of Madarame's harem. So maybe !Hato hasn't gotten over that yet and thinks !Sue will come in just to be !Hato's rival again.
Final Thoughts and Conclusion
Well, time to wrap this puppy up.
You know, it just dawned on me that Endou (the editor) is a rare named character in this manga. !Saki and !Madarame's kid being named Saki is the other one.
I'm glad that !Hato's character has managed to create something mainstream. And now for the big time with !Ogiue.
I'm hoping we see !Ogiue. We haven't so far, at least not that I can remember off the top of my head.
In the end, I liked Spotted Flower chapter 20.5 #3 as it continued !Hato's journey in creating a mainstream manga, to say nothing of continuing to explore the character.