Fate/Grand Order USA is Now Live!
Hey gang! For those unaware, the Fate/Grand Order game (or Fate/GO or FGO as it is also known as) is now LIVE for those of us in the US, both on Google Play and the Apple App Store. I have downloaded it for my Android tablet. Right now, I'm doing the tedious "reroll" process to try to get a 5* Servant, hopefully Saber Artoria. Not that the game bothered to spell the name correctly. The game is spelling her name as Altria for some otherworldly reason. (And EMIYA is Emiya 'cause "reasons.")
Here are some items of note.
This game will NOT play on the Android emulator BlueStacks. 😡
This game will apparently not play on any rooted device.
There are spelling and grammar errors galore in the game.
Senpai is used by Mash to address you.
Other Japanese honorifics are not used 'cause "reasons."
In my initial go through the tutorial, the music was massively distorted. When I cleared the game data for my reroll (meaning game data is deleted, forcing me to start over with the tutorial again), the music played fine.
All of the Japanese seiyuu voices are used. YES! Can't wait for Saber Artoria (not using that other spelling) to be my 5* Servant! If you want to know what they are actually saying, you have to go to the Servant's info page and play their various dialog lines for different actions. You'll see the translated English text then.
Man, after watching Fate/Grand Order: First Order, I feel so bad every time Olga Marie says certain things in the cut scenes. 🙁  🙁  🙁 Glad I'm skipping those in the rerolls.
Speaking of the anime, for the preview part of the game, the anime adopted that spot on.
Seems like a fun game, not that I have time to play. In honor of it, here's a cute slumber party picture with a lot of Saber-chan characters in it. 🙂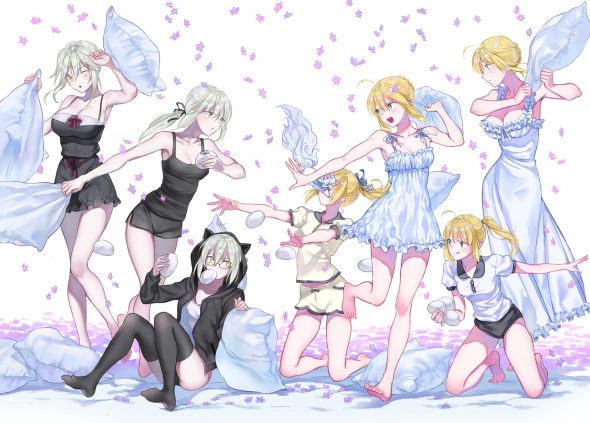 Finally, I know Fate/Apocrypha is about to start in a few days. If I can, I'm going to try to episode blog it.
Update: My full game review can be found here.