ユーキューホルダー! 魔法先生 ネギま!2 Manga Review
UQ Holder! Mahou Sensei Negima 2
UQ Holder!: Magister Negi Magi! 2 Chapter 141
UQ Holder Chapter 141

SPOILER Summary/Synopsis: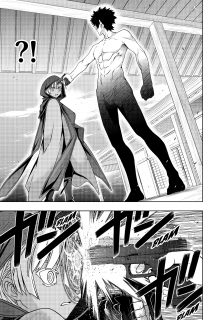 Karin is unhappy seeing an image of the happy Eva having married the middle-aged Nagi. Touta doesn't have an answer to Dana's question on whether this is the happy ending he's looking for. Dana is going to continue giving them info via Chachazero, but they are tired, so Chamo suggests a break. Dana notices something is going on at the UQ Holder HQ, Senkyoukan.
At the Senkyoukan, Gengorou sees Yukihime off on their sailboat. With her departure, Cutlass decides to spring into action, reviewing data on Yukihime, Jinbee, and Gengorou. Cutlass figures she couldn't beat Yukihime, but she's not too worried about Jinbee and Gengorou. She's not worried about the other demi-humans, youma, or other entities who work or reside at the Senkyoukan.
A couple of kids playing baseball accidentally send the ball her way. She seems as if she would attack, but instead, she returns the ball and rubs one boy on the head. Gengorou appears behind her, a hand gun at her head. Gengorou sends the boy Ponta away. Cutlass attacks as soon as the kids are gone. Gengorou battles with his gun and katana while Cutlass uses her two large blades.
Cutlass uses the pactio artifact Horaria Porticus to freeze time. She beheads Gengorou, then locks the body in a time freeze cube. She's going to move the body, but she's shocked to find a naked Gengorou with a gun at her head. He fires multiple shots, but her barrier saves her. Their battle resumes with Cutlass being angry over this turn of events. Gengorou gets an analysis of Cutlass's power, but his attempts to talk to her anger her further.
The battle continues until eventually Gengorou sends his katana through Cutlass's chest. She goes down, but as Gengorou attempts more analysis of her, she transforms. Not only does her power level increase exponentially, but she also grows four, dark, demon-like arms and a tail. She attacks, angry that he calls her an immortal, which she is not. She gets the better of him, but before she can land her blow, Jinbee uses his power to pull Gengorou to safety.
The two discuss the situation. Jinbee jokes, but angry Cutlass looks more like a transformed mazoku. Gengorou pulls out a rifle as Cutlass starts to attack.
Thoughts/Review:
Ugh. Figures that real life and a "repaired" PC that's still broken would interfere with my enjoyment of UQ Holder chapter 141. However, I'll struggle to write what I can and hope that I can finish this before the PC decides to power off/reboot.
Dana Info Dump — Denied or Just Delayed
Dana interrupted the original plan to get the info that Chachazero had stored from the current timeline. As such, we got to see what supposedly happened in the Negima! "Happy End" timeline. I for one enjoyed that flashback. And, for UQ Holder chapter 141, I enjoyed the aftermath with Karin all frustrated about Eva marrying a middle-aged guy (Nagi) and the other girls squealing in delight over that image.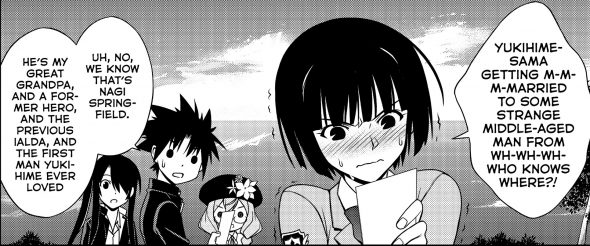 When Dana gives them the option to learn the info they actually came for, suddenly the characters are all whining about getting more information. While Chamo suggests a break, the fact that Dana spotted the trouble at the Senkyoukan suggests that Touta and company will leave Kyoto and get back to UQH HQ as fast as possible to help against Cutlass. That way, Akamatsu-sensei doesn't have to give us any information 'cause that's how he almost always rolls. Providing information would box him in and not allow him to roam wherever he chooses at any given moment. *_*
I hope I'm wrong about this as I'd like to get more info on how Negi failed in this timeline.
Gengorou: About Time!
Once the action shifted to the Senkyoukan and Gengorou, UQ Holder chapter 141 became a very interesting and enjoyable chapter. For starters, it is nice that Gengorou (and to a lesser extent, Jinbee) gets screen time where he's the star. This proved to me that UQ Holder doesn't need to just center around Touta and his battle harem. Other UQ Holder characters can carry the torch when needed.
In addition, we got to learn a bit more about Gengorou's fighting abilities and see his immortality in action. His battle with Cutlass shows that he's no slouch, combining guns and blade fighting skills. He schooled her rather quickly, after she underestimated his immortality and abilities. Plus, there's his humorous way of analyzing opponents in gaming terms. When Cutlass transformed, Gengorou's analysis showing additional targets for the tail and additional arms reminded me of Fallout's V.A.T.S system, whereby one can slow time to target different body parts of an opponent. Neat.
Also, I like how Gengorou and Jinbee worked as a team. We finally have a useful reason to use Jinbee's target switch ability, thus saving Gengorou from being killed again.
Hopefully, Gengorou and Jinbee capture Cutlass without the need of Touta or Eva.
Cutlass, aka: Tena Vita
For Cutlass, we learned more about her in UQ Holder chapter 141. We got to see her real name (Tena Vita), her immortality experiment number, and a bit more. I laughed at the Dragonball Z joke about transformations. Certainly, Cutlass transformed twice in this chapter, each time growing more powerful. She claims to not be immortal, but she survived having an arm (even if artificial) cut off, and being stabbed through the heart with a katana. If she's not immortal, she's pretty tough.
Cutlass's last transformation made her appear more mazoku in nature. It makes me wonder if Zazie's people were involved in her creation.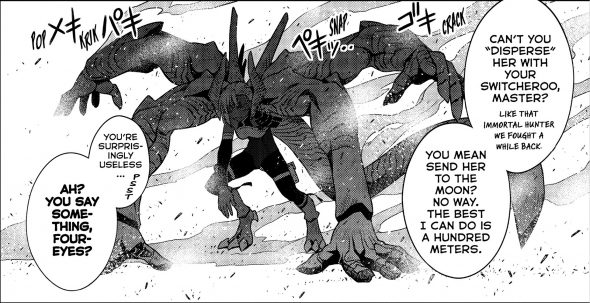 Also, Cutlass is so full of rage. Rage-filled people make mistakes. In my mind, this is how she will be defeated. Hopefully, we can learn more about her and her creators.
One more item; I think Cutlass either has an artifact to use the real Horaria Porticus, or she has the ability to replicate it. I need to go back and see how she described her swords when she first fought Touta.
Final Thoughts and Conclusion
I'm stunned I made it this far without my PC losing power. But I need to wrap this up, get it posted (with images), then get this bloody machine gracefully shut down to get sent back to the shop. Before I do, some final thoughts.
I don't remember this being confirmed before, but now for sure, we know that Eva is French. I found that interesting.
As far as I can remember, this is only the second manga series where I've seen the term "youma" used. The first was in the Sailor Moon and Sailor V manga titles (and subsequent Sailor Moon anime). I like seeing its usage and would like to see how youkai, mazoku, and youma relate or how they are different as creatures.
In the end, UQ Holder chapter 141 is a very good chapter, proving that Touta and company aren't needed to carry this series. Other UQ Holder members can and should carry the load at times.