ユーキューホルダー! 魔法先生 ネギま!2 Anime Review
UQ Holder! Mahou Sensei Negima 2
UQ Holder! Magister Negi Magi! 2 – 01
UQ Holder Episode 01

SPOILER Summary/Synopsis: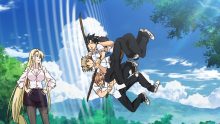 Evangeline A.K. McDowell (Eva) recalls a moment from her middle school days quite some time in the past. In the present, Eva goes by the name Yukihime, having adopted an orphaned boy named KONOE Touta. They live in the Japanese countryside, where Yukihime is a teacher at the local school. Touta and his friends dream of leaving the country to head to the new capital, Shin Tokyo. To do this, they must defeat Yukihime in combat. However, her use of magic makes the boys' efforts meaningless and they are punished.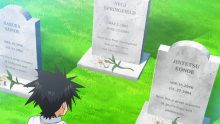 One day, Touta visits the graves of his parents and his famous grandfather, Negi Springfield. He sees Negi's ghost. That night, Touta cooks a meal, but is frustrated that Yukihime won't teach him magic. The following day, Touta and his friends are again thwarted by Yukihime. Tachibana-sensei offers to help them, giving them wands, magic apps, and teaching them a bit about magic. Touta can't use any of them, so Tachibana-sensei gives Touta a bracelet to give to Yukihime to wear. That evening, Touta does this, causing Yukihime to be touched by the gift.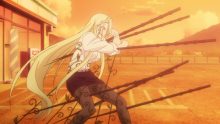 The following day, Touta's friends use magic to ambush Yukihime and bind her. Touta is left behind to try to catch them. When he gets there, Tachibana-sensei is revealed to be a bounty hunter looking for Eva. He knocks out Touta's friends and easily knocks Touta aside. Yukihime manages to save Touta at the cost of her own body. Touta loses his arm, but at Yukihime's encouragement, he drinks her blood. This turns him into a vampire, thus allowing him to regenerate.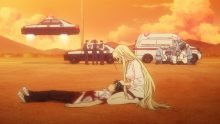 After defeating Tachibana-sensei in a moment of rage, Touta passes out. He awakens with his head on Yukihime's lap. She has put her body back together and regenerated. She tells him the truth about herself and a little more of the truth about his parents. They weren't killed in an accident, but were assassinated. Because of the bounty hunter, Yukihime and Touta have to leave the village. Yukihime asks why Touta wants to go to the tower in Shin Tokyo. Touta sees the adult Negi's ghost, but doesn't tell Yukihime that. Instead, he makes up a meaningless reason, which she doesn't buy.
Thoughts/Review:
Despite not having a PC (again), I did manage to get my laptop working so that I could do video reviews on it again. As such, I was finally able to watch UQ Holder! Magister Negi Magi! 2 – 01. The results left me with mixed feelings.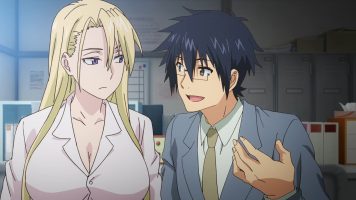 A Change of Perspective
Similar the UQ Holder OAD, UQ Holder! Magister Negi Magi! 2 – 01 was presented in part from Eva's (Yukihime's) point of view. In order to get the Negima! elements in from the start, it makes sense for Eva to be the presenter there. The anime simply took part of the Negima! flashback from around the time when the manga switched to its monthly format and refashioned it to be Eva's flashback of sorts. It worked as a way to further expound on the sense of nostalgia Eva felt about those times and emphasize how it was to leave those friends behind due to her immortality.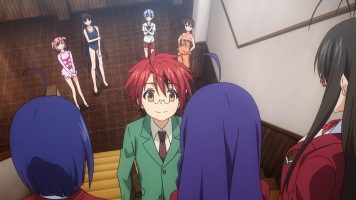 After that, the episode mostly followed the first chapter of the UQ Holder manga. I had forgotten that in the first chapter, both Eva and Touta shared lead time to help found the story. No wonder I enjoyed the first chapter so much. It wasn't strictly tied to Touta. Eva had her time and story too. It is a shame that Eva's story has been dropped and I doubt the anime touches it. What I mean is that Eva was nearly killed by a bounty hunter. That element has never been touched since, which is unfortunate.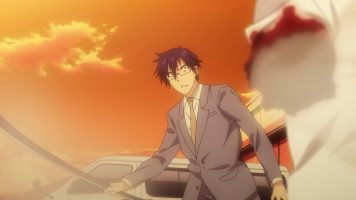 Other Anime Changes
One of the things from the UQ Holder manga was that Touta's reason for going to Shin Tokyo and getting to the top of the tower (the space elevator) were insanely stupid. He wanted to be a backup singer for one of his buddies, or something like that. As a motivational factor, it never made any sense to me. It certainly doesn't seem like some goal worthy of spending hours of time training to defeat your magic-powered guardian in a fight.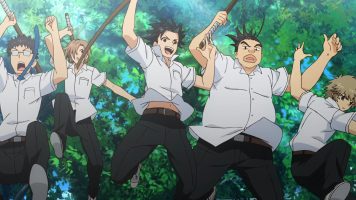 For the anime adaptation, Touta gives a vague public reason to get to the top of the tower. In reality, he has seen the "ghost" of his grandfather Negi, both in kid form and in adult form. That "ghost" (for lack of a better term) is the one who put the bug in Touta's ear to get to the top of the tower. So Touta's motivation in the anime now makes sense, even if he is embarrassed to tell folks the real reason. I can totally believe this, though how Negi is communicating with Touta is another mystery.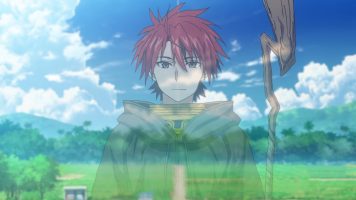 Art, Animation, Music, Voice Acting
For me, the art and animation of UQ Holder! Magister Negi Magi! 2 – 01 were just OK. At times, the character design work fails for me in its ugliness. Certainly, it doesn't have the niceness of Akamatsu-sensei's art, but then I guess that's to be excepted of most anime adaptations of manga. The fight scenes weren't bad, but were certainly no ufotable. 😉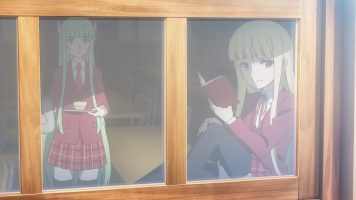 The incidental music in the episode is pretty nice. The OP is "Happy☆Material," and has been recycled from the Negima! anime. I think the ED song "Steady → GO!!" is new.
As to the voice acting, I think I would have preferred Touta to have been voiced by a man, but I got used to it. The other voices were fine. It has been too long since I watched any Negima! animated series, so I really didn't remember how the voices originally were.
English Adaptation — Sanitized for Your Protection
One thing for sure came out of watching UQ Holder! Magister Negi Magi! 2 – 01; I won't be buying Sentai's video release. When I saw "Professor Negi" on the screen, I wanted to line up the decision makers at Sentai and punch them repeatedly in the face for being racist Nazis. I'm told this is what one does to a Nazi is punch them in the face. And they are clearly racists 'cause how else do you describe the removal of Japanese honorifics from the English subtitles when Western honorifics (even if not English) would be left in? Must be racism. 😉
In all seriousness, it does annoy me that in 2017, there's still this attitude that insists on sanitizing something basic like Japanese honorifics 'cause "reasons." Everyone has their little quibbles and quirks, and one of mine are the removal of Japanese honorifics, followed by rewriting text to have characters say things that aren't in the Japanese. I didn't really notice anything objectionable on the later element, but the removal of Japanese honorifics from subtitles is an immediate non-starter for me.
Conclusion
In the end, UQ Holder! Magister Negi Magi! 2 – 01 does a good job of adapting the first chapter of the UQ Holder manga. I'll be interested to see how the anime adapts the rest.