ユーキューホルダー! 魔法先生 ネギま!2 Anime Review
UQ Holder! Mahou Sensei Negima 2
UQ Holder! Magister Negi Magi! 2 – 02
UQ Holder Episode 02
SPOILER Summary/Synopsis: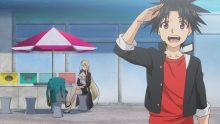 Yukihime and Touta take a break on their journey, allowing Touta to go for a swim in the river. He runs into a female looking person named Kuroumaru. Kuroumaru is on a mission to hunt for an immortal known as the Dark Evangel. Until Kuroumaru kills Eva/Yukihime, Kuroumaru cannot return home as the village has kicked Kuroumaru out. Kuroumaru realizes Touta is a vampire and that his companion is Yukihime. Yukihime "kills" Kuroumaru before Kuroumaru can do anything. However, Kuroumaru is an immortal and thus regenerates.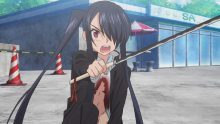 Yukihime tells Kuroumaru that if Kuroumaru can defeat Touta, Yukihime will face Kuroumaru. Kuroumaru accepts, but Touta has one addendum. Kuroumaru tosses Touta a sword for their battle, but Touta tosses it and defeats Kuroumaru. As a result, Kuroumaru is forced to sign a friendship pledge and accompany Touta and Yukihime to an onsen inn. There, Touta continues to be suspicious of Kuroumaru's claim to being a guy. However, despite not having an interest in girls, he decides they should peek in on Yukihime, who's onsen is at the top of the cliff.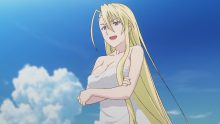 At the top, Touta discovers Yukihime in her true form as Eva. Touta only recognizes seeing her briefly after the fight in the first episode. Eva changes back to her adult Yukihime form. Yukihime becomes annoyed when Touta expresses no interest in either the "washboard lolita" Eva from, nor the busty adult form of Yukihime. As such, Yukihime unleashes on Touta, sending him off the cliff. Kuroumaru saves him and flings him back, where Touta snags Yukihime's towel as part of her challenge. But when Touta again expresses no interest in her, Yukihime punishes him.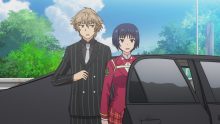 Back on the road, the trio walk and talk, where Touta learns that there are other immortals in the world like them. Touta thinks it would be a great idea if immortals teamed together to help the world. Yukihime is about to explain about her creation of an organization, when a fleet of limos arrive. UQ Holder member Basago emerges, but is interrupted when UQ Holder member Karin emerges and respectfully greets Yukihime. Karin takes an immediate dislike to Touta, but Yukihime has her stand down. Yukihime then tells Touta that this is the organization he wanted to form — UQ Holder.
Thoughts/Review:
Well, UQ Holder! Magister Negi Magi! 2 – 02 certainly does cut a massive chunk out of the source manga by skipping Shinobu's introduction, but considering the anime has to get a move on, that's understandable.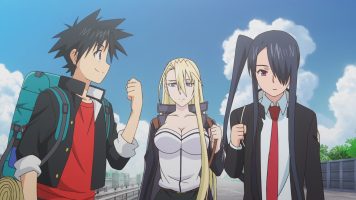 The Failed Immortal Journey
One thing UQ Holder! Magister Negi Magi! 2 – 02 reminded me of was how the table seemed to be being set for Eva, as Yukihime, to have two wards to train. On one hand, there was Touta, whom Eva had been raising. Touta was just learning about being an immortal, so the journey to Neo Tokyo seemed to be the perfect place for Eva to open up about her own past. I had so hoped that this is where we'd get the flashbacks of Eva's life so the stupidly happy-go-lucky Touta would start to realize being immortal wasn't all fun and games.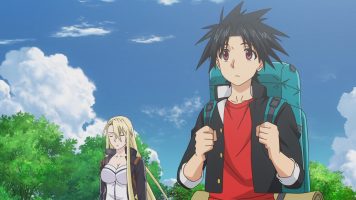 When Kuroumaru arrived and failed to defeat Touta, I had forgotten that Eva had offered to train Kuroumaru. Back in the day during the manga's run, I could see areas where Eva is training both Kuroumaru and Touta. At the same time, we learn about Kuroumaru's past and the difficulties Kuroumaru has had with immortality. Part of me thinks that this is what Akamatsu-sensei kinda planned, but then decided the story was moving too slow. Thus the "magical" arrival of Basago and his bunch so we can get to UQH HQ right away.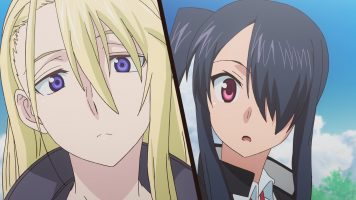 It is a shame things didn't go this way. Indeed, Eva has yet to train Kuroumaru on anything. If anything, Kuroumaru never seems to need much in the way of combat training, save to try to get better and to race after Super Touta, who can master anything.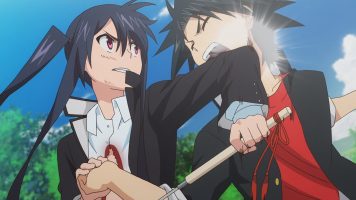 As an aside, I did like that the anime had Eva think of Setsuna and Konoka when she saw that Kuroumaru is a Shinmeiryuu user.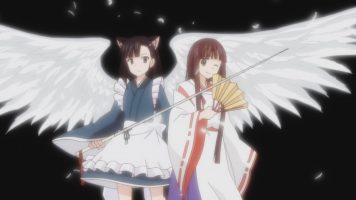 More Comedy Than I Remembered
It may be because this is an anime with visuals and sound effects that go beyond what a manga chapter can do, but I actually laughed out loud a few times during UQ Holder! Magister Negi Magi! 2 – 02. The jokes about whether Kuroumaru is male or female were the most surprising laughs for me. All I remember from the manga is being annoyed at the gag going on way too long before we readers get a resolution. And yet, seeing the bird brained Touta's attempts to see if Kuroumaru is actually male of female made me laugh out loud. I didn't expect that at all.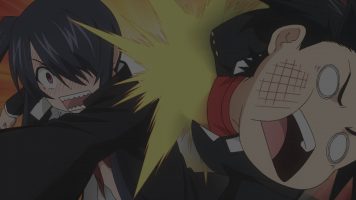 Also funnier than I remembered was Touta's decision to challenge Eva in the women's onsen. Again, it must be the anime format that caused Touta's revulsion at seeing Eva naked, whether in loli form or in adult form, that made it funny to me. Well, there's that plus the fact that there's this whole Eva-Yukihime x Touta ship now. Yet in those early days, Touta was having none of that.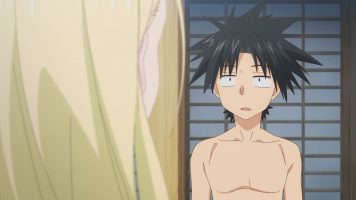 Changes in the Story
As to the changes in the story, I understand why Shinobu's tale was dropped. As a story, it didn't do anything other than (1) introduce Shinobu, (2) introduce the speeder bikes, (3) give Touta is first taste of immortality, and (4) introduce Touta to Eva's true form. Touta's reasons for going to the tower were given, but lets face it, in the manga, those were completely and utterly stupid beyond belief. So I'm glad those were gone and changed to hints of Negi, as seen in the first episode.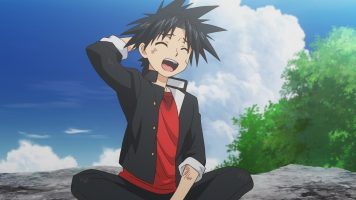 Moving Eva's revelation of her true form in this episode made sense. After all, Eva is trying to relax, and while she can certainly relax in her faux, adult body, I'm thinking she probably enjoys returning to her real body to really relax.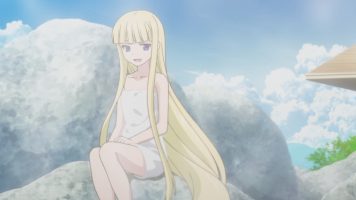 The other big change is having Karin come with Basago to meet Yukihime and to challenge Touta. Oddly enough, Karin's greeting made it seem like she had not seen Eva in much longer than two years. In the manga, she doesn't greet Eva at all. She just glares at Touta. Then when Gengorou "flushes" Kuroumaru and Touta into the trap, Karin is there to make sure Touta goes down. It may be a way to attempt to establish Karin's relationships with Eva and Touta in a short period of time.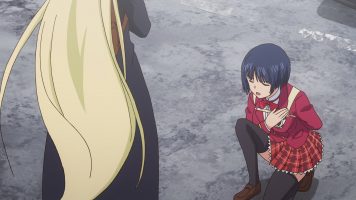 Whatever other changes there were had to be pretty minor, either that or I've just forgotten. Feel free to let me know about changes you noticed and whether you liked them or not.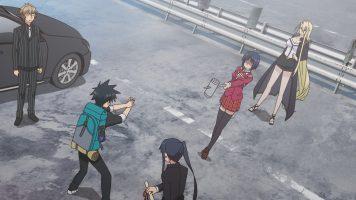 Final Thoughts and Conclusion
Since I'm way behind all over, thanks to bloody PC issues and work keeping me exhausted, let me wrap this up so I can try to move on to my next anime review.
The fight scenes are OK for what they are. Not bad, but not ufotable. 😉
Sometimes, the character work looks good, but at other times, not so much.
I loved the rock instrumental music for Touta's challenge of Eva in the onsen. It really fit for me.
I wonder if Akamatsu-sensei had words with Sentai/Anime Strike. I was shocked when I saw that episode 2 had "Yukihime-sama" and "Yukihime-dono" in the subtitles. That helped my "nerd rage" levels go down. 😉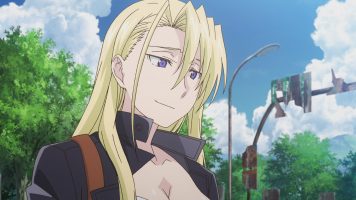 In the end, I rather enjoyed UQ Holder! Magister Negi Magi! 2 – 02 more than I thought I would. The cuts made to the original manga story made sense to me from a pacing perspective. I actually laughed out loud at times, which came as a huge shock to me. And the usage of Japanese honorifics in the subtitles made for a very pleasant viewing experience. Now on to the third episode!