Fate/Apocrypha 12
フェイト/アポクリファ episode 12
SPOILER Summary/Synopsis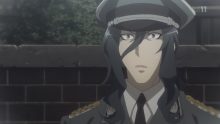 Shirou recalls being in the Third Holy Grail War along with a female member of the Einzbern family, who died in his arms. He also encountered Darnic there. In the present, Red Assassin admires the Greater Holy Grail they have captured. In the corridor of the Hanging Gardens, Black Lancer finds that being separated from the Romanian soil has made it so that he is much weakened. Darnic shows up and uses a Command Spell to force Black Lancer to use his  Legend of Dracula Noble Phantasm. Black Lancer transforms from Vlad to Dracula and attempts to kill Darnic. Darnic uses a second Command Spell to order Black Lancer to stay alive until he achieves the Greater Grail. This strengthens Black Lancer's vampire impulses, causing him to start to drink Darnic's blood.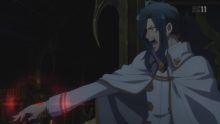 Darnic uses his last Command Spell to transfer his soul into Black Lancer. Darnic's body dies, but his conscious is in Black Lancer-Dracula, who's still trying to fight off the vampire aspects. Red Lancer attacks, but is unable to connect. Red Rider attacks, but has to be saved by Black Archer. Dracula slaughters the homunculi troops, turning them into vampires under his control. Black Archer and Black Caster discuss the dire situation and agree to try to prevent any vampire from leaving the Hanging Gardens. The Red Servants attack Dracula without much success. An unamused Ruler shows up to thwart one of Dracula's attacks.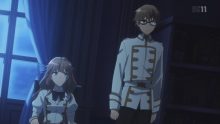 In the castle, Caules, Gordes, and Roche show up in Fiore's room to discuss the Red Faction's unexpected ability to steal the Greater Grail from them. With Darnic on the Hanging Gardens with all their Servants, Fiore takes charge to organize what's left of their forces and communicate with their relatives for assistance. Back in the Hanging Gardens, Ruler uses a Command Spell on Dracula, but as he is no longer a Servant, it does not work. Ruler asks for the Red and Black Servants to cooperate to defeat Dracula. They agree, since this monster is an enemy to all of them. Ruler uses a Command Spell to bind them and they go into combat as allies.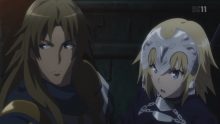 Now under Ruler's command, the Servants are defeating Dracula. Red Lancer is about to turn him to ashes when suddenly all of the Red Servants stop as if hit by something, then flee. Dracula escapes, pursed by Black Archer and Ruler. The Hanging Garden's defenses target Ruler and Black Archer, but not Dracula. Black Archer takes out the defenses, allowing Ruler to continue the pursuit. Dracula enters a chapel where Shirou shows up, knowing Darnic is in Dracula. Darnic-Dracula is stunned to see Shirou. Shirou slays Dracula as Ruler arrives. Ruler is stunned because she recognizes Shirou as a Servant. Shirou corrects her in one point, telling her he is a Ruler like her from the Third Holy Grail War. Shirou claims his goal is to save humanity.
Thoughts/Review
Whoa! Well, making Shirou a Servant was unexpected for me. Making him another Ruler was even more unexpected for me. But now it all makes sense.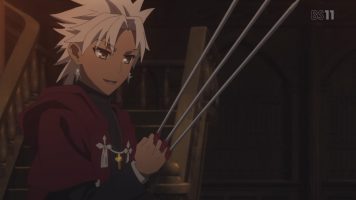 Dracula Lives!
I had thought this Greater Grail War would come down to Darnic vs. Shirou at some level. What I didn't expect is that half-way through the series, Darnic would go insane in a desperate attempt to gain the Greater Grail back from the Red Faction. Darnic had already done evil things in consuming souls of others to stay alive all this time. However, to wish to become a vampire seems way far fetched. I don't know what Darnic wanted the Grail for (if it was stated, I don't remember), but his dreams would surely be corrupted due to him now being Dracula.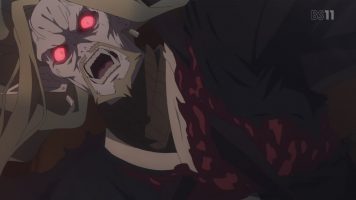 Still, as Dracula, the Darnic-Vlad III merger proved quite effective. What Darnic did with his three Command Spells basically meant that he could prevent Vlad III's Black Lancer persona from taking control again. And, I found it interesting that both Red and Black Servants viewed Dracula as the greatest enemy there. That's why Darnic had to be insane to go this route.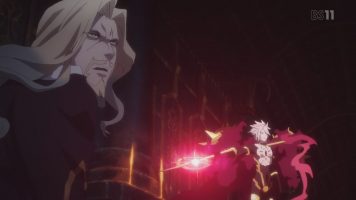 The real question is, "Is Dracula actually dead?" I know Shirou did what appears to be a good job of turning him into dust, but that doesn't mean that much to me.  Yes, Dracula was no longer Black Lancer, but in my mind, if he was truly dead, ashes shouldn't have been the only thing there. Dracula should have dissolved like other Servants. But with Darnic's Command Spell to stay alive and Shirou's apparent NP makes me wonder.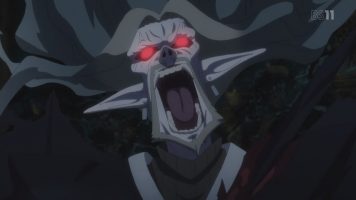 Shirou's Game
It is interesting that in the universe of Fate/Apocrypha, the Einzbern clan summoned a Ruler-class Servant for the Third Holy Grail War. It isn't surprising that Shirou's Master looks like Iri from Fate/Zero. And it wouldn't surprise me if Darnic is the one who killed Shirou's Master in that war.  I had not been able to figure out Shirou's motivation, but now it is all clear to me. And to make it more interesting, Shirou appears to be another "human" Servant who has somehow survived the previous Holy Grail war. Reminds me of Fate/stay night in that regard. 😉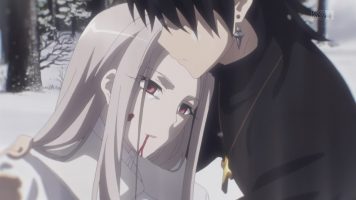 I had thought that Shirou was already the Master for all Servants, save Red Saber. However, this episode makes it clear that Shirou only now took the true Master's Command Spells and made them his own. (Well I say "clear," but that's only because I am versed enough in the lore to be 99% sure this is what happened.)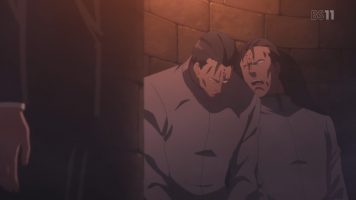 So there are still unanswered questions. For starters, why is Shirou attempting to kill Ruler? Shirou is also a Ruler class Servant, so maybe having another Ruler around limits him. Or maybe Jeanne's Ruler has the ability to stop Shirou somehow. She does have Command Spells at her disposal (though how many, I don't know) and since Shirou is a Servant, maybe she could stop him if she wanted. It will be interesting to see.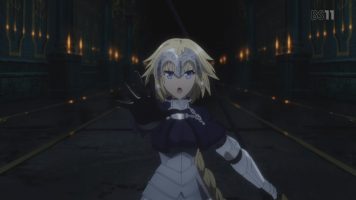 Final Thoughts and Conclusion
Man, just when I was getting into a rhythm with my reviews, things got busy and I was out of town last weekend. So I guess I should wrap up my review of  Fate/Apocrypha 12.
I'm curious to see how the Red Servants react to their real Masters being superseded by Shirou.
I wonder how Sisigou and Red Saber will react to Shirou's move.
If the Black Faction had the Greater Holy Grail already, why wasn't Darnic able to use it? Was it because of Shirou?
How will the Black Faction react to Darnic's actions?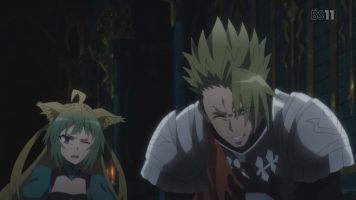 In the end, Fate/Apocrypha 12 had some interesting twists that resulted from sheer insanity. I'm rather interested in seeing how this thing continues.