ユーキューホルダー! 魔法先生 ネギま!2 Anime Review
UQ Holder! Mahou Sensei Negima 2
UQ Holder! Magister Negi Magi! 2 – 10
UQ Holder Episode 10

SPOILER Summary/Synopsis: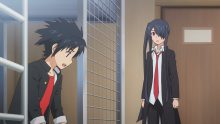 Touta tells Kuroumaru that he's depressed over learning that he's a clone of Negi. Mizore interrupts to take him to the Mahora Budokai. Kuroumaru and Kirie join them as they see the festival going on all around. Touta tries to enter the tournament, but there are no open entries. Touta takes a positive attitude about this when Ayaka shows up with Chachamaru. TATSUMIYA Mana also joins them. Ayaka asks Mizore to stay behind while Negi's former students escort him to Negi's former classroom, where he meets the ghost Sayo.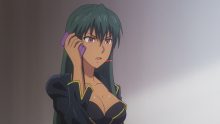 After Mana receives word that a contestant is injured, she lets Touta enter the tournament. Kuroumaru, Mizore, and Kirie are in the stands to watch Touta's first fight against someone named Cutlass. Cutlass addresses Touta as "Niisan" and easily bests Touta, even after Touta activates Magia Erebea. Although pinned to the ground, Touta manages to land a blow on Cutlass, revealing a girl. Cutlass wants to end Touta, but she's just the warmup act. With that, Negi descends through the barrier around the tournament ring.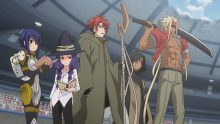 Negi wants Touta to join him to help save the world. Touta scoffs at this, citing that his grandfather could have taken him anytime over the past two years. Negi only recently became aware of Touta's existence. Yukihime uses her magic to take down Negi's barrier. She knows she's facing the Mage of the Beginning, but she finds herself magically bound. Her former classmates Nodoka and Yue descend as does Negi (and Nagi's) companion Jack. Karin, Kirie, and Kuroumaru join the fray as Yukihime frees herself. With that, Touta challenges Negi-MotB.
Thoughts/Review:
Ugh. I honestly can't believe I was forced to watch some bloody tournament crap in UQ Holder! Magister Negi Magi! 2 – 10. Part of me wonders if originally, Akamatsu-sensei may have planned to go this route in the manga.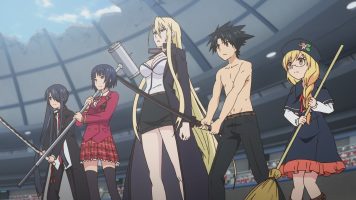 What I Liked
Mizore was good stuff for me. I like her in the anime in the same way I like her in the manga. She's a positive, cheerful force of nature. And in this episode, she got the only laugh when she considered the possibility that her great-grandmother might be making moves on Mizore's Touta-sama.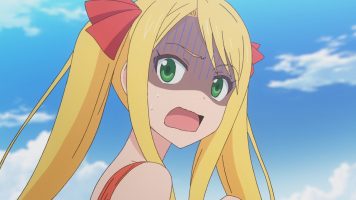 I liked that we saw Yukihime consulting with the elderly Ayaka before Touta met with them. That was something not in the manga, but stuff like that is what I wanted to see in the manga.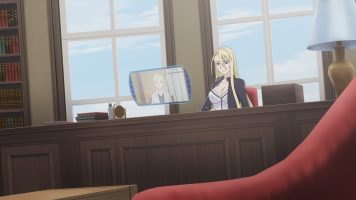 It was nice to see Mana here. I really liked seeing Yue and Nodoka drop from the sky. Heck, I even liked seeing Jack arrive. But that's just Negima nostalgia and thinking of what might have been had Negima been given a PROPER anime adaptation.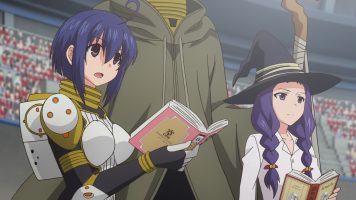 What I didn't Like
There should be no surprise for longtime readers to find that the thing I hated most about this episode was the bloody tournament. I nearly screamed when Mizore said, "Hey! Let's all go to the Mahora Budokai!" I loathe tournaments as I had my fill of them by the time Negima was over. Alas, this was chosen to be the spot to have the final showdown for UQ Holder vs. Negi-MotB and company.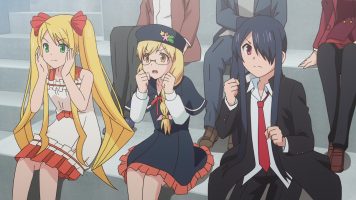 The battle between Cutlass and Touta didn't serve a real purpose. The only reason I can think of to have Cutlass even fight Touta is because Cutlass is playing an apparent important role in the manga. She defeats Touta, mocks him, and for what? Negi could have just descended without Cutlass doing jack and the result would have been the same.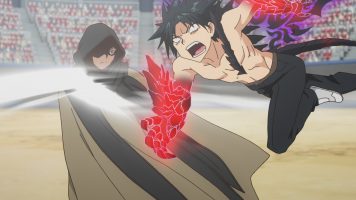 That aside, Touta had no business being in any stupid tournament. Yet he's in the tournament 'cause "reasons." Right now, the anime is suffering from the fact that it has to cut so much infrastructure material that pretty much everything is happened 'cause "reasons."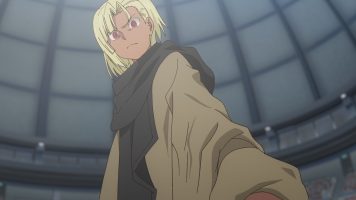 Final Thoughts and Conclusion
Ultra busy (what else is new), so let me wrap up my review of UQ Holder! Magister Negi Magi! 2 – 10.
Afro gets a cameo. I don't have anything against the character, but he seemed like someone who would play a more important role for Touta, then he got put on a shelf and forgotten.
Where was Al in that showcase showdown at the end of the episode?
I'm sad that Honoka and Isana didn't show up. It isn't surprising that they didn't, but considering who they are, I kinda though Akamatsu-sensei might have them show up in some form.
Shinobu only gets an extended cameo here. I guess if everyone else is away, you can play hooky that day.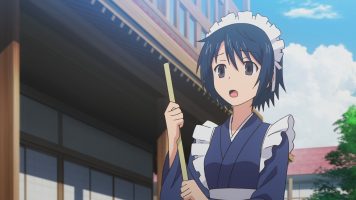 In the end, UQ Holder! Magister Negi Magi! 2 – 10 is an episode that suffers from a rushed desire to reach a made up conclusion. All I keep thinking is, "What might have been."